Diablo 4 comes with several World Tiers that you can select from, each with increasingly more difficult enemies and significant better rewards than the last. In this guide we break down the difference between Diable 4 World Tier, as well as what world is best to play on when you start out on your journey.
By default, when you first begin Diablo 4 you get the choice between two World Tiers: Adventurer and Veteran. You can switch between these ranks at will so if you find one of the worlds to be too challenging, you can jump down a tier without any penalties.
So what is the point of choosing a higher difficulty World Tier? Well the higher the difficulty, the better the items that drop. Diablo 4 introduces some new item rarities that are only available as drops from the higher World Tiers.
The current World Tiers available in Diablo 4 are:
World Tier I: Adventurer
World Tier II: Veteran
World Tier III: Nightmare (Locked)
World Tier IV: Torment (Locked)
You can choose your World Tier at the character selection screen or from a World Tier Statue in Kyovashad.
Did You Know: During the Diablo 4 Beta, there were 5 World Tiers. There was a difficulty called Hell for World Tier IV, but it was replaced with Torment during the official release.
World Tier I: Adventurer
Level Recommendation: 1-50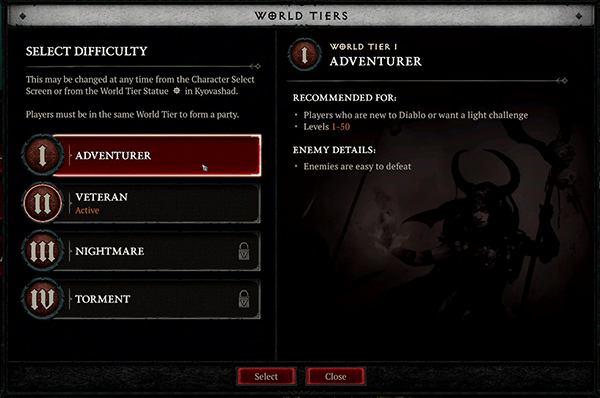 The most basic difficulty in Diablo 4 is World Tier I: Adventurer. The monsters in this world have a level cap of 50 and there are no EXP bonuses applied to killing them.
Enemies in World Tier I are very easy to defeat and its the perfect world for beginner players who have never played a Diablo 4 game in their life. Enemies won't seek you out too much, their attacks won't be as strong and they won't have any bonus stats added to them to make them stronger.
You will find, however, that Elite Monsters and Bosses won't drop Legendary items very often. Legendary Items come with affixes that can upgrade your skills, and they become very important once you complete the game.
Personally, this tier is a little too easy and if you want to experience the story with a bit more of a challenge, you should go for Veteran.
World Tier II: Veteran
Level Recommendation: 1-50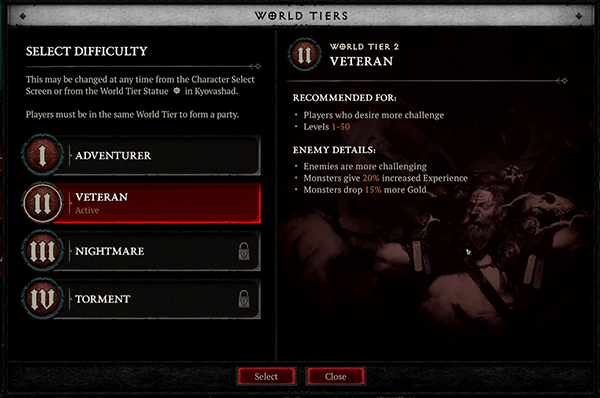 Veteran tier is a lot more rewarding than Adventurer, but you will find the monsters becoming a lot more difficulty.
At lower levels when you're trying to understand your class, this mode can feel overwhelming too. Once you get a hang of your class, learn to dodge boss mechanics and get out of situations where you're overwhelmed, you'll start to love Veteran.
Monsters will drop Legendary equipment quite often; run a dungeon or two and you'll find lots of Legendary Items dropping, even at the early levels.
The following bonuses are applied for this mode:
20% more EXP
15% more Gold
World Tier III: Nightmare
Level Recommendation: 50-70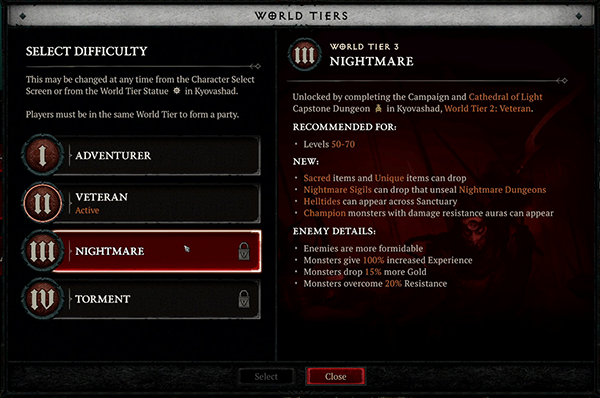 This is where things get more difficult.
Nightmare mode is only available once you've completed the main campaign. It is recommended for levels 50+ and monsters are a lot more difficult.
Check out our How To Unlock Nightmare Mode guide.
Nightmare Mode monsters will start dropping Sacred and Unique Rarity items that can boost your characters stats massively compared to Legendary items.
This world also introduces several new challenges, including:
Nightmare Dungeons
Champion monsters
Helltides
The following bonuses are applied for this mode:
100% more EXP
15% more Gold
World Tier IV: Torment
Level Recommendation: 70+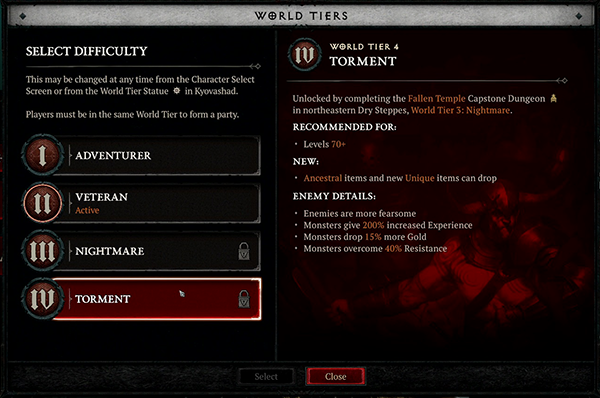 The end game tier is World Tier IV Torment. This mode is for level 70+ players and is the highest tier you can face.
This mode increases the difficulty of monsters by an absurd amount and you'll expect to die plenty when starting out.
It does drop the Ancestral Item rarity and it is the only world to do so. It also drops new Unique Rarity items.
The following bonuses are applied for this mode:
200% more EXP
15% more Gold