Kena: Bridge Of Spirits is a action-adventure game coming to PC and PlayStation on August 2021 developed by Ember Lab. The game will be available on the Epic Game Store as timed-exclusive, so you should expect to see it land on Steam at some point after release. Kena: Bridge Of Spirits is a story-driven game that takes players on journey to uncover the lost secrets of a forgotten village, with fast-paced combat and lots of exploration for players to get stuck into.
Kena: Bridge Of Spirits Release Date
Kena: Bridge Of Spirits was announced way back in June 2020 at Playstation's Future Of Gaming event, in which they also showed off the PS5 in great detail. It's first release date was for the end of 2020, but it was since had several delays due to working from home restrictions.
Kena: Bridge Of Spirits is currently set to release on August 2021. Various updates have since been posted on the studio's Twitter account:
We are well on track to release August 24th! ????

— Kena: Bridge of Spirits (@emberlab) March 16, 2021
UPDATE (29/07/2021): Kena: Bridge Of Spirits is now delayed until September 21st 2021! Only a month delay this time, so not too bad.

Players can current pre-order Kena: Bridge Of Spirits from the Epic Games Store for exclusive goodies in game, which includes the Unique Rot Hats.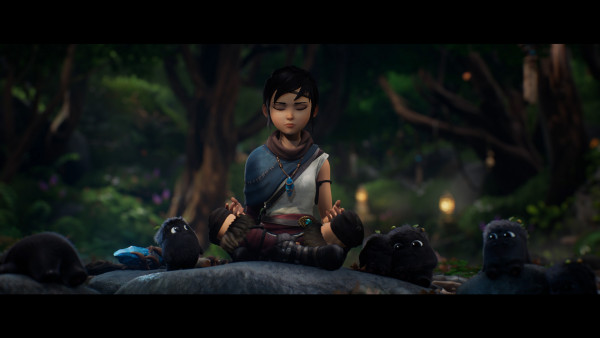 There is also a Digital Deluxe Edition, which includes the official soundtrack, a unique Kena Staff and Golden Rot Skin.
Kena: Bridge Of Spirits Gameplay
Kena: Bridge Of Spirits is self-described as an action-adventure game with fast-paced combat and exploration combined in a beautiful world. The game is developed using Unreal Engine 4, only being available on PC and PS5 (the studio signed an exclusive console-deal with Sony). Check out the latest trailer for Kena: Bridge Of Spirits below:
Players will be able take control of Kena, a spirit guide, who has discovered an abandoned village whilst searching for the Sacred Mountain Shrine. Kena is joined on her journey by Rot, those tiny little creatures with the big eyes! Rot are tasked with the decomposition of the world and they will help Kena on her journey as she explores the village.
The fast-paced combat that you can see in the trailer shows off what Kena can do: her weapon can change between a staff and bow, using it to hit several enemies at once. There will be several boss fights- spirits which have been trapped that Kena will need to defeat and free in order to progress. The Rot spirits that you collect on your journey will also provide you with unique abilities to help in combat.
Kena: Bridge Of Spirits Guide
We will be streaming and creating content for Kena: Bridge Of Spirits as soon as it is released. You'll be able to view gameplay on our YouTube and Twitch channels.