Lorcana TCG is a brand new trading card game from Disney that is set to release in August 2023. This guide will look at all the places that will be selling Lorcana TCG products and where you can potentially buy this product once it's released.
Lorcana TCG is being published by Ravensburger and as yet, very little details have been released. The first set and products were recently revealed, title Lorcana: The First Chapter. We know there is going to be Booster Boxes, Treasure Troves and Starter Decks for players to buy.
What we do know is that the product will be first available in Local Game Stores first in August 2023, where it will then be available from wider-retailers on 1st September 2023.
If you want to get your hands on Lorcana products first, check out the retailers below that may be stocking it when the time comes! Whilst not many retailers have announced they'll be selling Lorcana products (it's too early to get shipments) these stores are likely to stock them based on past experience.
TotalCards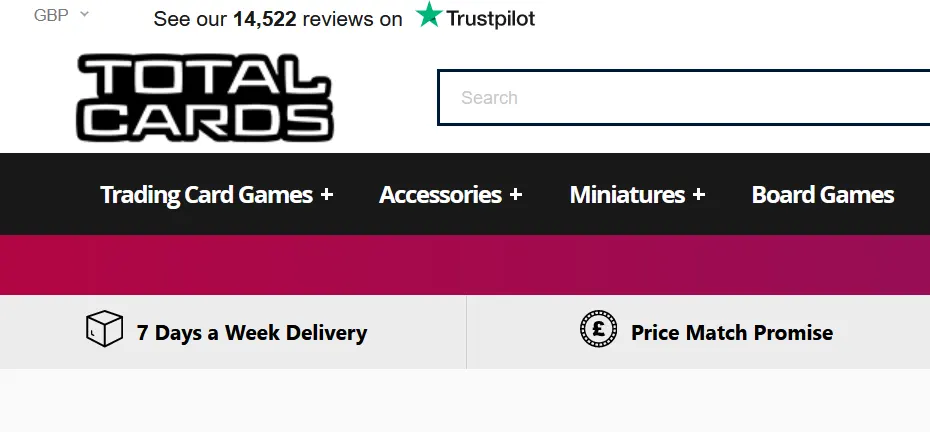 A trusted UK retailer for TCG products, TotalCards already has their own Lorcana product page. Whilst they don't have details on pre-orders yet, you can subscribe to their mailing list to get notifications of when products will be shipping and available for preorder.
TotalCards have over 14000 reviews on Trust Pilot and we've personally used them for Pokemon TCG orders.
Magic Madhouse

Whilst Magic Madhouse have yet to announce whether or not they will stock Lorcana products, we are pretty sure they will. They're stock hundreds of different TCG products, including the popular ones like Magic: The Gathering, Pokemon, Yu-gi-oh and even some less popular ones like Digimon and Final Fantasy TCG.
This is another UK retailer but they do offer international shipping options (though you're better off going with a US retailer).
Troll and Toad
For those in the US, you'll want to keep an eye on TrollandToad.com for Lorcana products. They again supply many of the most popular TCG products, including Pokemon and Magic: The Gathering. No mention of Lorcana products on their site, however, they are a big name when it comes to TCG- we are sure they'll be stocking it eventually!
TheCardVault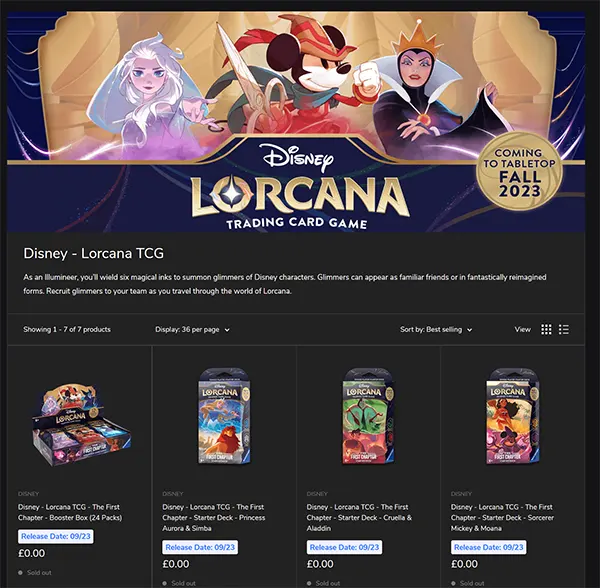 Another site that is listing Lorcana products, is TheCardVault, a UK Retailer. They have their own Lorcana Product pages with release dates, currently set to Sold Out.
They have a newsletter you can subscribe to for updates.
ToyWiz.com
ToyWiz have their own Brick and Mortar store and have listed a page with Lorcana TCG products, all currently set to out of stock. Interestingly, they have the notice that pre-orders are set to ship in October, so they may not be having Lorcana TCG products in stock early.
TCGPlayer
If you're looking to buy Lorcana products from a marketplace, TCGPlayer is one of the most popular sources for cards. They currently have a Lorcana TCG product page, including listing individual cards for sale, most (if not all) are out of stock.
As a marketplace, make sure you check out each individual seller before purchasing them.
Ebay
Ebay is another place to buy Lorcana products. Many people operate their own stores on Ebay, and many have already started selling pre-orders for Lorcana related products.
You can also buy individual cards on Ebay, but again, make sure you do your research on sellers before buying. The exclusive D23 cards are currently available in listings but they are selling for over $1000 each!
Know a place selling Lorcana TCG? Let us know!
If you know a TCG store that will be selling Lorcana TCG, let us know in the comments below and we'll update this article.