Fortnite Chapter 3 Season 2 has launched today bringing the new The Resistance Story to Fortnite and a whole new Battle Pass for players. This guide will look at everything new that has been added to the game and all changes made to the Fortnite Battle Royale Map, Items, Mechanics and more!
We'll be updating this article throughout the day as we explore the new season, so check back for more updates!
The Resistance - What's New
There were no teasers or leaks for this season, so no one knew what was going to be released come March 20th 2022. That is, until a couple of moments ago with the new Fortnite The Resistance Trailer!
It looks like this season's theme is war, which could be considered controversial considering recent world events. However, look below for Epic's statement on what it is doing to help.
Here we can see some potential new skins:
Doctor Strange
The Prowler
The Imagined
KIARA K.O
THE ORIGIN
Graphic Settings
Players can now choose to download High-Definition Textures when using Performance Mode. This setting can be turned on/off in the Settings page.
Fortnite Chapter 3 Season 2 - BUILDING DISABLED!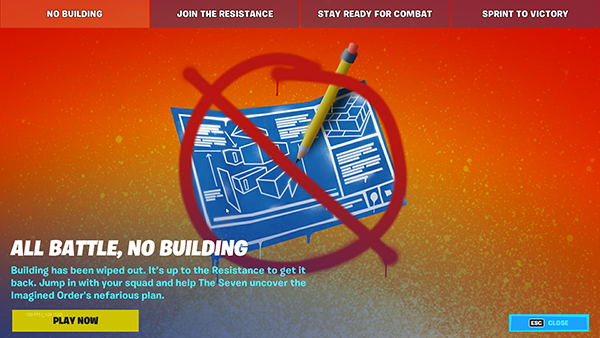 Building is currently disabled across all normal game modes! That means you'll have to win your games with just your guns, sneakiness and more! You can still do building in Arena modes.
This does seem to be a temporary feature, as the Disabled Building notice mentions Fortnite Players will have to get it back.
With the disabling of Building, you have new Tactical Sprint and Climbing Ledges abilities.
All players now get Overshield; a shield that recharges overtime and protects you from taking normal damage.
See official patch notes here.
Fortnite Chapter 3 Season 2 Map Changes
There are several new areas and Points Of Interest this season. Check out the full Chapter 3 Season 2 Map here.
New Locations:
The Fortress
Synapses Station
Command Cavern
There are several starships above the following locations:
Tilted Towers
Condo Canyon
The Daily Bugle
Fortnite Chapter 3 Season 2 New Weapons
Here are all the new weapons for Chapter 3 Season 2:
Combat SMG
Remote Explosives
Drum Shotgun
Striker Burst Rifle
Shockwave
Repair Torch
Thermal Scoped Assault Rifle
Thermal Flopper
Revolver
Cow Catcher
Vaulted
Spider Man Web Shooters
MK-7 Assault Rifle
Heavy Shotgun
New Vehicles
Fortnite Chapter 3 Season 2 Battle Pass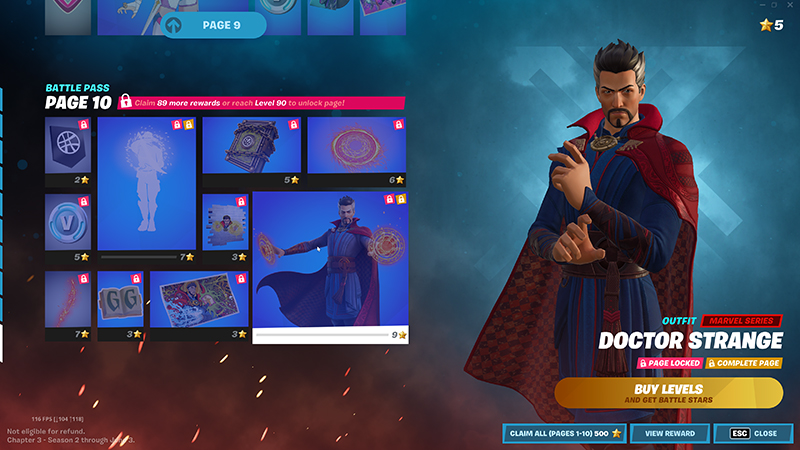 This Seasons Battle Pass contains the following new Skins:
TSUKI 2.0
GUNNAR
THE IMAGINED
KIARA K.O.
THE ORIGIN
ERISA
DOCTOR STRANGE
The Prowler is also available as a separated quest chain coming next month. Check out the complete Chapter 3 Season 2 Battle Pass Rewards here.
So far the Battle Pass has yet to be revealed.
Buy V-Bucks and Provide Humanitarian Relief for Ukraine
As part of the new season, you can also help contribute to the Humanitarian Relief in Ukraine by buying V-Bucks. Epic today announced that all Fortnite Proceeds will be donated to the Humanitarian Relief for Ukraine from March 20th - April 3rd 2022.
Epic is committing all its Fortnite proceeds from March 20, 2022 through April 3, 2022 to humanitarian relief for people affected by the war in Ukraine. Xbox is joining us in this effort and is committing their net proceeds for Fortnite during this time, so that we can get more aid to the people of Ukraine.
See here for more details on which organisations Epic is using.