Your Fortnite Ping can be very important when playing as it affects things like reaction times and lag. Luckily, there are several ways to address ping issues you may be having and improve it for a better gaming experience.
What is Ping?
Ping, or latency, is the time it takes for data to travel from your PC or console to the Fortnite servers and back to you. It's essentially the amount of time - in milliseconds - it takes for your button presses to communicate with the servers.
So having a lower Fortnite Ping means that this communication will happen more quickly and you'll have less in-game lag.
Ping is determined by several factors including bandwidth, routing and throughput, which is the amount of data sent/received over your network connection.
How to See Your Fortnite Ping
It may be helpful to actually monitor your ping as you're playing to see if you're having any connection issues in-game.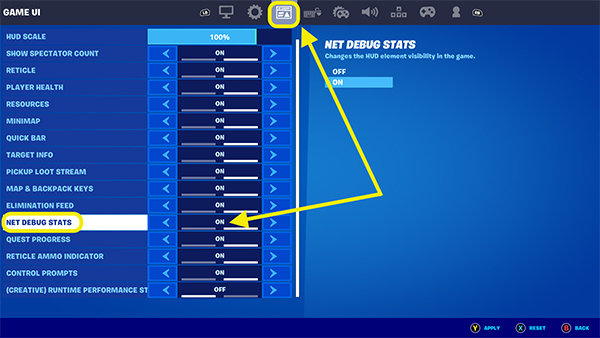 In your game settings, turn the Net Debug Stats on to see your ping information on screen while playing.
While in the lobby, press the start button if you're on PlayStation or PC and the menu button if you're on Xbox and go to your settings.
In the settings menu, navigate over to the game settings tab and look for a section called "Net Debug Stats." Just turn that on and your Fortnite Ping will be displayed on screen while you're playing.
When is Low Ping Useful?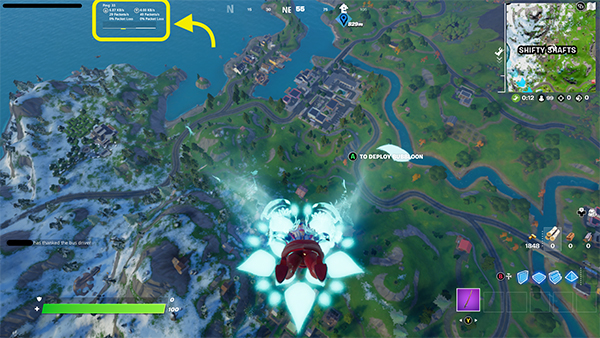 Once you turn your Net Debug Stats on, you'll be able to see you ping on screen while in-game and monitor it while playing.
A low Fortnite Ping can help ensure smoother gameplay.
With a lower ping and less lag, you're less likely to freeze in game or glitch out. When you're experiencing a high ping in Fortnite, it can cause you to lag and miss shots or become more vulnerable to enemy fire.
Having a lower Fortnite Ping will grant you more accuracy and precision when in gun battles and taking down structures.
A lower ping will also making building and editing more smoother. For those who play in competitive game modes and like to crank 90s like a pro, you'll notice a huge difference when building on a high ping versus a low one.
You can test it out by switching your Region to a different one in your Fortnite settings and see how sluggish building and editing becomes. You'll start missing building placements, editing will start being unreliable and overall it makes for a less accurate experience.
How to Reduce Ping
If you notice that your Fortnite Ping increased, sometimes it can be because of the way your internet provider is routing to the Fortnite servers.
In this case, Epic Games advises reaching out to your internet provider and details information on how to do that here.
However, if the increase in your ping is caused by something on your end and doesn't have anything to do with your internet provider there are some solutions you can try to improve your Fortnite Ping.
First: Make sure you're playing on the correct Fortnite Region! Many new players forget to even check this option (it is normally set to Auto).
Restart Your Modem and Router
To restart your modem and router, simply unplug them for 30 seconds then plug them back in.
It's also key to make sure your router is in a good spot. If it's in a closet, a basement or behind furniture or other objects, it can negatively impact your signal. 
The ideal spot for your router is going to be somewhere that is high up, centrally located and not obstructed by any objects or furniture. You can test out several locations in your home to see where you get the best signal and speed.
Alternatively, if your router is defective and that's what's causing your lag, you may need to replace it. You can try plugging in a different router to see if that's the issue. You can also try upgrading your router firmware.
Adjust Your Router WiFi Band
Routers usually have two bands: 2.4 GHz and 5 GHz, with 2.4 GHz being the common band for most household devices. If you have a lot of these connected to your WiFi network, it could be causing congestion and lag.
Epic Games notes in their ping and latency guide that you could try adjusting your WiFi band to see if the 5 GHz band gives you a better connection. This method differs from router to router, though, so it's best to check with your manufacturer on how to do this.
Use an Ethernet Cable Connection
Possibly the best solution is getting an Ethernet cable.
When you play Fortnite on WiFi, you're subject to signal and connection interruptions that cause your game to lag. Connecting with an Ethernet cable gives you a direct line to your router or modem and eliminates the possibility of issues with connection and signal.
Ethernet cable connections will also provide you with the fastest possible connection for your game and ultimately a much better Fortnite Ping.
Limit Network Usage
Having a congested network can also slow down your internet and increase your ping. If you share your household with several people, and they're all using the internet for things like streaming, watching movies and downloading content, your network can potentially struggle and start slowing down.
If you have a large data-plan with lots of bandwidth, this normally isn't a problem. You can run some simple tests to check your Fortnite Ping when others are using the internet at the same time as you.
Also, peak times (where everyone is back from work and using the internet) can also have a general slow-down of the internet.
Use a VPN
A VPN, known as a Virtual Private Network, can also help improve your Ping. Whilst most people use a VPN to get around geo-blocked restrictions, a VPN can also be used for gaming and reducing Ping. You're going to have to use a paid-for VPN to get any performance changes as the free ones will be crowded, sluggish and generally useless.
A VPN works by rerouting packets through their own network, giving you anonymity. The added benefit of this is that they can also choose a faster path for your data to reach Fortnite's servers, thus lowering your Ping. Not all VPNs will be useful in this however, so you'll need to do your research in finding ones that can help with this.
Move Closer to the Fortnite Servers
And finally, if all else fails, moving closer to where the Fortnite Servers are hosted is another and unrealistic way of improving your Ping. There have been a few Fortnite Pros who have moved across town to get closer to the datacenters where Fortnite Servers are hosted in order to improve their Ping.
This of course, isn't a realistic expectation for most players so we won't waste too much time talking about it.
Do a Little Troubleshooting to Get Your Ping Right
There are several options for trial-and-error when it comes to improving your Fortnite Ping.
Ultimately, your best bet is most likely going to be directly connecting to your modem or router with an Ethernet cable.
So go into your settings, test your options and see how you can improve your Fortnite Ping and eliminate lag.