Fortnite Duo and Squad Members can be difficult to find if you're used to playing solo games so we built this guide to help you find places where you can look for your next Fortnite friends!
You don't have to have a group of friends to play Fortnite and have a good time. The Solo game mode is a great place to start if you're new to Fortnite and it can be a good way to develop your individual play style in Battle Royale.
But the opportunity for teamwork and collaboration in Battle Royale is part of what makes the game so fun. However, it can be hard to find Fortnite Duo and Squad members if you either don't know anyone playing the game, or your friends aren't able to get online.
When you choose to play Duos, Trios or Squads, you can choose to let the game fill a team for you with random people who are also looking for teammates. Sometimes this can be great, but not always. For example, you could get stuck with teammates who don't have a mic or aren't able to talk to you during the game, causing you to lose the vital communication element of Battle Royale.
But there are a couple ways you can find Duo and Squad members in Fortnite.
Where to go to Find Fortnite Duo and Squad Members
While it may take some trial and error depending on who you get paired with when you choose to let your game fill a Duo, Trio or Squad for you, it is possible to make friends by playing with random people. You can play with them and add them so you can invite them to your party next time you're both online.
Playing with random people isn't the only way to find Fortnite Duo and Squad Members, though.
Official Fortnite Discord

The Official Fortnite Discord is a very active space to find Duo and Squad members. There are several chats covering everything from Battle Royale to Creative Game Modes to general 'how to's' for Fortnite.
With a Discord account and either the desktop or mobile app, you can follow this link to join the Official Fortnite Discord and find a Duo or Squad member for your next game. The Battle Royale chats are often full of other players looking for people to play with.
There are also many unofficial Fortnite discords dedicated to finding Duos and Squad members. If you're looking for a more competitive partner, try the FortniteCompetitive discord: discord.gg/FNComp
Reddit
Like Discord, there are various subreddits that are very active places to find Fortnite Duo and Squad members. r/FortNiteBR is a good thread for Battle Royale specific inquiries. It's also a good place to just connect with other people who play the game. It seems to be the most active Fortnite-specific subreddit.
r/FortNiteLFG is another good subreddit for finding Duo and Squad members. r/FortNiteLFG isn't just for Battle Royale, as there are posts looking for teams for all kinds of Fortnite game modes.
If you're a more competitive player looking for other competitive players to join you in tournaments and scrims, r/FortniteCompetitive is a good place to see what the pros in the game are up to. You can connect with other competitive players here and see what they use to find Fortnite Duo and Squad members for competitive game modes.
In-Game
Oftentimes, one of the best ways to find friends in Fortnite is to just play the Duos and Squad game modes with random fills. You'll be placed into random parties with other players automatically, usually based on the same skill-level as you due to Fortnite's match-making algorithm.
Having your Microphone on will help with making friends, as it's the most efficient way to communicate. Plus, you'll get a good idea of the other player's personality going forward before you decide to add them as a Fortnite Friend.
Twitch
Sometimes you can meet like-minded Fortnite Friends by watching Fortnite Twitch Streams. If you're active in a Twitch Streamers chat, you can communicate with other players who also enjoy that creator's content and see if they would like to be friends.
Usually, they also have their own private communities you can join up and get involved in to make friends. You might even get lucky and make friends with the Twitch Streamer!
How to Add a Fortnite Friend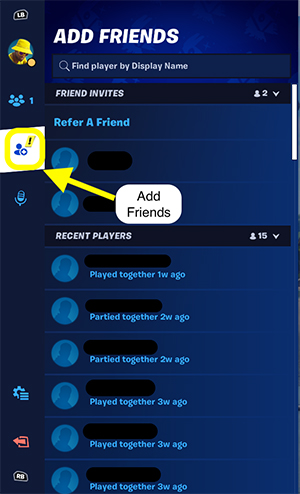 Once you find someone to play with, adding friends in Fortnite is easy.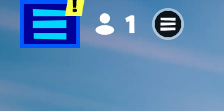 Once you've loaded into the game, click on the social icon in the top left corner and then click 'Add Friends.'
Then, you'll enter your friend's Epic Display Name and click the 'Add Friend' icon.
After that, you'll receive a notification that you have successfully sent a friend request. Once they accept your friend request, you'll be able to see them in your friend list whether they're on or offline. From there, you'll be able to join their party or invite them to yours when you're both online.
You can also add players that you've recently played with by following similar steps.
First, you'll navigate to the social icon in the top left corner, then 'Add Friends' and then you'll scroll down until you see the 'Recent Players' tab. From there, you can select the players you want to add from your previous match so you can play together in the future.
Game Modes to Play with Teams
Once you have your Fortnite Duo and Squad members assembled, there are countless game modes to enjoy as a team, aside from just Duos, Trios and Squads. You can also use your team to complete quests and challenges in game.
Battle Lab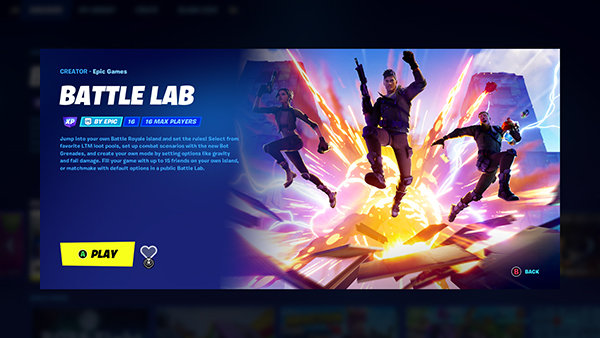 Battle Lab allows you to gather 16 people and create your own rules on your own Battle Royale island.
In Battle Lab you can adjust the settings to your liking with options like gravity and fall damage and also experiment with different combat scenarios by spawning friendly or enemy bots with Bot Grenades.
Battle Lab is essentially a limitless free-for-all where you can experiment with different strategies, practice combat and building and hang out with other players.
Impostors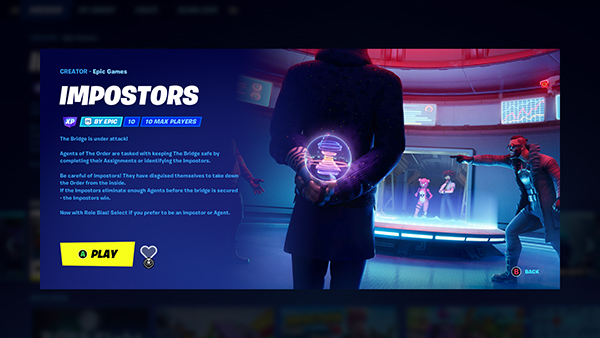 Impostors is a really fun game mode that's essentially Fortnite's version of Among Us.
In this game mode, there are agents and impostors. Agents are supposed to complete tasks and try to identify the impostors. The impostors are trying to keep their identity a secret and eliminate all of the agents before they finish their tasks.
Up to 10 people can play this game mode and you can set it to be either public or private.
Prop Hunt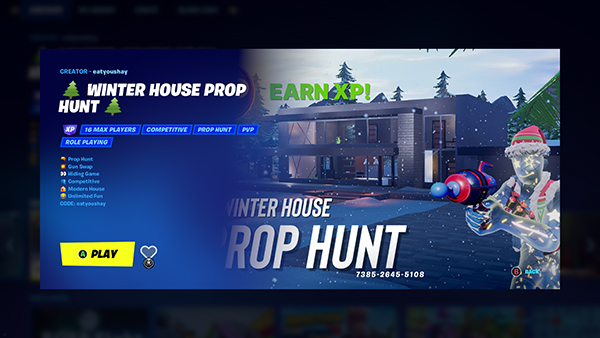 Prop Hunts are fun game modes that can be found in Creative and can be played with up to 16 people.
When you spawn in, you'll either be a prop or a hunter. Props have to hurry and find a random object to turn into using their Prop Gun and then find a good hiding place before the hunters are released.
Once the hunters are out, they have to find and eliminate all the props before the timer runs out.
It's a fun, elevated version of hide-and-seek that can be played public or private and there are countless Prop Hunt maps available in Creative.
Gun Games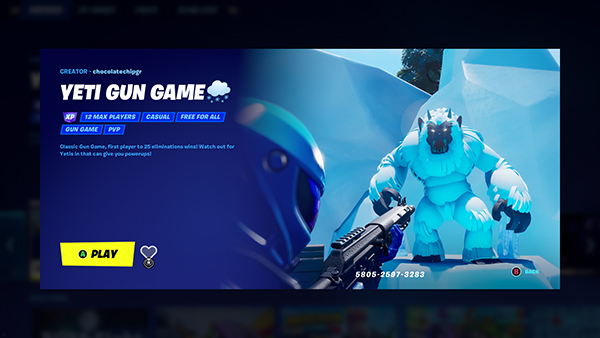 Gun Games are fast-paced game modes for up to 12 players.
The goal is to be the first player with 25 eliminations. Each time you eliminate someone, you get a new, often better, weapon. You also respawn each time you're eliminated.
There are several Gun Game maps in Creative. There are also a variety of settings for the Gun Games to make gameplay more interesting, such as using Legendary weapons only.
Explore Creative
The best way to find new and unique game modes to play with friends is by exploring Creative. You can try Zone Wars, Box Fights, Zombies and even racing games.
There is also often a category in Creative titled 'Fun with Friends' that curates some game modes that are good to play with groups.
Find Your Team and Get Playing
If you don't have friends in real life that play Fortnite, that doesn't mean you always have to play alone. Check out the resources we detailed above to find your Fortnite Duo or Squad members and explore some of the unique game modes in Creative!