Chapter 3 Season 2 has arrived and with it comes lots of quests each week for you to complete. Week 1 Quests have been added and this guide will show you how you can complete them for that sweet sweet XP!
Fortnite Weekly Quests are added each week of the new season. You can complete them at any time for the duration of Chapter 3 Season 2 in any order but don't leave them too late as you might run out of time to complete them!
Completing each Weekly Quest gives you XP towards leveling up and earning more Battle Stars for the Chapter 3 Season 2 Battle Pass.
Chapter 3 Season 2 Week 1 Quests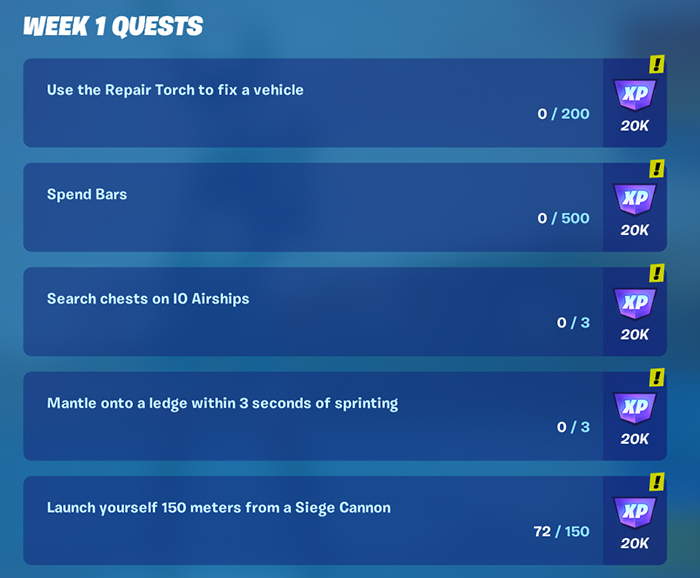 See below for a detailed explanation of each quest and how you can complete it.
Use the Repair Torch to fix a vehicle - 0/200 (20K XP)
Spend Bars - 0/500 (20K XP)
Search chests on IO Airships - 0/3 (20K XP)
Mantle onto a ledge within 3 seconds of sprinting - 0/3 (20K XP)
Launch yourself 150 meters from a Siege Cannon - 0/150 (20K XP)
You can earn a total of 100k XP for this weeks XP Quests!
Use the Repair Torch to fix a Vehicle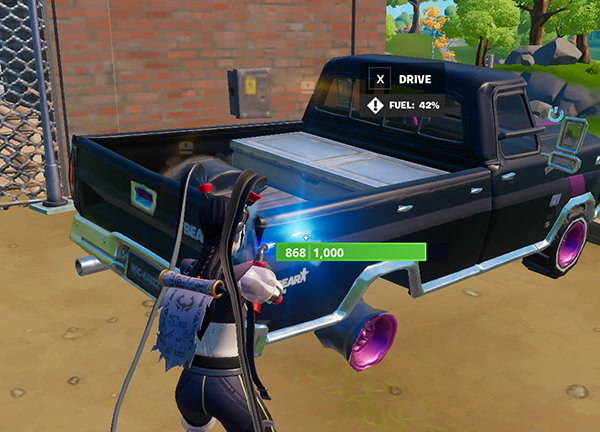 The Repair Torch is a brand new item added to Fortnite in Chapter 3 Season 2. You can find it from Chest loot and floor loot so it shouldn't be too difficult.
Next you can need to find any Fortnite vehicle; you can damage it with your own weapon (but don't destroy it!) and then use the new Repair Torch item to regain the Vehicle's health.
Spend Bars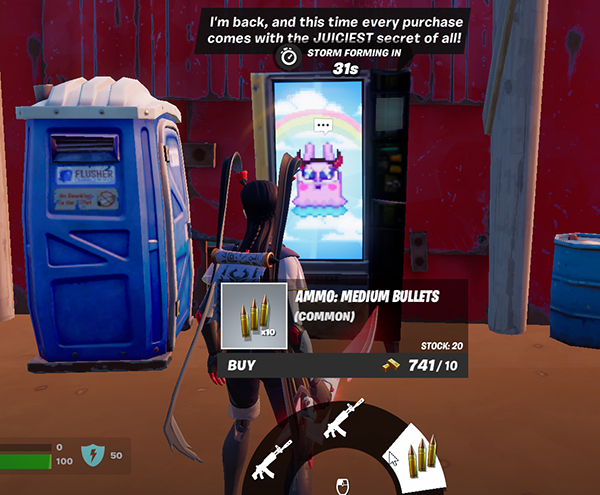 You need to spend a total of 500 Bars in Fortnite to complete this quest. You can find Bars from Chests, completing bounties, smashing tills and sofas.
You can then purchase items from Vending Machines; if you get the 500 Bars required, you can just spam buy ammo from a Vending Machine, although you'd probably find it more useful to buy a nice weapon.
Search Chests on IO Airships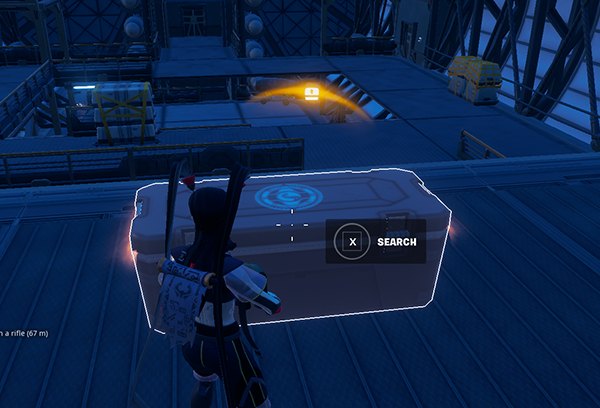 IO Airships have appeared above certain named locations. Inside you'll find IO agents that can kill you (they're not friendly, so if you alert them of your presence they'll start shooting you).
You can get to the IO Airships via ziplines that are attached to them.
Inside each IO Airship are special treasure chests. Open 3 of them to complete this quest. You can also open regular chests inside IO Airships for this quest to work.
This is a list of IO Airships you can find:
Tilted Towers
Condo Canyon
The Daily Bugle
Rocky Reels
Coney Crossroads
Mantle onto a ledge within 3 seconds of sprinting
This quests requires you to use two of the new Fortnite Mechanics added to Chapter 3 Season 2: Sprint and Mantle.
You can assign Sprint to it's own keybind and sprint for 5 seconds flat out. If you press jump whilst sprinting, and find a ledge/edge of a building, you can then Mantle up onto it.
All you need to do for Mantling is jump; there is no special key. You just need to be within reach of the building's ledge for you to successfully mount.
Launch yourself 150 meters from a Siege Cannon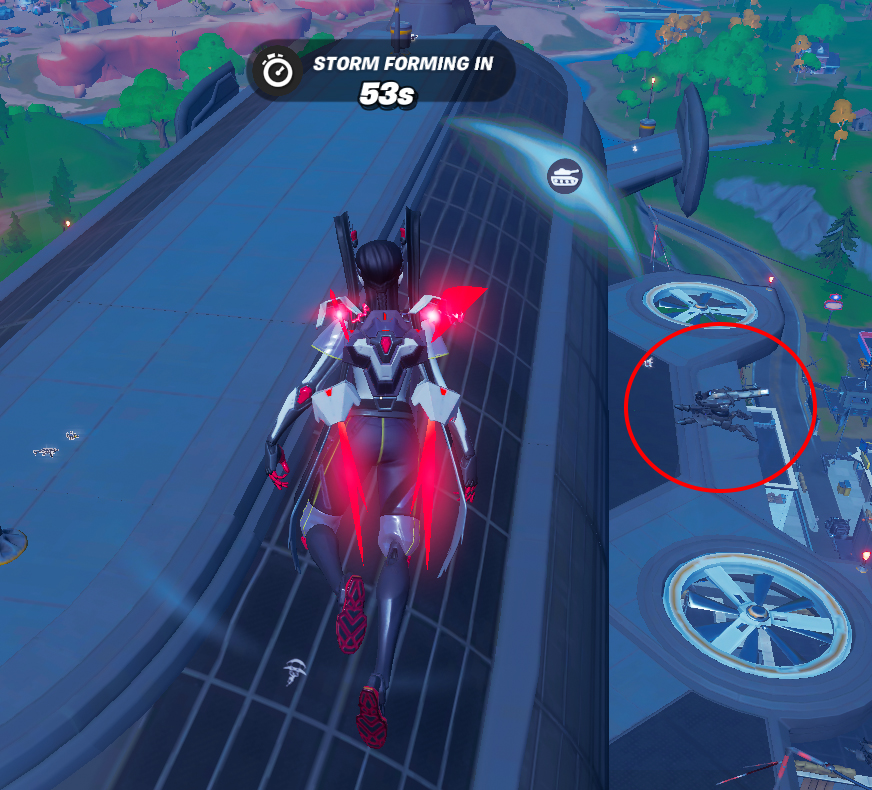 Siege Cannons can be found on top of the IO Airships that have popped up in Fortnite. They are found on either side of the airships. Just walk up to one and interact with it; you'll need to use the AIM feature in order to launch yourself- otherwise you'll just fire a fireball instead.
You can usually get this challenge done in one fire if you launch off the top of an IO Airship.