Lorcana TCG is about to launch worldwide with their first set The First Chapter and this guide will explain all the rarity symbols and types you can find when you open Lorcana TCG Booster Packs!
We'll also take a look at the special Lorcana Promo cards being released, with some of them going for thousands and thousands of dollars before the game has even released!
Check out The First Chapter Card List to see all the current cards that are being released this August 2023.
Lorcana Rarity and Symbol Guide
In Lorcana, there are a total of 6 different rarity types. Each card will have it's own rarity symbol on the card.
Like most TCGs, the rarity of a card determines how often the card will be pulled from a Booster Pack.
In Lorcana, every card can either be a Foil card or a standard non-foil card. The exception to this is the Enchanted rarity, which only comes in a special Foil that is completely unique to those cards.
Enchanted cards are the rarest cards you can find in Lorcana Booster Packs.
| Rarity | Symbol | Card Types |
| --- | --- | --- |
| Common | | Standard, Foil |
| Uncommon | | Standard, Foil |
| Rare | | Standard, Foil |
| Super Rare | | Standard, Foil |
| Legendary | | Standard, Foil |
| Enchanted | | Unique Foil |
When you open a Lorcana Booster pack you'll receive the following:
6 Commons
3 Uncommons
2 Rare, Super-Rare or Legendary
1 Foil of any rarity or an Enchanted card
Lorcana 1st Edition Cards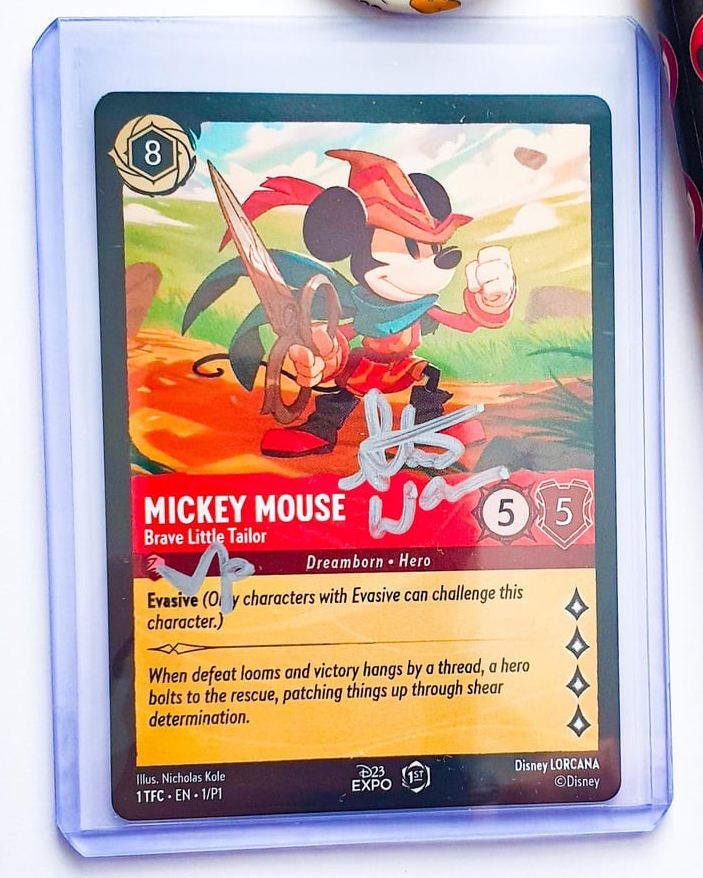 Before The First Chapter set was released, there was speculation whether First Edition cards would be produced. In many TCGs, a First Edition set comes with a unique symbol at the bottom of the card, and these cards tend to be the most desirable for collectors.
A first-edition Charizard from the Pokemon TCG Base Set is one of the most expensive cards in the world.
Lorcana did release a limited edition set of 1st Edition Cards, which were given out as Promo cards during a special event called D23, or Disney23 Expo.
Players who queued up were given the opportunity to purchase a 6 of six cards, which included:
Players were also given a special 1st Edition D23 Mickey Mouse card for free.
The event was so popular that the cards sold out before everyone even got a chance to look at them. The only way to obtain these cards is now through 3rd party marketplaces like Ebay.
These are the only known 1st Edition Cards that were printed for Lorcana. The cards themselves can be found in The First Chapter set, but without the special 1st Edition Logo or D23 Logo on them.
Lorcana Promos
Lorcana Promos are another type of rarity that are usually given out for special events.
At the time of writing this, all Promos released so far are obtainable from The First Chapter set, just without the special rarity stamps put on the cards.
You can check out our Lorcana TCG Promo Card List to see all released promos so far.
There are expected to be more Promos released for attending Disney Lorcana events, as well as prizes for competing in the Lorcana Organized Play setup.