Lorcana is a brand new TCG from Disney and it had one of the most popular launches of a new TCG series ever, selling out instantly across the world. This article will look at the first edition cards and booster boxes of Lorcana, including first print runs, D23 EXP cards and other items that might be worth keeping sealed!
Lorcana TCG launched on August 18th 2023 with their first set The First Chapter. It includes over 200 cards from many popular Disney franchises such as Alladin, Peter Pan, Lion King and more.
The second Lorcana set is announced for November 17th 2023 called Rise Of The Floodborn.
Lorcana TCG cards can be pulled from Booster Packs, which come from a variety of different products like Booster Boxes, Treasure Troves and Gift Sets.
First Edition Lorcana Cards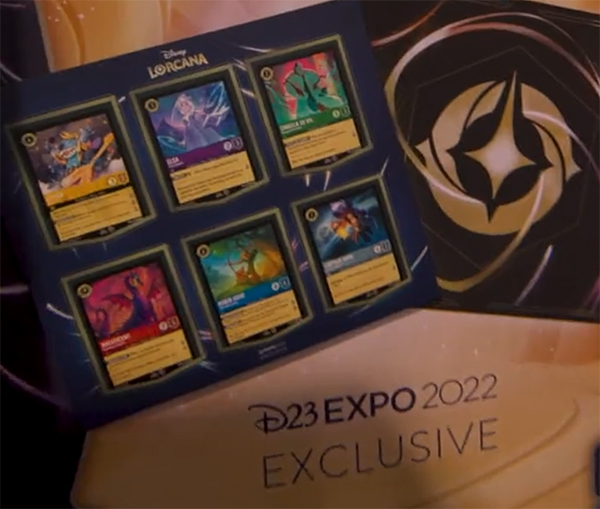 One aspect of collecting TCG is obtaining First Edition Cards. These cards are some of the first to ever hit the shelves and usually have a limited print run before being replaced by regular versions. They can also hold some extraordinary value to collectors.
Lorcana does have first edition cards, however, these were given out as "promo" cards during the reveal of Disney Lorcana.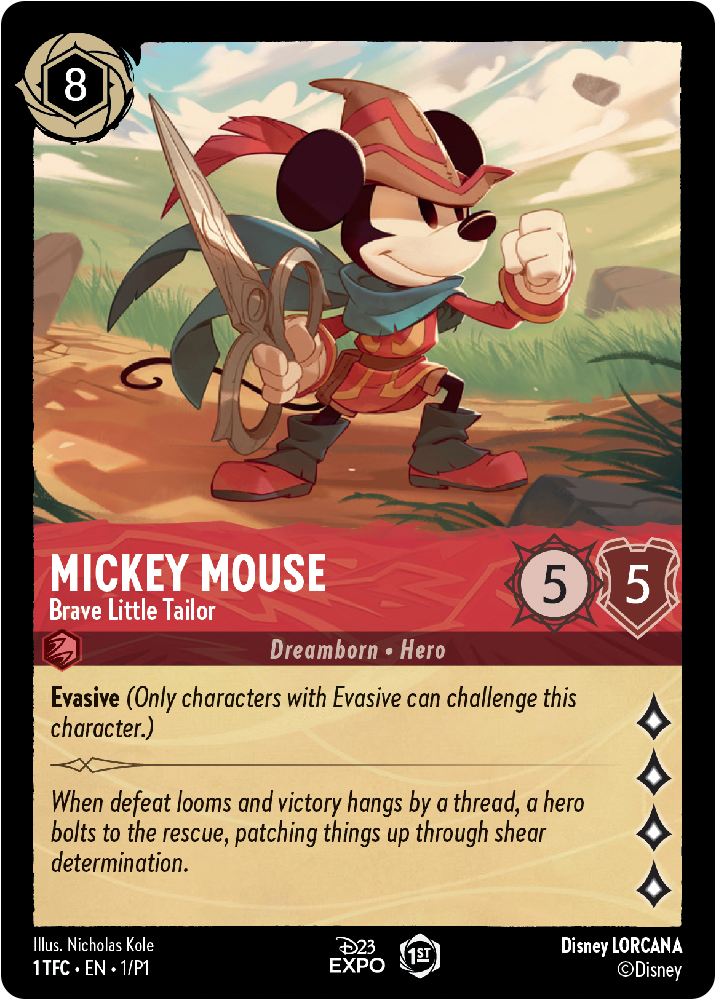 Lorcana released a set of 7 first edition cards at the D23 Expo in 2022. The first of those cards was Mickey Mouse - Brave Little Tailor; this card was handed out to anyone who queued up for the Lorcana booth.
Fans could also purchase a special set of 6 first edition cards which included:
Stitch
Elsa
Cruella De Vil
Maleficent
Robin Hood
Captain Hook
All of these cards have the unique First Edition stamp printed on them. These also have a special D23 stamp and have a "cold foil" effect that is different from other foil cards in Lorcana TCG.
Only a limited number of these cards were made available, with them being completely sold out before the end of the day.
First Edition Lorcana Booster Box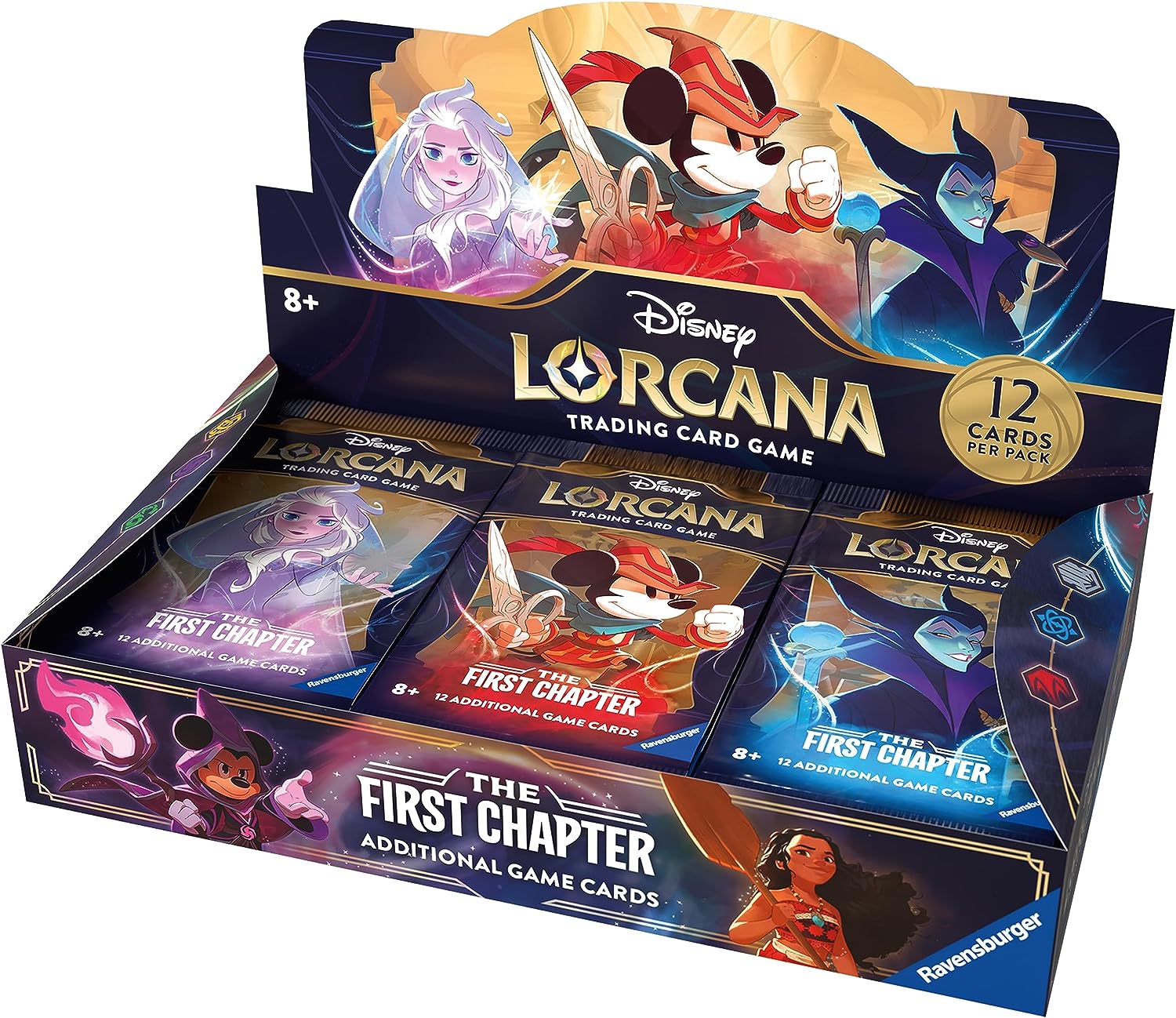 There were no other Lorcana First Edition cards printed with the First Edition stamp (other than the D23 cards).
Likewise, there was no first edition of Lorcana: The First Chapter Booster Boxes or other products made for the launch of Lorcana.
However, keen Lorcana collectors have spotted differences with their Lorcana Booster Boxes that might help identify them as some of the first boxes ever made.
There was also a second print run of Lorcana: The First Chapter, which made some small changes to cards and product packaging. Whether you consider these "first edition" is up to you!
First Print Run Lorcana The First Chapter
You can identify if your Lorcana Booster Box was part of the first print run for Lorcana: The First Chapter by looking at a special print run code on the bottom of your Lorcana Booster Box.
The code format is as follows:
MMDDYYCMX

050123CM1
This date we believe shows the date the box was printed, along with CMX. CM, we believe, stands for Cartamundi (the printing company used to make Lorcana cards).
The earliest print run date we've seen of a Lorcana box is 050123CM1. That's the May 1st, 2023.
Lorcana: The First Chapter was released in several different countries, including the USA and the UK.
Second Print Run Lorcana The First Chapter
Upon release, Lorcana: The First Chapter completely sold out everywhere, with cards going for sky-high prices on third-party marketplaces.
Shortly after release, it was announced a second print run of Lorcana: The First Chapter would be available in 2024.
However, a "restock" for Lorcana Boosters was brought forward and is available in North America as early as November 2023. This restock also corrected issues with card's flavor text.
The differences between the Second Print Run are:
No mark for reprint. Certain cards will have errata fixes, but otherwise no distinguishing mark.

— Disney Lorcana (@DisneyLorcana) October 25, 2023
The cards themselves will have no distinguishable marks on them, apart from some "errata fixes".
These errata cards are cards that have their text updated to fix errors, spelling mistakes, gameplay clarification and other design issues.
Despite their being no 1st or 2nd edition marking, these errata card changes mean that there are now distinguishable differences between the first print run cards and the second print run cards!
There are several cards in the First Print Run which have errors in text on them. So far, it has been confirmed that the following cards have updated text: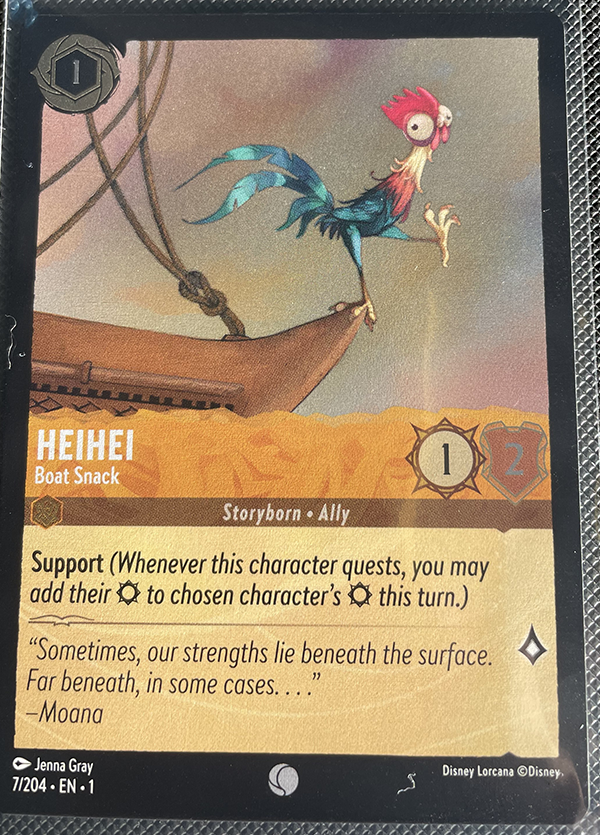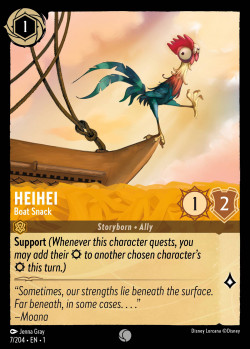 Hei-Hei (Common). (missing the word another from the text)
The second print run boxes will also have sealed tape applied to the edges of the box to prevent tampering. There is an issue with first print run boxes that allows someone to take boosters out of the box without breaking the seal.
We'll keep this page updated with any further future print runs of Lorcana: The First Chapter!