Disney's Lorcana Trading Card Game hasn't even been released yet and fans are already seeing the cards go for eye-watering prices online. Hype is slowly building for the new TCG and fans want to get their hands on some of the first edition cards ever printed.
Disney Lorcana TCG is a brand new card game that is being released in September 2023, with it's first expansion titled The First Chapter. It is to contain over 200 different cards, and we recently got a look at brand new Lorcana Products that are expected to ship this fall.
There is a lot of speculation on how rare Lorcana cards will be once they've come off the market and new expansions are released. Similar comparisons can be made to Pokemon: First-Edition cards, which are now fetching tens of thousands of dollars for the rarest and most pristine condition cards.
Will we see the same level of hype for Lorcana?
Lorcana D23 Promotional Cards
Limited quantities of the #D23 Expo Collector's Set are now available at booth 164!#D23 #D23Expo #DisneyLorcana pic.twitter.com/6DD2IfaR1V

— Disney Lorcana (@DisneyLorcana) September 9, 2022
Late in 2022, at the Disney D23 Convention, Lorcana had it's own booth for the 3-day event and fans with tickets could queue up to get a look at the latest trading card game. They were also rewarded with a promotional Micky Mouse Lorcana card (just for queuing up!) and could also purchase a 6-card promotional set for $50.00.
The 7 cards that were available at D23 were:
Micky Mouse - Brave Little Tailor
Elsa - Snow Queen
Stitch - Rock Star
Cruella de Vil - Miserable As Usual
Robin Hood - Unrivaled Archer
Captain Hook - Forceful Duelist
Maleficent - Monstrous Dragon
The 6-card promotional set was sold out very quickly; if you didn't queue up early you were more than likely left disappointed. It seems the Micky card had more availability, but it's limited availability has also seen fans clamoring to grab one on third-party marketplaces.

Almost immediately after the event, the promotional Lorcana cards were put up on Ebay for sale. Early prices of the set were going for $400 each. If you try to find a set now, they are going for over $6,000!
So what makes these cards so special and so desirable to collectors? What is driving them up to insane prices?
All 7 of the promotional cards released at the D23 event are going to be included in the first expansion The First Chapter. That means you'll be able to pick up these cards in their regular format later this year.

The difference between the D23 cards and the ones to be released in the actual expansion is the D23 Logo at the bottom of the card and the First Edition sign.
We are still not sure whether there will be a First Edition print run later this year but it's almost guaranteed that the D23 cards will remain exclusive to that event.
This means that the D23 cards are the first cards ever to be released for this trading card game and they have some exclusivity about them. They have an extremely limited print run, with very few copies being made available to attendees of the event, let alone demand around the world. This is causing the price of the cards to jump astronomically.
Graded Lorcana Cards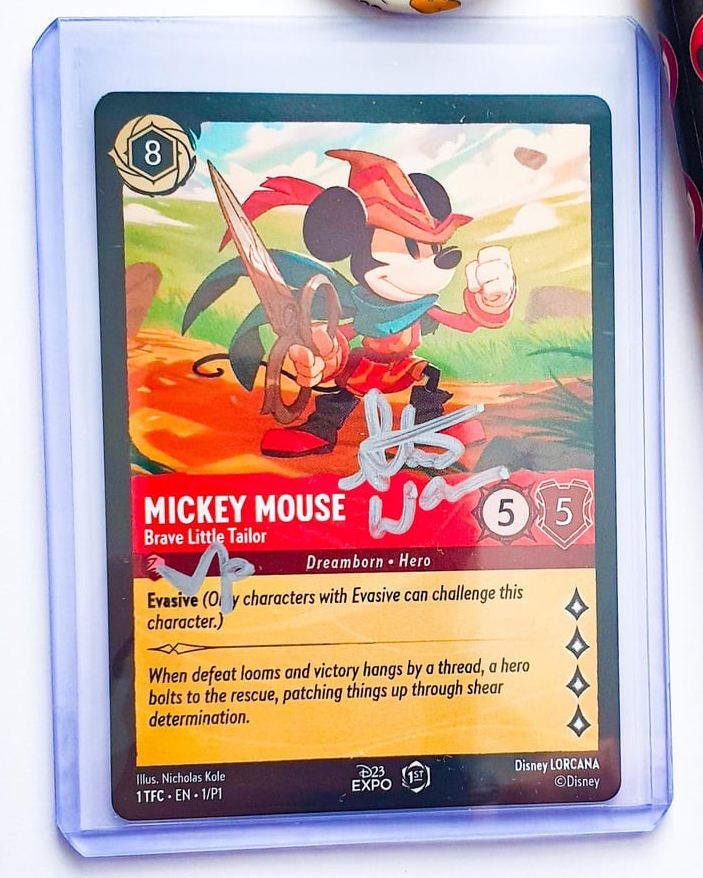 Signed Micky Mouse card
The D23 cards released at the promotional event have also now been submitted to card-grading companies like PSA and BGS. These companies look at cards and score them based on their condition; with a 10 being pristine and flawless.
You can view the population report for graded Lorcana cards; at the time of writing this article there are currently 296 graded PSA 10 Micky Mouse cards.
This makes the cards even more limited and rare because lots of collectors want to get their hands on PSA 10 graded cards. Not every card printed is guaranteed to have a PSA 10 grading; cards often have poor print quality, get damaged in transit and suffer from tiny surface scratches. A PSA 10 is a perfect card and the likelihood of getting one of those even rarer.
And thus, you now have a demand for an extremely limited card. These could end up being some of the rarest Lorcana cards to ever exist, and the set isn't even out yet!
Successful Launch of Lorcana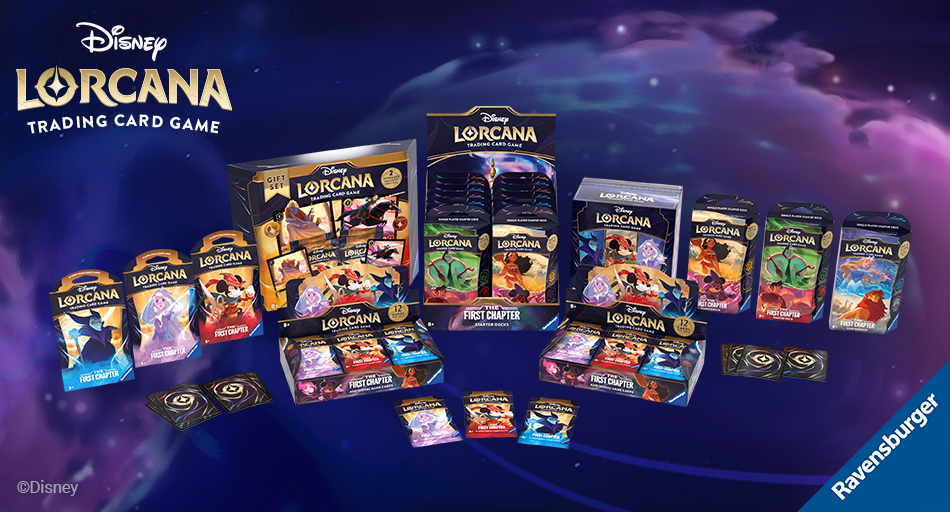 No one knows if these promotional cards will ever be released again in the same format. They could be given out at other conventions further down the line but there is something special about these cards being the first to ever be released.
It took Pokemon Cards 25 years before their price exploded during the Pokemon TCG boom in 2021.
Lorcana is still very much in it's early/baby stages of being a TCG and if it has a successful launch, that could bode well for these promotional cards being even more desired as more fans are brought into the game.
Did you manage to snag the promotional cards at the D23 event? Or have you managed to buy some online? Let us know in the comments how much you paid!