Fortnite Chapter 3 Season 1 comes to an end on March 19th and so here is a recap of all the events that unfolded during the first season of Chapter 3.
If you're looking to get back into Fortnite for Chapter 3 Season 2, this guide will give you a quick summary of all the events that unfolded so you can be somewhat in the loop!
Chapter 3 is the start of a brand-new storyline and like the start of Chapter 2, it comes with a brand new map for players to dive into and explore.
Chapter 3 Season 1: Flipped - V19.00
Chapter 2 The End event saw the island attacked by the Cube Queen and in order to save it from destruction, it was flipped 180, revealing the brand new map, although almost half of it was covered in Ice!
You can see the Chapter 2 End Event in the video below:
With the new Chapter 3 beginning on December 5th 2021, plenty of new mechanics and features were added, including:
Victory Royale Crowns
Host of new weapons
Web-Shooters - Use Spider Mans Web-shooters to travel across the island
Pick-up Squad Members Faster- When downed, if multiple people interact with a downed player, they will be picked up faster
A Season-Long Quest Line
Vaults are back- to open them you need several players to be scanned for entry.
Quadcrashers are back
Violent Storms/Tornados now pass through the map at any time
The Battle Pass for this season includes the following skins:
Spider-Man
Shanta
Ronin
Haven
Lt. John Llama
Gumbo
Harlowe
And also special quests to unlock The Foundation and a variety of Haven Masks.
Finally, don't forget the new Fortnite Chapter 3 Season 1 Map.
Patch V19.01

With patch V19.01 came a round of weapon updates, including several nerfs and improvements that players had been complaining about.
They also added several styles to the Bonus Content of the Battle Pass that players can unlock after getting to level 100+.
Hotfix
During the Hotfix patch on January 4th 2021, The Shield Keg was added to the game.
Flare Gun was added during the next Hotfix.
Winterfest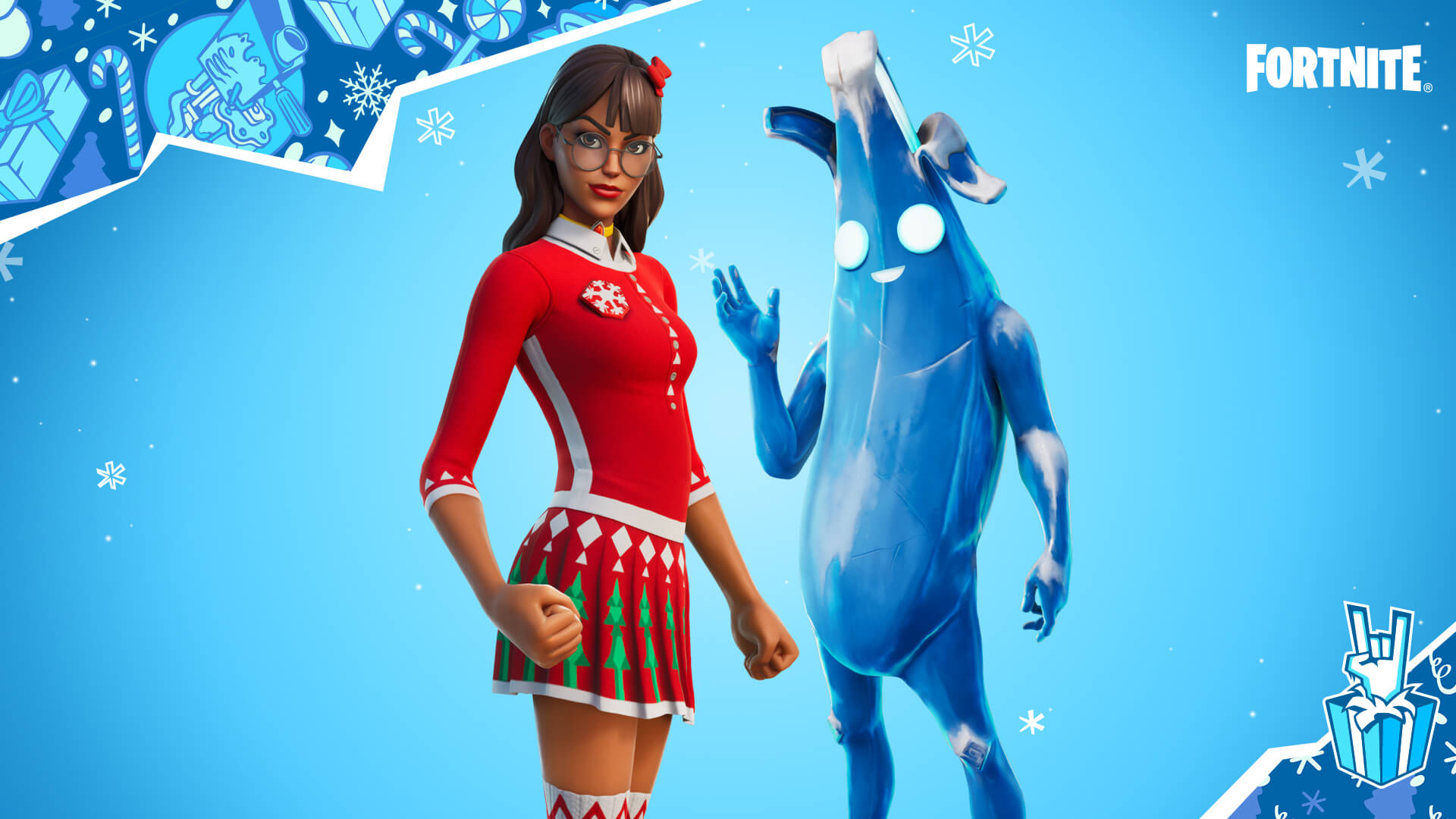 A returning feature of Fortnite is Winterfest. Throughout the whole of December, players can get free gifts every day from the Winterfest Lodge and this year players can get three different skins, including:
Krisabelle
Polar Peely
Blizzabelle
The map also was updated to include several icy-themed items, including Chiller Grenades and Snowball Launchers. There are also Winterfest Quests to unlock daily that give out rewards and XP!
All Valley Cup
The first competitive tournament of the Season was added called The Valley Cup. Players could earn three different Spray items for competing in this Solo cup.
Playstation Cup
Players on PlayStation were also given their own exclusive cup to compete on. This Solo Competition had a prize pool of $107,100 given away to players across all regions on PlayStation devices (PS4 and PS5 only).
V19.10 - Tilted Towers and Klombo
In mid-January, Tilted Towers was readded to the game. It was last seen in Chapter 1, but now has thawed from the ice, returning just like before.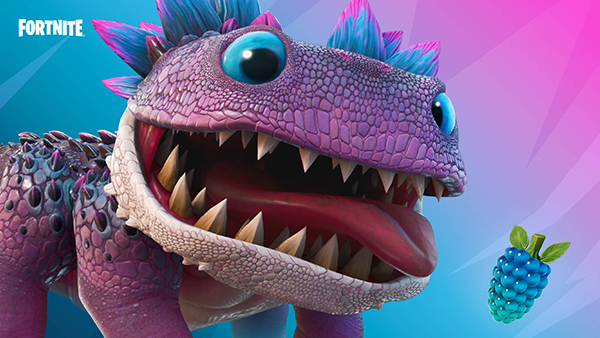 Fortnite Wildlife doesn't get more stranger than this- the Klombo can be found stomping around the island. If you feed it special Klomberries, it can give you items and become more friendly.
Also added this update:
Golden Grenade Launchers
Victory Royale Crowns now display greater than 99 wins
Weapon balances
Hotfix
During the Hotfix on January 25th 2022, Pizza Party items were added to Fortnite. These items allowed players to eat slices of Pizza, that recover 50 HP or Shield up to a max of 150. Players can also take slices for later, stacking up to 3 slices in their inventory.
V19.20 - Covert Canyon
Patch V19.20 introduced a new POI called Covert Canyon. Inside, players can find the Mythical Stinger SMG item by defeating an NPC called The Gunnar.
The Heavy Shotgun was also re-added to the game, but with new mechanics than previous seasons.

Those with the Battle Pass will also be able to unlock lots of new Masks for the Haven skin by completing various challenges.
Hotfix
During the 8th February 2022 update, the Machine Pistol was added to the game.
The Foundation Set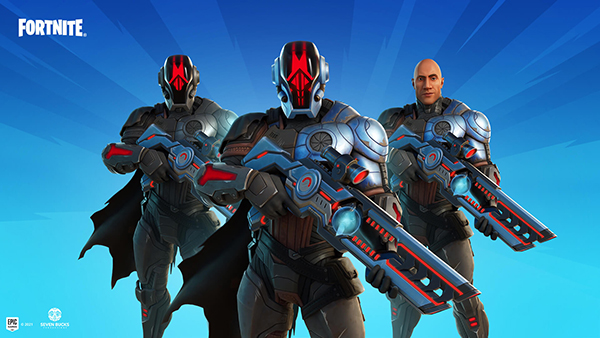 As part of the Battle Pass for Chapter 3 Season 1, a new set of quests was added to unlock The Foundation Skin. There are two pages worth of quests for players to unlock and complete, earning various Locker items.
Chapter 3 Season 1 FNCS Begins
On February 17th, the first FNCS of Chapter 3 begins with a DUOs Tournament. The tournament will officially start with qualifying rounds on February 17th across all regions. The prize pool for this tournament was $3,008,500.
Players would need to win Qualifiers in order to advance to the Finals (or Semi-Finals).
Finals would be held at the beginning of March.
V19.30 - Gyro Controls
During V19.30 Update, controller players were given a nice surprise with the introduction of Gyro controls. These new controls allow players on controller to move their controller around to get better aiming accuracy.
The patch also removed the loading screen where you choose between Battle Royale, Creative and Save The World.
Hotfix
Bownanza Week was introduced during the hotfix patch for V19.30. Primal Bows were re-added to Battle Royale for this week only and allowed players to complete quests for XP.
Naomi Osaka Cup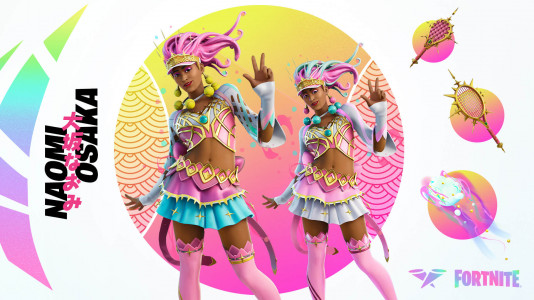 As part of the Fortnite Icon Series, the tennis player Naomi Osaka had her very own skin added to the Fortnite Item Store.
Players who competed in the Naomi Osaka Cup also had the chance to earn the skin for free!
V19.40 - Amazing Web Week
V19.40 began with a new week-themed quests called Amazing Web Week, in which Spider-Mans Web-Shooters were added to normal Chest spawn loot.
Hotfix
The hotfix update also included the start of the new weekly-themed quests called Avian Ambush.
FNCS DUOs Finals
Concluding the Season, the FNCS DUOs Finals was held on March 5th & 6th 2022.
Your Favorite Moment of Chapter 3 Season 1
Let us know in the comments your favorite moments of Chapter 3 Season 1!