Pokemon Celebrations is officially out in the UK and this guide will show you where you can purchase Pokemon Celebrations across the UK.
Pokemon Celebrations is a special Pokemon TCG set to celebration the 25th anniversary of Pokemon. Included in the set are 25 reprints of fan-favorite Pokemon Cards from previous sets, such as Charizard, Blastoise and Venusaur from the original Pokemon TCG Base Set. Check out the full Pokemon Celebrations Card List here.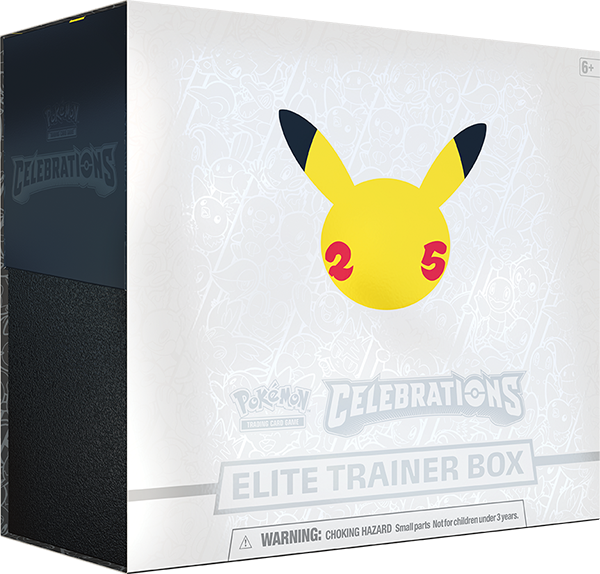 Pokemon TCG saw huge growth and popularity in early 2020, with many old fans returning to the Pokemon TCG scene with fond memories of their childhood. This has caused the price of rare Pokemon cards to go through the roof and made it very difficult for fans to get their hands on the latest sets.
Pokemon Celebrations has been the most sought after set of the year, with stocks running low all across the world and selling out in minutes as soon as they're put up for order.
In the United Kingdom, Pokemon Celebrations can be found in a number of stores across the UK, including various online retailers and local card shops. If you're hunting for some Pokemon Celebration Products, this guide will give you a list of the top best places to buy Pokemon Celebrations in the UK.
Best Places to buy Pokemon Celebrations in the UK
Here are all the places that are currently listing Pokemon Celebrations for sale. We've also included some hidden gems where you might be able to pick up a few Celebrations Products even if they're aren't being listen on their online stores.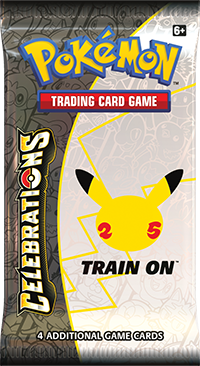 Smyths Toy Shop
After Toys 'R Us shut down in the UK, Smyths Toy Shop became one of the top UK toy shops in the whole kingdom. They have consistently sold Pokemon TCG cards and get some of the earliest stock of cards allocated to them.
They are currently selling all Pokemon Celebration products, including the Elite Trainer Box, Lance's Charizard Box and Pokemon Celebration Mini-Tins. Their stock fluctuates and it's very hard to get alerts of when they do restock- so you're best to keep checking their stock pages if you want to get some Celebrations. Their prices are all MSRP, so you won't have to pay over the odds.
They also are giving away a free pack of Pokemon First Partner Cards with orders over £25.
They rarely give hints at when stock comes, apart from a simple estimation date at the bottom of each product page.
Game.co.uk
Arguably the biggest gaming store in the UK, Game stores have always sold gaming memorabilia, including Pokemon merch and trading cards.
Game have also signed an exclusive partnership with Pokemon to release the Pokemon Celebrations Prime box only in their stores. The Prime box comes with 3 Celebration boosters + another 6 inside a Pokemon Collectors Chest.
Game do reply to customers on Twitter but they don't give any hints out for when you can expect restocks of Pokemon Celebrations. Your best bet is to constantly be checking their websites.
They do keep stock for their stores all across the UK, so you might be in luck and find some Pokemon Celebrations on their shelves.
Chaos Cards
Chaos Cards is one of the best places to buy Pokemon TCG products. They have over 30,000 positive reviews on Trust Pilot and provide great personal customer support. Whilst they are not a giant retailer, they are constantly restocking their supplies of Pokemon Cards, including Pokemon Celebrations.
One of the best aspects of Chaos Cards is that they can give you more precise updates on when to expect a restock of products. They often use Twitter and their own mailing list to give a heads up of when product is going to go live, allowing you to plan when to hit their online store. It definitely is a better experience than checking with random expectations.
They offer shipping all across the UK, including next day delivery and free standard shipping when you qualify for it.
Total Cards
Another great local card store that has a brilliant online store is Total Cards. They originally started out selling cards on Ebay, but soon moved towards creating their own business in the UK. They are well known for their Trading Card products and ship all the major Pokemon TCG sets, with over 10,000 reviews on TrustPilot.
All prices of Pokemon Celebrations are at MSRP, and they also sell the individual cards from the set too. They also communicate with customers on Twitter, helping you know when product is going to be in stock.
Magic Madhouse
For Pokemon Celebrations, Magic Madhouse have had a lot of fun with selling this product and giving their eager customers plenty of heads-up for when Celebration is going to be in stock. If you watch them on Twitter, they will give you to-the-hour timing of when stock is coming up, allowing you to plan well ahead of time.
Magic Madhouse sell all sorts of TCG products, including Magic The Gathering, Pokemon TCG and YU-GI-OH cards. With over 20,000 TrustPilot Reviews, they are well worth checking out and using to buy Pokemon Celebrations.
Nintendo Online Store
The online Nintendo store is selling the complete set of Pokemon Celebrations. They're selling at MSRP and you can also sign up for notifications of when product is in stock. They also allow you to pre-order for when stock does come back online.
If you have any Nintendo Reward Points, this might be a good time to use them!
Argos
This massive retailer ships everything and anything; Argos have a unique style of selling goods in their stores and anyone whose lived in the UK will know what we mean. They also have an online store and you can even use it to check the availability of stock in their stores near where you live.
For Pokemon Celebrations, they don't seem to be stocking the full set. They do have Pokemon Celebration Elite Trainer Boxes listed on their site, but that's all. It's one of the lesser well-known stores for Pokemon Cards that might be worth checking out in case they get a restock without anyone noticing.
Tesco, Sainsburies, Asda
The UK Supermarket stores are not known for selling lots of Pokemon products, but they do occasionally have some Pokemon TCG products on their shelves. You'll have to go to the bigger stores to see toy sections; and their websites usually have out-of-date product information.
However, many people have been lucky enough to find Pokemon Celebration products on their shelves. If you have a big superstore near you, it might be worth a visit!
Waterstones, WHSmith
These two stores can also sell Pokemon Celebrations if you're lucky. Many of them don't sell Pokemon TCG, but there are a few reports of people picking up Pokemon Celebration products from these stores. Their stocks are likely to be very limited, but if you're in the area, they might be worth asking if they have any in stock. You probably won't be able to order anything from their online stores.
Amazon.co.uk
We're not entirely sure what is going on with Amazon in regards to Pokemon Celebrations. They do list their products, but a lot of them are being sold way above MSRP from third-party sellers.
However, we have seen some Pokemon Celebration products in stock going for MSRP, including the Pokemon Celebrations Deluxe Pin Box. There doesn't seem to be much stock, and because it's a huge giant, you'll have to manually check the product pages to see if it ever comes in stock.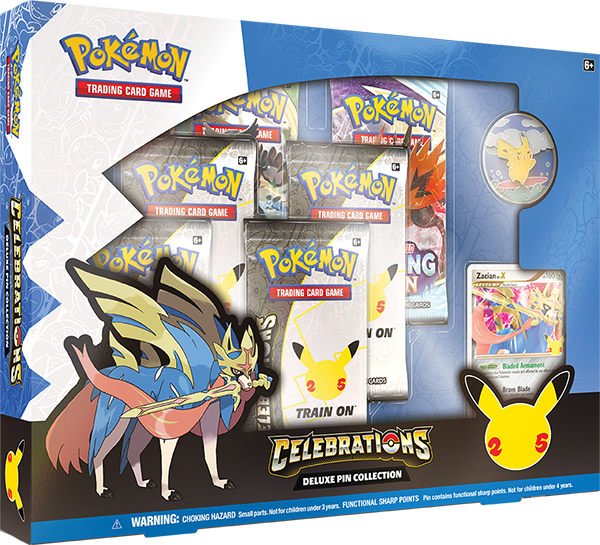 Ebay.co.uk
Your final choice for getting Pokemon Celebrations should be Ebay. Unfortunately, the site is filled with Pokemon Celebration products that are being sold well above MSRP. If you don't mind paying over the odds, this is your next best place. You're likely to find all the Celebration products on here, including individual cards from the set.
Make sure you check out the feedback of any sellers you use to get a good idea of how trustworthy they are.
Hidden Gems
Let us know in the comments if you've been able to find any Pokemon Celebration products from other stores? Any surprising places you saw it for sale? Any recommendations? Let us know!