The first set of 2024 for Pokemon TCG has been announced as Paldean Fates! Take a look at our preview of this latest set, including Paldean Fates products, cards and more!
Paldean Fates will be released on January 26th, 2024 and will not feature Booster Boxes! Instead, you'll be able to get Booster Packs from a variety of different products such as Elite Trainer Boxes, Booster Bundles and more.
Paldean Fates is a set similar to Sword & Shield Shining Fates and Sun and Moon Hidden Fates. This set will reintroduce Shiny Pokemon cards into the Scarlet & Violet series with over 130 shiny cards to collect!
Trainers can collect and battle with more than 130 Shiny Pokémon, including Shiny Pikachu, Shiny Ceruledge, Shiny Tinkaton, Shiny Dondozo, Shiny Tatsugiri and more. In addition, the expansion introduces Shiny Tera Pokémon ex — featuring Charizard, Forretress and Espathra — as well as more Ancient and Future Pokémon ex.
Paldean Fates Booster Bundle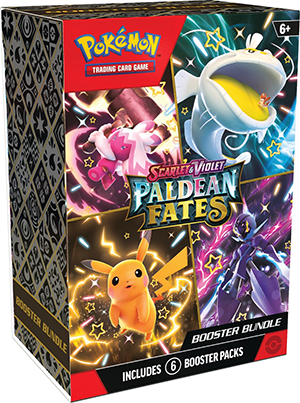 Paldean Fates will not have a Booster Box for this set. However, the Booster Bundle is still a great way to getting Pokemon TCG Paldean Fates Booster Packs.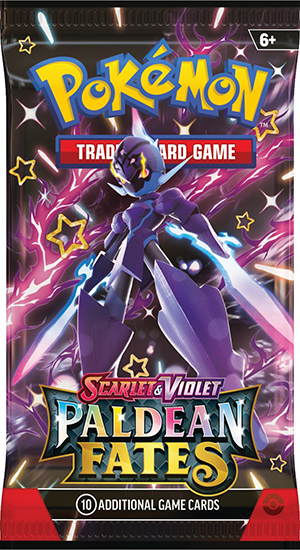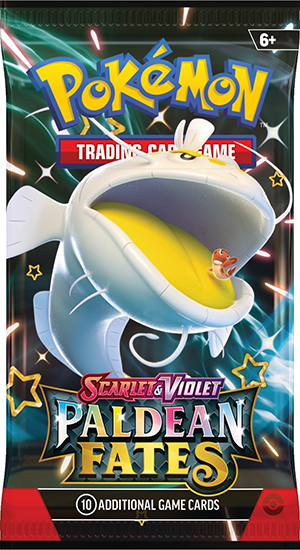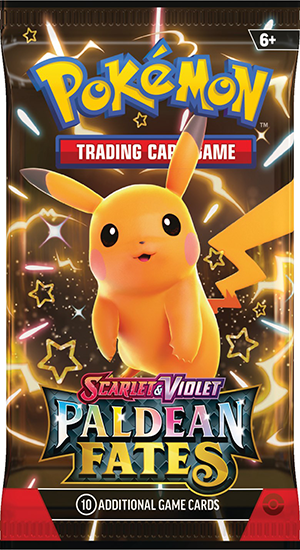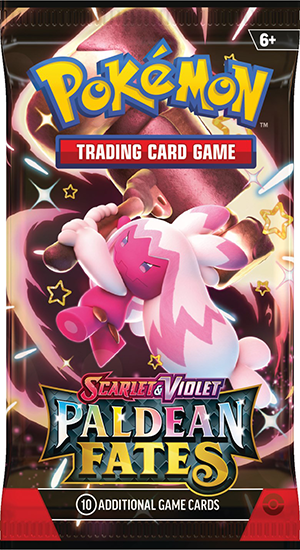 Each Booster Bundle comes with 6 Booster Packs. The Booster packs feature Pikachu, Ceruledge, Dondozo and Tinkaton.
Paldean Fates Elite Trainer Box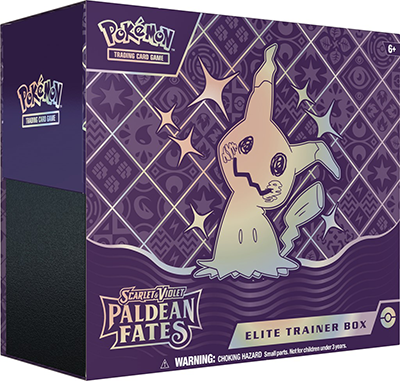 The Elite Trainer Box for Paldean Fates features the Pokemon Mimikyu! There are two versions available, the Pokemoncenter ETB and the regular ETB version. The differences are the amount of Booster Packs and Promo cards you get in each.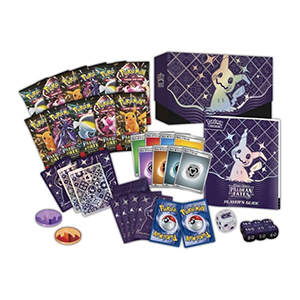 The Pokemoncenter ETB contains:
11 Pokémon TCG: Scarlet & Violet—Paldean Fates booster packs

Each booster pack contains 10 cards and 1 Basic Energy. Cards vary by pack.

1 full-art foil promo card featuring Shiny Mimikyu with a Pokémon Center logo
1 full-art foil promo card featuring Shiny Mimikyu
65 card sleeves featuring Shiny Mimikyu
45 Pokémon TCG Energy cards
A player's guide to the Scarlet & Violet—Paldean Fates expansion
6 damage-counter dice
1 competition-legal coin-flip die
2 plastic condition markers
A box to hold everything, with 4 dividers to keep it organized
A code card for Pokémon Trading Card Game Live
So far the promo card featuring Shiny Mimikyu hasn't been revealed.
Paldean Fates Premium Collection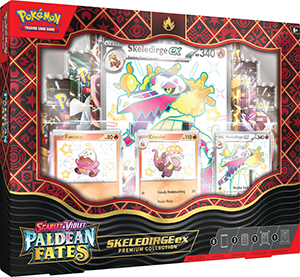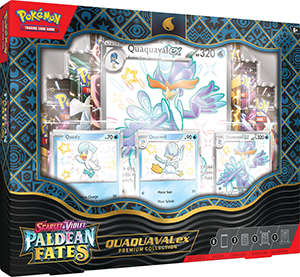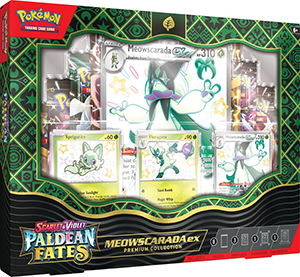 There are also three Premium Collections being released for Paldean Fates! They each come with 8 Booster Packs and 3 normal-sized promo cards and 1 oversized card depending on which Premium Collection box you pick!
The three boxes feature the three starter Pokemon of Scarlet and Violet: Fuecoco, Quaxly and Sprigatito.
You'll get the following items in each box:
8 Booster Packs
3 Shiny Promo cards (including one EX shiny card)
1 Oversized Shiny Promo Card
Paldean Fates Mini Tins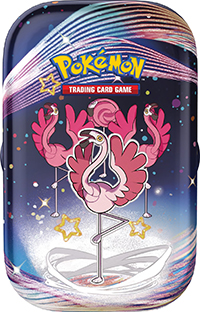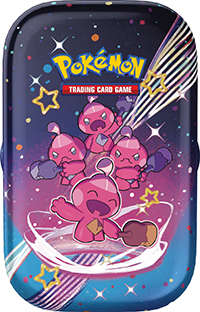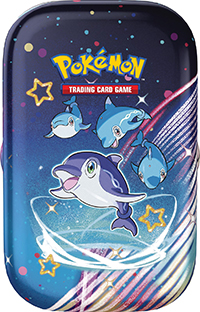 There will also be 5 Mini-Tins for you to collect for Paldean Fates. Each tin contains 2 Booster Packs, a sticker sheet and an artwork card.
The tins feature Maushold, Smoliv, Tinkatink, Finizen and Flamigo.
Paldean Fates Tech Sticker Collection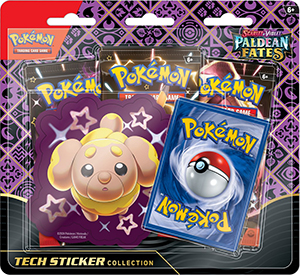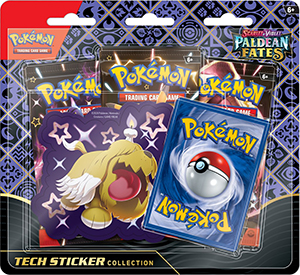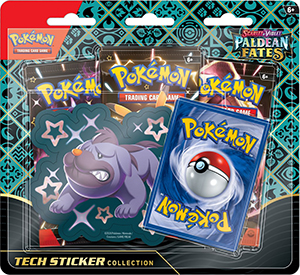 The tech sticker collection for Paldean Fates feature 3 Booster Packs and come with a promo card as well as a large sticker.
There are three Tech Sticker Collection packs to obtain, featuring Fidough, Maschiff and Greavard.
Paldean Fates Tin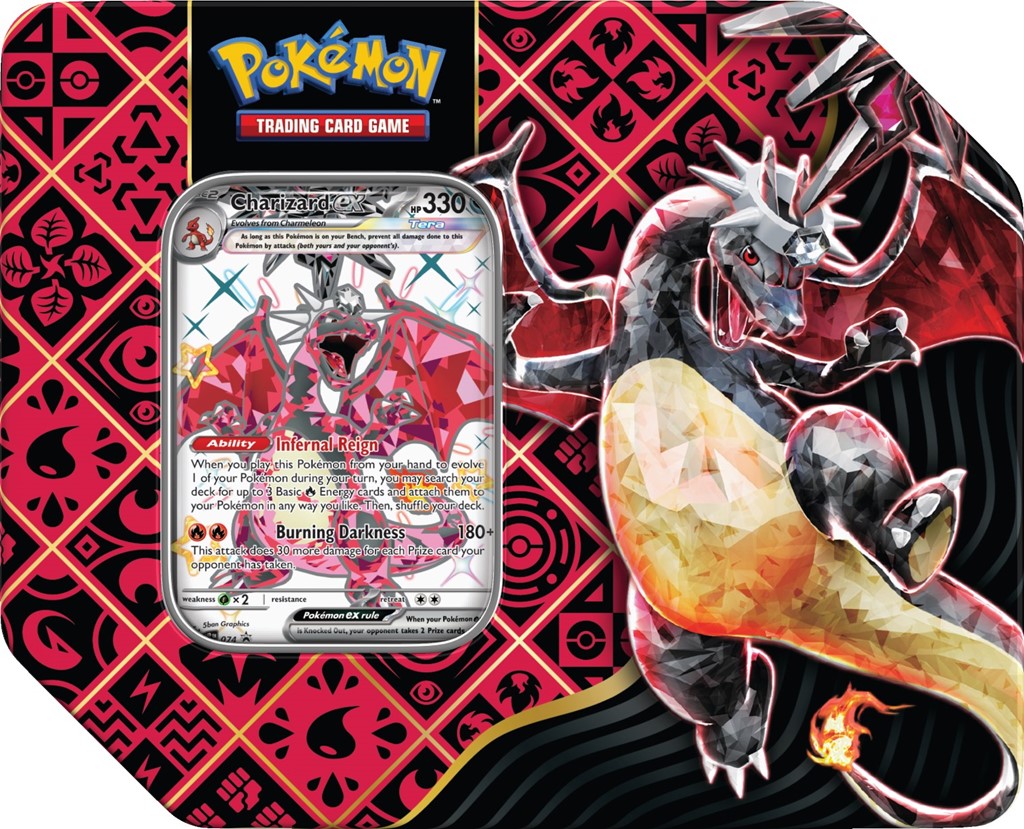 There will also be 3 Paldean Fates Tins to collect. Each tin comes with 4 Booster Packs and an EX Promo Card.
The 3 tins feature Tera Charizard, Great Tusk ex and Iron Treads ex.
Paldean Fates Card Previews
No card previews have yet been made available. We'll keep this page updated with newly released cards.