We've compiled a list of stores currently selling the upcoming Pokemon TCG set Paldea Evolved for sale in the UK! The UK Pokemon TCG scene has never been hotter, with plenty of choice for buying Pokemon Cards.
Paldea Evolved will be released on 9th June 2023 in the UK. It is the second set of the Scarlet and Violet series of the Pokemon TCG and you'll be able to collect this set by buying Booster Boxes, Elite Trainer Boxes and buying Booster Packs.
If you're not sure where you can pick up Paldea Evolved cards in the UK, we've got you covered! This guide will take a look at the best places to buy Pokemon TCG in the UK, from superstores to independent card shops!
Let's dive in!
DigitalTQ Store
A little self-promo never hurt anyone- the DigitalTQ Store will be selling the latest Paldea Evolved Set and we've got some great deals on Booster Boxes and Elite Trainer Box products.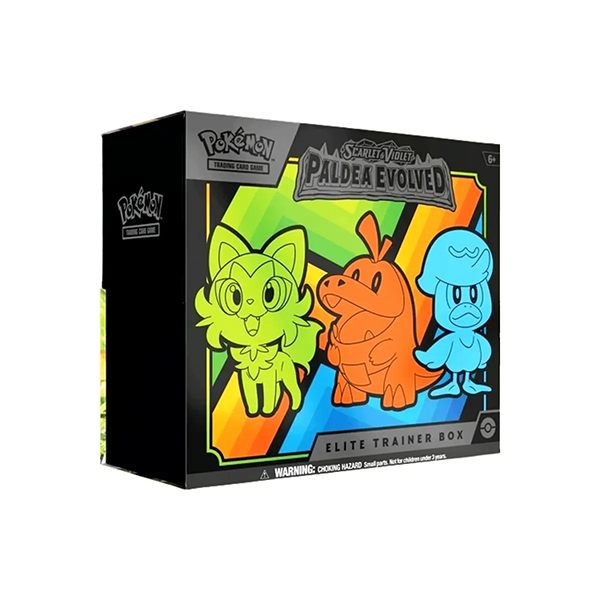 We've just launched our Store and we've had some great feedback so far, so we encourage you to check us out! We aim to have some of the cheapest Paldea Evolved prices in the UK, so make sure to also check out our Pokemon Card Deals UK page, where we are constantly adding new deals each week.
Pokemon Center UK

You can also purchase Paldea Evolved from the official Pokemon Center website. They are offering an exclusive Paldea Evolved Elite Trainer Box (that's more expensive than the regular one); they also have Booster Boxes and other products for sale.
The prices might be a little higher than smaller stores, but also get the guarantee of buying directly from Pokemon themselves.
Game UK
Game is one of the biggest video game stores on the high street in the UK and also one of the most reliable places to buy Pokemon Cards. They have pre-orders up for Paldea Evolved cards already selling Elite Trainer Box at £49.99 MSRP.
Game sometimes have exclusives and promo cards for the Pokemon TCG, so they're well worth a check when looking at shops.
Amazon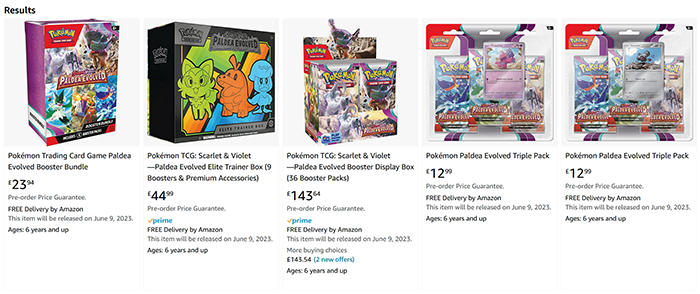 Amazon also sell Pokemon TCG products and they have been getting a lot better at offering good deals. Amazon also includes third-party sellers, so you'll have to shop around to find Paldea Evolved at good prices. Make sure to check the feedback rating of each seller before you buy.
Amazon also usually have a good return policy, so you can shop with a bit more confidence.
CardMarket
CardMarket is a marketplace that allows you to buy and sell your Pokemon cards. This is a great place to buy Paldea Evolved from European sellers at decent prices. If ordering from EU countries, you may have to pay import duties so be aware (as the UK is no longer in the EU anymore :(!).
CardMarket is also great for single cards; if you're collecting Paldea Evolved and want to buy missing cards, it's a great place to look up those hard-to-get singles.
Ebay
Ebay also is a great choice for buying Paldea Evolved. Whilst there are plenty of sellers that can sometimes make you feel overwhelmed, many legit businesses also use Ebay to sell products due to the great reach it has.
Just make sure to check feedback for each Ebay seller; if the price is too good to be true, be extra cautious!
Smyths Toys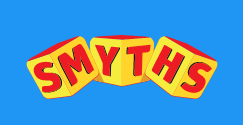 Smyths Toys is a giant superstore for toys and they also sell Pokemon TCG cards. Smyths was one of the few places you could buy Pokemon cards during the giant boom of the Pokemon TCG in the UK during 2021.
Smyths have lots of retail locations around the UK and you can use their website to check if a product is in stock before you buy. They already have pre-orders up for Paldea Evolved!
Best Places To Buy Paldea Evolved In The UK?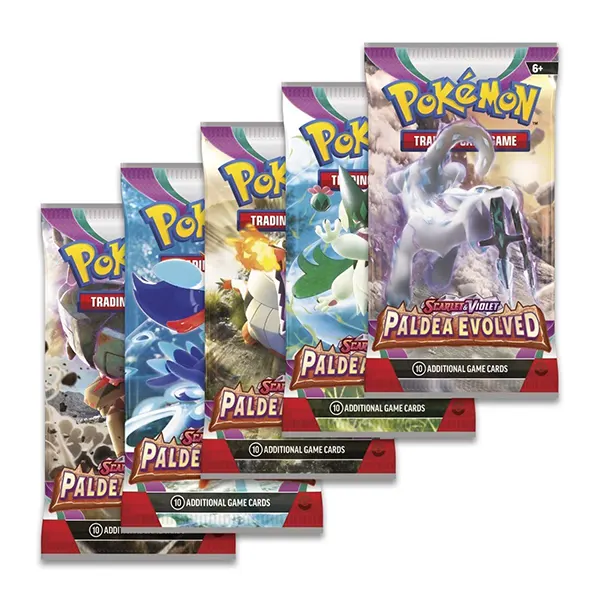 Have your say in the comments section below! We want to know where you buy your Pokemon Cards from and which stores you're using for Paldea Evolved!