In Dinkum, you can find bugs all over your Island that you capture using your Bug Catcher Net. As your Island moves through the Seasons, different species of Bugs will start appearing and you can submit them to your Museum for Permit Points and glory!
Like Fishing, each time you capture a Bug you gain EXP towards your Bug Catching Level. Unlike other Professions, you don't have to upgrade your Bug Net to capture all the species.
You can unlock the Museum for your Bugs by getting Theodore to join your Island.
Tips and Tricks for finding Bugs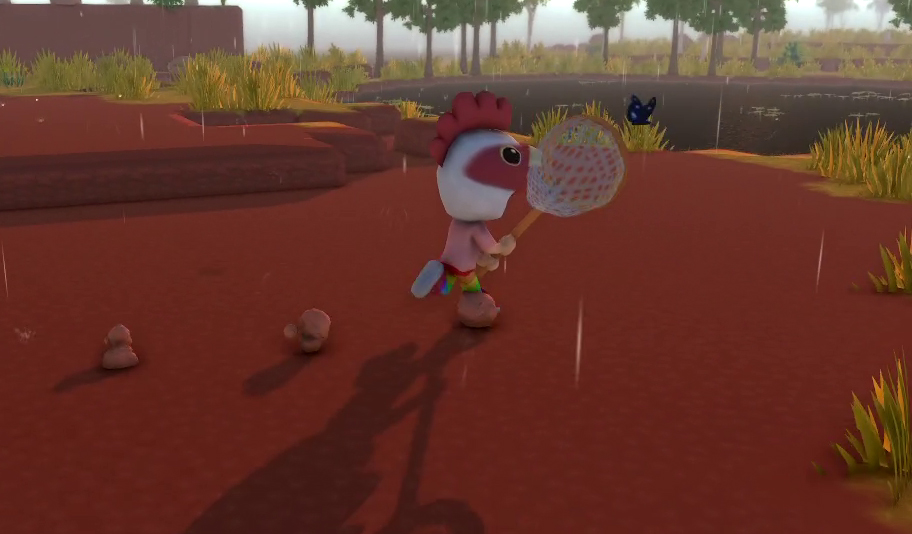 Bug Catching is pretty simple in Dinkum and all you need is a Bug Net, which can be purchased from John for 1,100 Dinks.
You'll find Bugs all over your Island; you just need to aim your Bug Net on the tile the bug is on and it will be caught! Bugs do not stack in your Inventory, so they can quite quickly clog up your Inventory.
As the time of day and the seasons change, different bugs will spawn. You'll need to complete a full year on your Island in order to catch all the bugs.
You can see Bugs from quite far away, so if you ever unlock the Helicopter, it is great for scouting large areas for the bugs you really need.
All Dinkum Bugs
Here are all the Bugs you can capture in Dinkum. There are a total of 40 Bugs to collect!
| Bug | Sells For | Locations | Time | Seasons |
| --- | --- | --- | --- | --- |
| Queen Bee | 2,300 Dinks | The Pine Forests, The Plains, | | |
| Peacock Spider | 1,792 Dinks | The Bushlands, The Tropics, | | |
| Firefly | 860 Dinks | Everywhere, | | |
| Meadow Katydid | 900 Dinks | The Plains, | | |
| Fly | 72 Dinks | Everywhere, | | |
| Largidae | 780 Dinks | Everywhere, | | |
| Tau Emerald Dragonfly | 2,010 Dinks | The Plains, The Bushlands, | | |
| Field Cricket | 1,348 Dinks | The Plains, The Bushlands, | | |
| Pygmyfly | 1,672 Dinks | The Desert, The Plains, | | |
| Desert Scorpion | 1,212 Dinks | The Desert, | | |
| Harlequin Butterfly | 2,121 Dinks | Everywhere, | | |
| Birdwing Butterfly | 9,100 Dinks | The Tropics, | | |
| Grass Hopper | 1,700 Dinks | The Tropics, The Plains, | | |
| Black Cricket | 980 Dinks | Everywhere, | | |
| Trogid | 1,400 Dinks | The Desert, | | |
| Ulysses Butterfly | 660 Dinks | The Bushlands, | | |
| Ladybird | 1,900 Dinks | The Pine Forests, The Plains, | | |
| Funnel Web Spider | 1,020 Dinks | The Bushlands, | | |
| Huntsman | 3,552 Dinks | The Desert, The Bushlands, | | |
| Stag Beetle | 4,100 Dinks | The Tropics, The Bushlands, | | |
| Cockroach | 154 Dinks | Everywhere, | | |
| Goliath stick | 6,330 Dinks | The Tropics, The Pine Forests, | | |
| Grass Yellow Butterfly | 220 Dinks | The Plains, The Pine Forests, The Tropics, | | |
| Monarch Butterfly | 3,860 Dinks | The Bushlands, The Pine Forests, | | |
| Glow Bug | 2,580 Dinks | Deep Mines, | | |
| Swallow-tail Butterfly | 990 Dinks | The Tropics, | | |
| Common Blue Tail | 772 Dinks | The Pine Forests, The Tropics, | | |
| Painted Lady Butterfly | 560 Dinks | The Pine Forests, | | |
| Stinkbug | 300 Dinks | Everywhere, | | |
| Emperor DragonFly | 4,172 Dinks | The Tropics, The Plains, | | |
| Fiddler Beetle | 2,400 Dinks | The Tropics, The Bushlands, | | |
| Tiger Moth | 1,360 Dinks | The Bushlands, The Plains, | | |
| Paper Wasp | 990 Dinks | The Plains, The Desert, | | |
| Blue Moon Butterfly | 290 Dinks | Everywhere, | | |
| Bogong Moth | 260 Dinks | Everywhere, | | |
| Rhinoceros Beetle | 1,930 Dinks | The Bushlands, The Pine Forests, | | |
| Red Back Spider | 1,552 Dinks | The Desert, | | |
| Hercules Moth | 3,000 Dinks | Everywhere, | | |
| Scarlet Jezebel Butterfly | 790 Dinks | Everywhere, | | |
| Lacewing | 1,680 Dinks | The Pine Forests, The Plains, | | |
| Purple Azure Butterfly | 2,200 Dinks | The Pine Forests, | | |
| Duskhawker DragonFly | 2,350 Dinks | The Pine Forests, The Tropics, | | |
| Bee | 680 Dinks | The Pine Forests, The Plains, | | |
| Centipede | 2,220 Dinks | Everywhere, | | |