Ted Selly is a special Island Visitor in Dinkum that will randomly visit your Island. Unlike other visitors, he does not appear in your Visiting Tent. Instead, he will appear randomly in the wilderness- anywhere on your Island!
Ted Selly also cannot be made a permanent visitor, so there are no Daily Tasks for you to complete.
Ted Selly will purchase any items you've gotten from Hunting wild animals for a premium price (50% more!)
He will also craft you some of the strongest items in the game.
How To Find Ted Selly
Ted Selly is hard to find due to the fact that he spawns randomly on your Island- anywhere! However, there are a few ways to maximize your chances of coming across him.
When Ted Selly is within your immediate vision, you will hear a long whistle sound to signify he is nearby. You can hear this Whistle even if you're in the air.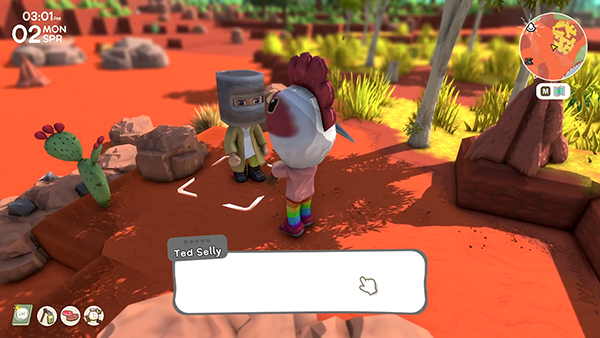 Ted Selly can visit every day and will only be available after 12:00PM (noon). However, this doesn't mean he will actually visit every day as the chance of him spawning is pretty low!
Your best bet is to save up for the Helicopter vehicle from Franklyn and use that to scout for Ted Selly. This is an expensive way of finding Ted Selly though, as the Helicopter costs 3,000,000 Dinks!
When you do eventually find him, it is best to have the materials already on hand for what you want to craft as you may not find him again! Place a marker on your map so you can come back to him.
Ted Selly Hunting Gear
Below is a list of items Ted Selly can craft you and the required materials.
Item
Materials
Stats
Notes

Bat Zapper

100,000 Dinks
1x Torch
3x Thunder Sac
2x Hot Cylinder
4x Bright Wire
10x Glowing Mushroom
5x Iron bar

 
 

Battle Shovel

150,000 Dinks
1x Shovel
2x Spinifex Resin
8x Crocodile Tooth
4x Copper Bar

 

Bone Bow

240,000 Dinks
1x Slingshot
20x Bone
2x Iron Bar
2x Copper Bar

Requires Bone Arrows to shoot.

Bone Arrow
 
 

Alpha Hammer

400,000 Dinks
1x Iron Hammer
2x Alpha Antler
10x Copper Ore
10x Iron ore
5x Opal

 

Alpha Spear

400,000 Dinks
1x Iron Spear
2x Alpha Scale
10x Copper Ore
10x Iron ore
5x Opal

 

Alpha Bat

400,000 Dinks
1xFlaming Bat
2x Alpha Eye
10x Copper Ore
10x Iron ore
5x Opal

 

Croco Berley Box
 
 

Devil Berley Box
 
 

Shark Berley Box