Melvin allows you to buy Furniture for your House in Dinkum. He will show you a variety of items to buy, which rotate each day on your Island. Once purchased, the Furniture is added to a catalog so you can purchase them again.
Melvin visits your Island in Dinkum when you first upgrade your Base Tent to a stage one House.
Melvin Furniture Shop Deed
Friendship Level:





Opens: 10am-5pm, closed Tuesday and Thursday
Melvin will give you his Furniture Store Deed once you get to half friendship level and spend around 30,000 Dinks in his shop.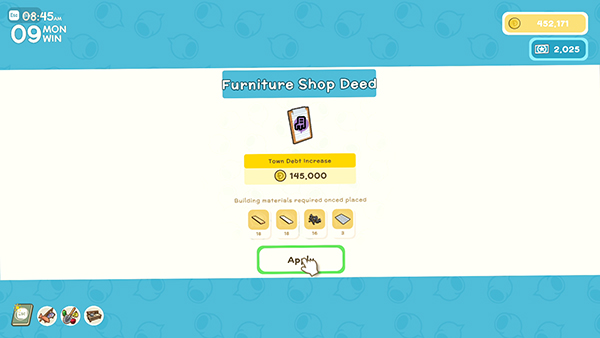 The Furniture Shop Deed will put your Island into 145,000 Debt. You'll also need the following materials:
18x Gum Wood Plank
18x Palm Wood Plank
16x Nails
3x Tin sheet
It will take two days for the construction of the building to be completed.
Melvin Daily Tasks
You can complete one Task for Melvin each day to increase your friendship level. Daily Tasks increase a heart by 25%.
Below is a list of tasks Melvin can ask you and the rewards you can get.
You must complete the task the same day you're given it.
Task
Reward
Notes
Bring her 4 Gum Wood Planks
 
Give him some new clothes
 
Buy items from you
 
Buy clothing items from him
Bring him a Blue Moon Butterfly
Melvin Furniture Store Items
Below are all the items Melvin sells in his shop.
Whenever you buy something from his shop, the item will get added to the Made-To-Order Catalogue for you to purchase again and again. The exception is floor and wallpaper, which are randomly rotated in.
| Name | Cost | Preview |
| --- | --- | --- |
| Dark Wooden Cabinet | 1385 Dinks | |
| Dark Wooden Single Bed | 1667 Dinks | |
| White Sofa | 2047 Dinks | |
| Regal Drawers | 2720 Dinks | |
| Eastern Chair | 1087 | |
| Eastern Table | 927 | |
| Easten Coffee Table | 1968 | |
| Billy Button Pot | 2460 | |
| Regal Bed |   | |
| Dainty Coffee Table | 1746 | |
| Alarm Clock | 11,080 | |
| Nordic Bookshelf | 3710 | |
| Warm Nordic Bookshelf | 2710 | |
| Rattan Basket | 2210 | |
| Royal Bluebell Pot | 1968 |   |
| Wooden Cabinet | 600 |   |
| Dark Wooden Table | 742 |   |
| Palm Wood Bench | 3592 | |
| Eastern Seat | 1,100 | |
| Fruit Bowl | 880 | |
| Pink Cabinet | 2740 | |
| Nordic Table | 2742 | |
| Desert Rose Pot | 960 | |
| Nordic Warm Coffee Table |   | |
| Stylish Dresser |   | |
| Small Stack Of Books |   | |
| Small Pot |   | |
| Pink Table |   | |
| Nordic Couch |   | |
| White Long Coffee Table |   | |
| Green Cabinet |   | |
| Green Bed |   | |
|   |   |   |
| Marble Floor | 5,000 |   |
| Red Wood Floor | 1316 |   |
| Dainty Floor | 900 |   |
| Retro Floor | 1314 |   |
| Dark Wooden Floor | 1500 |   |
| Dark Wooden Wall | 500 |   |
| Basic Blue Wallpaper | 500 |   |
| Blue Pattern Wall |   |   |
| Basic Wooden Wall | 500 |   |
| Eastern Wall | 500 |   |
| Basic Red Wall | 500 |   |
| Basic Wooden Floor | 500 |   |