Mining in Dinkum is one of the core professions that allow you to gather crafting materials to progress your Island. It is one of the first tools you learn to use and this guide will go over everything to do with Mining In Dinkum.
Every time you use a Pickaxe to mine ore in Dinkum, it raises your Mining Level. Increasing your Mining Level will allow you to purchase Mining Licences that upgrade your Mining Tools.
There are several types of Ore you can find in Dinkum and they can be used to craft better tools, weapons and upgrade your Island buildings.



There are three Mining Licences you can acquire
Level 1 - 250 Permit Points
Level 2 - 1,000 Permit Points (Level 10 Mining)
Level 3 - 3,000 Permit Points (Level 20 Mining)
Mining Tools
There are several Mining Tools you can acquire in Dinkum to help you mine precious ores. Below are all the Mining Tools you need and how to get them.
Dinkum Ore Types
There are several types of Ore you can mine in Dinkum. Some of them can be used for crafting and others can be sold for lots of Dinks. Below is a list of Ore you can find.
Ore Type
Converts To
Obtained From
Tool
Sells For

Stone

Bag Of Cement

Rock
Stone Grinder
10 Dinks

Tin Ore

Tin Bar

Tin Rock
Crude Furnace / Furnace
25 Dinks

Copper Ore

Copper Bar

Copper Rock
Crude Furnace / Furnace
50 Dinks

Iron Ore

Iron Bar

Iron Rock
Furnace
100 Dinks

Quartz Crystal
N/A

Quartz Rock
-
200 Dinks

Shiny Stone

Tin Ore

Copper Ore

Iron Ore
Any Rock
Stone Grinder
100 Dinks

Opal
N/A

Opal Rock
-
15,000 Dinks
Ruby and Amber Chunk
There are two special types of rare ore/gems that you can also find; these ore do not go into your Inventory- instead you have to carry them!
Amber Chunk can be found around your Island buried in the ground. When you dig it up with a Shovel, you can carry it on your head or use a vehicle to transport it.
Ruby can be found in the Deep Mines; you'll need to use your Pickaxe to break it out and then carry it back to the Elevator.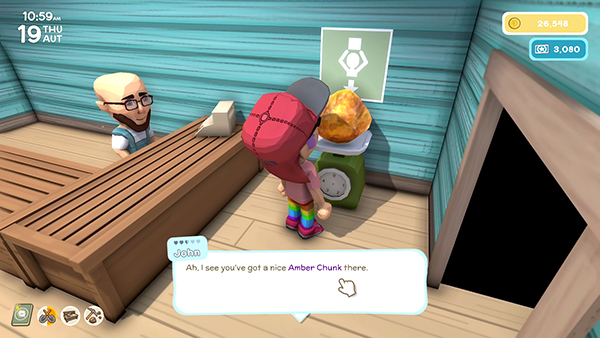 Both of these ores can be sold to John for Dinks. You place them on the scale in his shop and he will pay between 30,000-90,000 Dinks depending on the weight of the ore.
Best place to find Bronze Ore, Iron Ore and Tin Ore
When you first start your Island, you'll find plenty of Tin Ore, Bronze Ore and Quartz Ore Rocks all around your Island. The rocks will regenerate over time, so if you're struggling to find a specific type of Ore, just let a few days go by and you should see some pop up.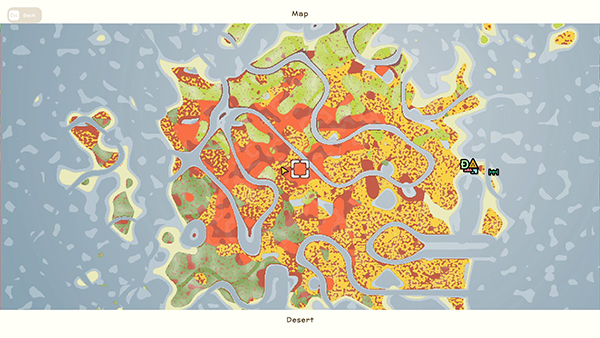 Some of the best areas to find Tin Ore, Bronze Ore and Quartz Ore are Desert Areas. There are usually huge clusters of rocks to break up and if you check your world map you can find Desert Areas by hovering over the orange spots.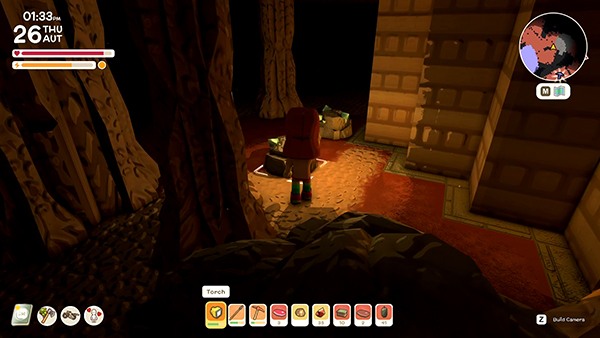 However, the best spot for gathering ore materials is The Deep Mine. There are quite a few requirements to access this place, but it is well worth it. It will also cost you 25,000 Dinks each time you head to the Deep Mines but you can easily make this back by finding Rubys and selling them to John.
Once there, you can mine until you run out of energy. It is the most reliable way to get all Ore types.

Once you unlock The Deep Mines, you will also start to find Iron Ore Rocks all over your Island, as well as Opal Ore Rocks. Opals sell for 15,000 Dinks each!