Fishing is one of the main skills you can upgrade in Dinkum and this guide will give you all the details you need on how to catch all the Fish in Dinkum, the best fishing tools and other fishing tips and tricks.
To Fish in Dinkum you need a Fishing Rod and the basic Fishing Licence from Fletch.
How To Fish in Dinkum
Fishing is relatively easy in Dinkum and all it requires is the Fishing Rod tool. You can fish in any area on your Island where there is water. You can usually see all the Fish in the water that you might be able to catch, so you don't need to do too much waiting around to get a nibble.
When you see a Fish, cast your Fishing Rod. You can hold down the casting action button for a longer cast.
Fish will then head towards your Fishing Rod's Hook. The fish will then nibble on your hook, and you'll hear several splashing sounds.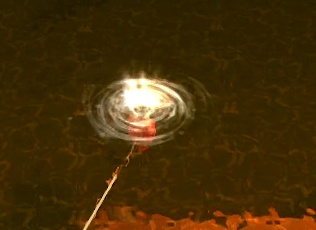 You'll only want to start reeling when you hear a large splash sound and the Fishing Rod's Bobber sinks deeper into the water. When you see this animation, start reeling in the Fish.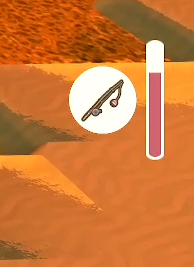 Your Fishing Rod will have a Reel Meter on the side of it. If you hold down the Reel button as the Fish is swimming away, it will use up it's power. If the power reaches zero, the Fish will break free and get away.
One tip for is to spam-click the Reel button rather than hold it down. This will reel the fish in but not use up your Reel Power.
The different types of Fishing Tools will give you more power and faster ability to reel the Fish in.
When you catch a Fish, it goes into your Inventory taking up one slot. It does not stack, so you can easily fill up your Inventory quite fast.
You can either sell Fish for Dinks or store them in your Museum.
Fishing Tools
There are a few Fishing Tools you can use to catch Fish. Each Fishing tool will allow you to catch rarer fish that require more power to reel them in, so it's always best to upgrade your Fishing Rod when you can.
Tool
Requirements
Obtained From

Fishing Rod
John's Goods Store

Copper Fishing Rod

Fishing Licence Level 2
Fishing Level 5

Crafting Table

Iron Fishing Rod

Fishing Licence Level 3
Fishing Level 10

Crafting Table
You might also want to consider crafting a Rowing Boat or Jetskii from Franklyn so that you can go further out into the deeper parts of the ocean.
All Dinkum Fish
Below is a list of all 33 Fish that you can catch in Dinkum. We've included the Time they can be found (morning, daytime and night time) as well as the Season in which they spawn (Spring, Summer, Autumn and Winter).
The most expensive fish to sell in Dinkum is the Yellowfin Tuna for 24,600 Dinks!
| Fish | Sells For | Locations | Time | Seasons |
| --- | --- | --- | --- | --- |
| Stingray | 3,396 Dinks | Northern Oceans, | | |
| Marlin | 20,200 Dinks | Southern Oceans, | | |
| Barramundi | 8,416 Dinks | Rivers, | | |
| Murray Cod | 10,400 Dinks | Rivers, | | |
| Tarpon | 3,960 Dinks | Billabongs, | | |
| Yellowfin Tuna | 24,600 Dinks | Northern Oceans, Southern Oceans, | | |
| Garfish | 2,346 Dinks | Northern Oceans, Southern Oceans, | | |
| Boofhead Catfish | 2,103 Dinks | Mangroves, | | |
| Saratoga | 7,616 Dinks | Billabongs, | | |
| Blob Fish | 100 Dinks | Southern Oceans, | | |
| Carp | 1,996 Dinks | Rivers, Mangroves, | | |
| Grayling | 2,508 Dinks | Billabongs, Rivers, | | |
| Bonytongue | 3,308 Dinks | Billabongs, | | |
| Travalla | 7,800 Dinks | Northern Oceans, | | |
| Eyestripe Surgeon Fish | 3,996 Dinks | Northern Oceans, | | |
| Black & White Snapper | 1,992 Dinks | Northern Oceans, Southern Oceans, | | |
| Eel Tailed Catfish | 1,408 Dinks | Mangroves, | | |
| Short Finned Eel | 3,008 Dinks | Billabongs, | | |
| Mangrove Jack | 3,498 Dinks | Mangroves, | | |
| Silver Perch | 1,708 Dinks | Rivers, Billabongs, | | |
| Anchovy | 4,620 Dinks | Southern Oceans, | | |
| Blackfish | 3,908 Dinks | Billabongs, Rivers, | | |
| Barracuda | 16,000 Dinks | Northern Oceans, | | |
| Barcoo Grunter | 1,290 Dinks | Rivers, Billabongs, Mangroves, | | |
| Goat Fish | 3,200 Dinks | Southern Oceans, | | |
| Galaxias | 4,808 Dinks | Rivers, | | |
| Luderick | 4,160 Dinks | Northern Oceans, | | |
| Golden Perch | 4,384 Dinks | Rivers, | | |
| River Bass | 2,784 Dinks | Rivers, Mangroves, | | |
| Jungle Perch | 1,200 Dinks | Rivers, Billabongs, | | |
| Bluefish | 1,560 Dinks | Northern Oceans, Southern Oceans, | | |
| Banded Morwong | 4,320 Dinks | Northern Oceans, Southern Oceans, | | |
| Blue Spot Flathead | 998 Dinks | Northern Oceans, Southern Oceans, | | |