When Rayne visits your Island, you can buy tools to start creating your very own farm on Dinkum. Rayne offers you the vital Hoe Tool, which allows you to make ground soft enough to plant seeds.
Rayne will also visit with a variety of different seeds for you to plant each day. They are randomly selected.
When you get to two full hearts of friendship, Rayne will give you her Plant Book.
Rayne Daily Tasks
You can complete one Task for Rayne each day to increase your friendship level. Daily Tasks increase a heart by 25%.
Below is a list of tasks Rayne can ask you and the rewards you can get.
You must complete the task the same day you're given it.
Task
Reward
Notes
Feed her something

Cheese Maker Recipe
Warm Nordic Bookshelf
Garden Light Recipe

Likes Fruit
Purchase items from you
 
Sell you clothing items

Black Boots
Overall Dress
Red Shorts

 
Rayne Plant Shop Deed
Friendship Level Required:





Shop Times: 11am-5pm, shut Friday.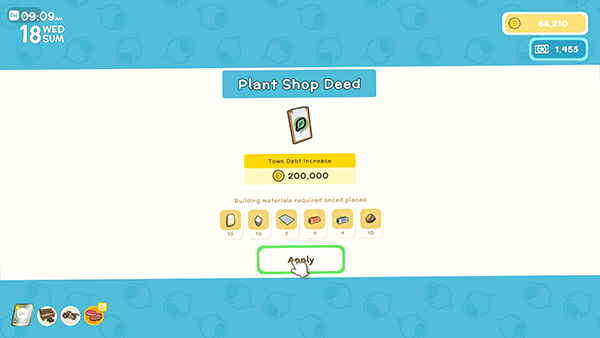 By making friends with Rayne and spending 18,000 Dinks in her shop, she will want to come and move on your Island permanently and offer you her Plant Shop Deed that you can apply for by talking to Fletch.
The Plant Shop Deed will be your Island 200,000 Dinks in Debt.
Materials Required:
10x Bag Of Cement
10x Quartz Crystal
5x Tin Sheet
4x Copper Bar
4x Tin Bar
10x Stone
A Bag Of Cement can be obtained by using a Rock Grinder (purchased from John) and inserting Stone.
Rayne Shop Items
When Rayne visits your Island, she can sell you the following items:
| Item | Dinks | Season | Produce | Days | Notes |
| --- | --- | --- | --- | --- | --- |
| Hoe Tool | 800 Dinks | - |   |   | Allows you to make the ground dug to plant seeds |
| Watering Can | 10,000 Dinks | - |   |   | Allows you to water your plants. Can be refilled by standing in shallow water. |
| Sugar Cane Seeds | 400 Dinks | All year | 1 | 12 |   |
| Watermelon Seeds | 770 Dinks | Summer | 1 | 1 |   |
| Onion Seeds | 540 Dinks | Spring, Summer | 3 | 7 |   |
| Wheat Seeds | 360 Dinks | All Year | 3 | 9 |   |
| Tomato Seeds | 1,620 Dinks | Summer, Autumn | 3 | 11 | |
| Green Bean Seeds | 1,360 Dinks | Spring, Summer | 3 | 11 | |
| Pumpkin Seeds | 780 Dinks | Autumn | 1 | 11 |   |
| Kale Seeds | 760 Dinks | Winter | 1 | 6 |   |
| Carrot Seeds | 570 Dinks | Winter | 3 | 7 |   |
| Potato Seeds | 640 Dinks | Spring | 3 | 10 |   |
| Cabbage Seeds | 700 Dinks | Autumn | 1 | 8 |   |
| Corn Seeds | 1,100 | Autumn,Winter | 2 | 11 |   |