Irwin will visit your Island in Dinkum bringing you all sorts of items to help you raise animals. He offers animals, as well as animal feed that you can use to help raise your animals.
If you want to start your own Farm in Dinkum, getting Irwin to stay on your Island is imperative as he offers all the essentials to get a huge livestock going.
Irwin's Animal Shop Deed
Friendship Level:





Once you get half a heart friendship with Irwin and spend 25,000 Dinks, he will grant you his Animal Shop Deed.
The Animal Shop Deed will put your Island into debt by 150,000 Dinks.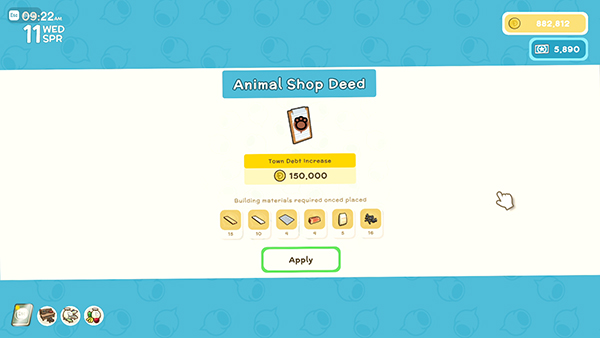 You'll also need the following construction materials:
15x Gum Wood Plank
10x Palm Wood Plank
4x Tin Sheet
4x Copper Bar
5x Bag Of Cement
16x Nails
It will then take two days for the shop to be completed.
Irwin Daily Tasks
You can complete one Task for Irwin each day to increase your friendship level. Daily Tasks increase a heart by 25%.
Below is a list of tasks Irwin can ask you and the rewards you can get.
You must complete the task the same day you're given it.
Task
Reward
Notes
Buy clothing items from him

Brown Overall Dress
White Sneakers
Wizard Hat

 
Buy items from you
 
Give him a Blue Moon Butterfly
 
Give him a Ulysses Butterfly
Give him a Fly
Irwin's Barn Items
When Clover visits your Island, she can allow you to order from her catalog or buy a selection of items instantly at the store.
Farm Animals have a friendship level with you that increases when you feed them and pet them. You can view it from the Menu screen.
When you have a high friendship level with your farm animals, they will produce "High Quality" items that can be sold for more and used in the Cooking Table.
| Item | Dinks | Notes |
| --- | --- | --- |
| Baby Chook | 5,000 Dinks | Produces Eggs, which can be used for crafting |
| Vombat Joey | 15,000 Dinks | Produces Vombat Poo, which can be used as fertilizer. You can also milk them using the Milking Bucket. |
| Pleep | 25,000 Dinks | Produces Wool, which can be sold for 2,500 Dinks each. |
| Animal Food | 100 Dinks | For feeding Animals |
| Animal Feeder | 1,000 Dinks | Animals eat out of it; needs to be filled up with Animal Food |
| Milking Bucket | 1,600 Dinks |   |
| Vombat Whistle | 6,196 Dinks | Calls the Vombats towards you |
| Chicken Whistle | 10,379 Dinks | Calls the Chickens towards you |
| Shears | 1,800 Dinks | Used to cut the wool off a Pleep |