Wavering Heart is a side quest in Final Fantasy VII Remake that you can complete during Chapter 14. It will allow you to play the mini-game Pull Ups to earn valuable prizes.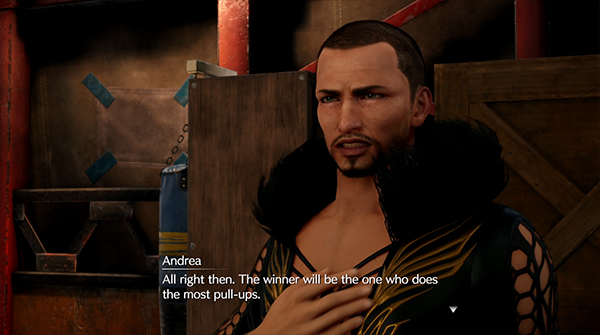 You can find Andrea inside the gym at Wall Market, where he challenges Tifa to a pull-up competition.
If you've ever played the Squat Mini-Game, this one is very similar.
To complete the quest Wavering Heart, you just need to beat Andrea (who is pretty useless at it!).
Pull-Ups Mini Game
There are three contestants to face in the Pull-Ups mini game, each one with a varying degree of difficulty.
Each contest consists of two rounds of Pull-Ups. Your Pull-Up score must beat your opponents at the end of Round Two (you can be losing in Round one and still win in Round Two).
The game consists of you pressing four buttons in order. This order changes per round and the speed at which you need to press the buttons also increases. If you mess up, Tifa will be knocked out for around 5 seconds and you'll have to start on the slowest speed when she finally gets back up.
Andrea - Trainee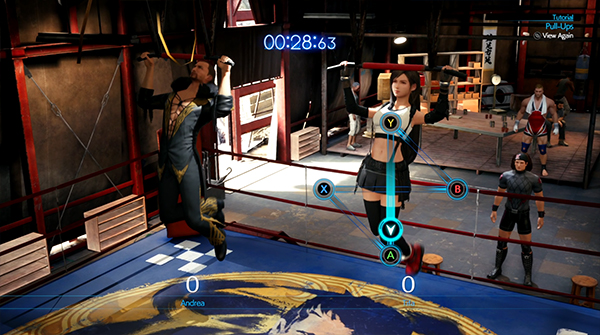 Andrea sucks so this should be a walk in the park. You only need to score around 14 to beat him over two 30 second rounds.
Reward: Way Of The Fist Vol. III
This will also complete the quest Wavering Heart.
Ronnie - Trainee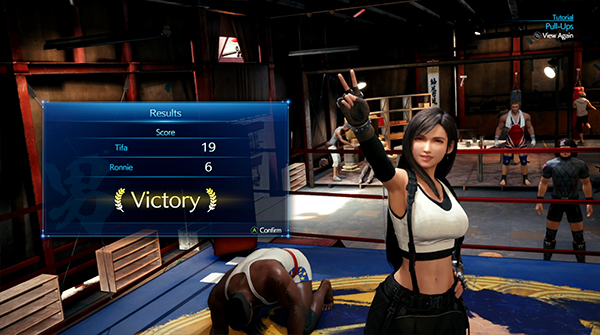 Ronnie isn't very good at this mini-game either. You can beat him with a score of around 10; we've seen him get a score as low as 6.
Jay - Amateur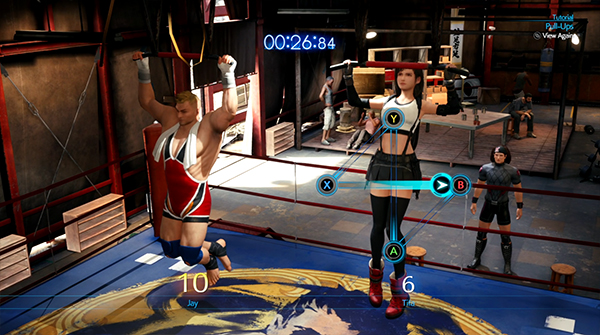 Things start to get a lot tougher in this round. You'll only be able to slip up once or twice and they introduce the smashing-button mechanic where after a certain amount of pull-ups you'll have to smash a single button to power through the pull-up.
You need to get a score of around 20+ to beat Jay.
Reward: Magic Up Materia
Jules - Pro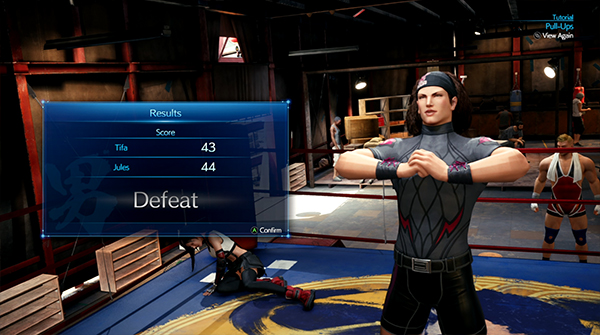 Jules is the toughest opponent you'll face. You can afford maybe one mess-up and it's better to have this mess up happen towards the end of Round One so you don't lose valuable seconds.
You're going to need to get a score of 44 or more to beat him. Jules falls off right at the end of Round Two, so you will need to power through to get in those last reps!
Rewards: Champion Belt