Private Actions are special cutscenes you can find in Star Ocean: The Divine Force. Private Actions are initiated by talking to your allies when in a town or city. We have compiled a list of all Private Actions found in Star Ocean: The Divine Force.
Private Actions are a staple of the Star Ocean series; they offer extra details about the world and story. They also improve your relationship between characters when you initiate them.
It's a good idea, when you get the chance, to talk to your allys when you visit new cities and villages to see if there are any Private Actions available.
The Private Actions available to you are also dependant on which main character you select.
Private Actions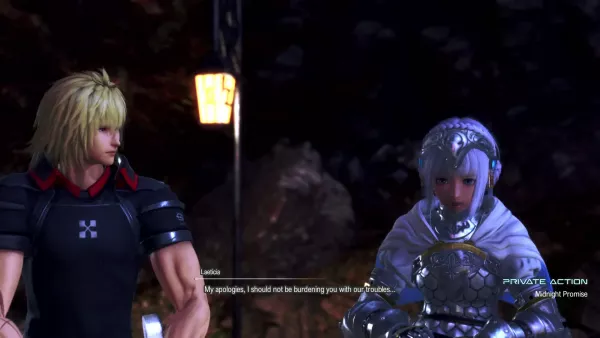 Name
Character
Requirements
Location
A Trouble Attendent
Albaird
Main Character: Laeticia
After staying at Larcette Village for the night, speak to Albaird outside at night time.
Larcette Village
Sleepless Attendant
Albaird
Main Character: Raymond
After staying at Larcette Village for the night, speak to Albaird outside at night time.
Larcette Village
Midnight Promise
Raymond/Laeticia
A cutscene between Ray and Laeticia can be initiated by talking to Ray at night in the Larcette Village. He is located outside at the back of Larcette Village.
Larcette Village
Miner's Town
Nina
After fixing Elena, speak to Nina outside the Delryk Village Inn
Delryk Village
A magnificent Profession
Raymond
After fixing Elena, speak to Raymond outside the Infirmary in Delryk Village
Delryk Village
Muscle Plans
Albaird
After fixing Elena, speak to Albaird at the top of Delryk Village.
Delryk Village
Midas's Focus
Midas
After fixing Elena, speak to Midas at the top of Delryk Village.
Delryk Village
That Girl
Nina
After fixing Elena, speak to Nina at Larcette Village outside the Inn.
Larcette Village
Raymond's Trade
Raymond
After fixing Raymond, speak to Raymond at Larcette Village.
Larcette Village
The Cold Shoulder
Nina
After defeating Sampati, speak to Nina at the Seaport Of Rythal.
Seaport Of Rythal
Refreshment Preferences
Raymond
After defeating Sampati, speak to Raymond at the Seaport Of Rythal.
Seaport Of Rythal
Attending to the Attendant
Albaird
After defeating Sampati, speak to Albaird at the Seaport Of Rythal.
Seaport Of Rythal
Superhuman Beauty
Elena
After defeating Sampati, speak to Elena at Delryk Village.
Delryk Village
The Importance Of A Good Night Sleep
Nina
After defeating Sampati, speak to Nina at the Village Of Eda
Village Of Eda
Are You Not His Keeper?
Elena
After defeating Sampati, speak to Elena at the Village Of Eda
Village Of Eda
Responsibility
Midas, Albaird
After defeating Sampati, speak to Midas and Albaird at the Village Of Eda
Village Of Eda
Journey Through The Skies
Raymond
After defeating Sampati, speak to Raymond at Larcette Village.
Larcette Village
Mountain Retreat
Midas
After defeating Sampati, speak to Midas at the Village Of Eda
Village Of Eda
Big Brother? Little Brother?
Albaird
After defeating Sampati, speak to Albaird at the Village Of Eda
Village Of Eda
Don't Push Her Buttons
Elena
After defeating Sampati, speak to Elena at the Village Of Eda
Village Of Eda
Welcoming Waters or Magnificent Mountains
Raymond
After defeating Sampati, speak to Raymond at the Seaport Of Rythal
Seaport Of Rythal
Royal Hometown Pride
Raymond
After getting permission to head to Baldarr, speak to Raymond at the Royal Palace Ascendros City.
Royal Capital Ascendros City
The Vallet's Vice
Albaird
After getting permission to head to Baldarr, speak to Albaird at the Royal Palace Ascendros City.
Royal Capital Ascendros City
Speaking From Experience
Malkya
Before heading to Invade the Imperial Capital, speak to Malkya in Delryk Village.
Delryk Village
Malkya's Jest
Malkya
Before heading to Invade the Imperial Capital, speak to Malkya in Royal Capital Ascendros City
Royal Capital Ascendros City
Universal Device
Raymond
Before heading to Invade the Imperial Capital, speak to Raymond at the Seaport Of Cotto
Seaport Of Cotto
Helmsman's Pride
Raymond
Before heading to Invade the Imperial Capital, speak to Raymond at the Seaport Of Cotto
Seaport Of Cotto
Divine Miracle
Midas, Nina
Before heading to Invade the Imperial Capital, speak to Midas at the Seaport Of Cotto
Seaport Of Cotto
The Dream Diagnosis
Midas
Before heading to Invade the Imperial Capital, speak to Midas at the Seaport Of Rythal
Seaport Of Rythal
Ladylike Charm
Malkya, Nina
Before heading to Invade the Imperial Capital, speak to Malkya at the Village Of Eda
Village Of Eda
A Diverse Region
Malkya
Before heading to Invade the Imperial Capital, speak to Malkya at the Nihlbeth Ancient Coil
Nihlbeth Ancient Coil
Unreasonable Demands
Malkya
Before heading to Invade the Imperial Capital, speak to Malkya at the Baldaar
Baldaar
Cooking With Nina
Nina
Before heading to Invade the Imperial Capital, speak to Nina at the Baldaar
Baldaar
Creator's Intent
Midas, Raymond
Before heading to Invade the Imperial Capital, speak to Midas at the Baldaar
Baldaar
The Weight Of The Kenny Name
Marielle
After defeating Fused Remington, speak to Marielle at Paladurnia
Paladurnia
Friends At Last?
Nina
Before the final fight, speak to Nina at the Seaport Of Rythal
Seaport Of Rythal
What does she desire?
Marielle
Before the final fight, speak to Marielle at the Seaport Of Rythal
Seaport Of Rythal
The Man As A Boy
Elena
Before the final fight, speak to Elena at the Seaport Of Rythal
Seaport Of Rythal
A Romantic Getaway
Raymond
Before the final fight, speak to Raymond at the Seaport Of Rythal
Seaport Of Rythal
Team Kitty vs Team Bunny
Nina
Before the final fight, speak to Nina at the Village Of Larcette
Village Of Larcette
Thoughts Now Shared
Raymond
Before the final fight, speak to Raymond at the Village Of Larcette
Village Of Larcette
Relax a little!
Albaird
Before the final fight, speak to Albaird at the Village Of Eda
Village Of Eda
Elena's Confession
Elena
Before the final fight, speak to Elena at the Village Of Eda
Village Of Eda
Astonishing Attire
Malkya
Before the final fight, speak to Malkya at the Village Of Eda
Village Of Eda
Is It Hot in Here?
Marielle
Before the final fight, speak to Marielle at the Seaport Of Cotto
Seaport Of Cotto
Decking Out The Aldous
Elena
Before the final fight, speak to Elena at the Seaport Of Cotto
Seaport Of Cotto
Special Day With The Girls
Marielle/Nina
Before the final fight, speak to Marielle and Nina at Royal Capital Acendros City
Royal Capital Acendros City
True Friends
Malkya/Midas
Before the final fight, speak to Midas at Royal Capital Acendros City
Royal Capital Acendros City
A Royal Garden
Marielle
Before the final fight, speak to Marielle at Royal Capital Acendros Palace Gardens
Royal Capital Acendros Palace Gardens
Something Tangible
Raymond
Before the final fight, speak to Raymond at Royal Capital Acendros Palace Gardens
Royal Capital Acendros Palace Gardens
Dream Come True
Nina
Before the final fight, speak to Nina at Royal Capital Acendros Semiomancy Consortium
Semiomancy Consortium
Where He Belongs
Albaird
Before the final fight, speak to Albaird at Baldaar
Baldaar
Debut Of A Star Impressionist
Elena
Before the final fight, speak to Elena at Baldaar
Baldaar
A Relationship With History
Midas
Before the final fight, speak to Midas at Baldaar
Baldaar
A World Beyond Borders
Albaird
Before the final fight, speak to Albaird at the Imperial Capital
Imperial Capital
Symbol Of Peace
Midas/Malkya
Before the final fight, speak to Midas at the Imperial Capital
Imperial Capital
Malkya and the Star ocean
Malkya
Before the final fight, speak to Malkya on The Aldous
The Aldous
Nina and the Star Ocean
Nina
Before the final fight, speak to Nina on The Aldous
The Aldous
Can't Judge A Book By Its Cover
Midas
Before the final fight, speak to Midas on The Aldous
The Aldous
A Fight Within Our Means
Albaird
Before the final fight, speak to Albaird on The Aldous
The Aldous
Midas and the Star Ocean
Midas
Before the final fight, speak to Midas on The Aldous
The Aldous
Everything You Could Ever Want
Marielle
Before the final fight, speak to Marielle on The Aldous
The Aldous
A Planet Yet Undeveloped
Nina
Before the final fight, speak to Nina on The Aldous
The Aldous
Freedom Of Choice
Raymond
Before the final fight, speak to Raymond on The Aldous
The Aldous
Albaird and the Star Ocean
Albaird
Before the final fight, speak to Albaird on The Aldous
The Aldous
The Work to Be Done by This Hand
Albaird
Before the final fight, speak to Albaird at Parrapoeiam
Parrapoeiam
History Has Just Begun
Raymond
Before the final fight, speak to Raymond at Parrapoeiam
Parrapoeiam
The Whats and Whys of Wisdom
Marielle
Before the final fight, speak to Marielle at Parrapoeiam
Parrapoeiam
Raymond's Home
Raymond
Before the final fight, speak to Raymond at Paladurnia
Paladurnia
Progressing Studies
Chloe/Elena
Before the final fight, speak to Chloe at Paladurnia
Paladurnia
In Her Father's Footsteps
Nina
Before the final fight, speak to Nina at Delryk Village
Delryk Village
From Fieldwork To Spacework
Nina
Before the final fight, speak to Nina at Delryk Village
Delryk Village
How's That Cider Taste
Raymond
Before the final fight, speak to Raymond inside the brewery at Seaport Of Cotto
Seaport Of Cotto
Sip Of Cider
Theo
After unlocking Theo's character, speak to him in Baldaar Citadel house near potion shop.
Baldaar Citadel