Reckless Santa, Full Of Rage is a sidequest in Star Ocean: The Divine Force that you can pick up at The Ultima Thule.
The Ultima Thule is a post-game dungeon that can be accessed from the Provenience Cave in Paladurnia.
In order to access the Ultima Thule, you find need to defeat all the bosses in The Gauntlet post-game dungeon.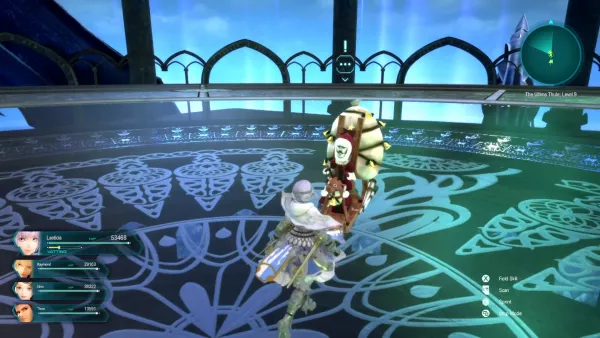 When you access Level 9 in the Ultima Thule, you'll come across Santa, the Mercantilean. Upon accepting his quest, he will transform into a boss called Unrestrainable Santa.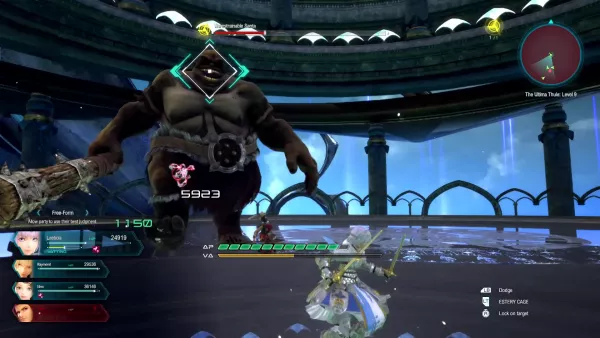 Unrestrainable Santa can be staggered by Blind-side attacking his head. You can keep this up throughout most of the match to prevent him from attacking you. Recommended Level for this boss is around 180.
Check out the Leveling Guide if you need help getting some easy levels.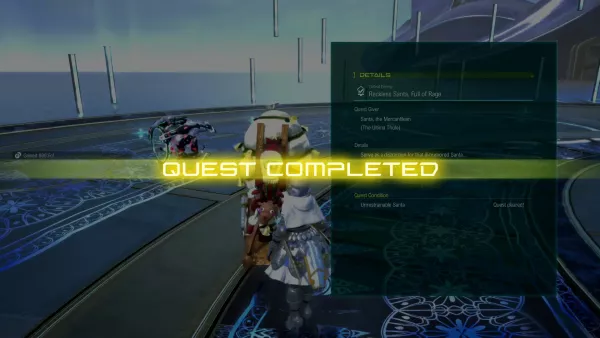 Once defeated, you can then talk to Santa for your reward.
Name
Stats
Factor
Character
Caletvwlch
ATK: 1827
INT: 1335
 
Raymond
Imprisoning Dainsleif
ATK: 5648
INT: 3556
GUTS: -2615
Absorbs 5% of damage dealt to Divinities
Raymond
Fin Du Monde
ATK: 1692
INT: 1827
 
Laeticia
Akasha Giera
ATK: 1557
INT: 1963
 
Albaird
Glimmering Sudarshana
ATK: 4427
INT: 5581
Deal +33% DMG when the Hit Count is 100 or above
Albaird
Kaladanda Wand
ATK: 1806
INT: 1930
Bestows the element of Earth to attacks.
+20% DMG dealt when target is down
Midas
Ber Nag Thog Brdungs
ATK: 5581
INT: 5966
Bestows the element of Earth to attacks.
Midas
Oni-yasha
ATK: 6613
INT: 4393
DEF: -1360
Bestows the element of Fire to attacks.
Theo
Ame no Magari Jp-A2
ATK: 1557
INT: 1557
Bestows the element of Wind to attacks.
Marielle
Sonitus Caeli
ATK: 1151
INT: 2233
 
Nina
Gjallarbjalla
ATK: 3556
INT: 6904
DEF: -837
+15% damage dealt to Divinities
Nina
Reward:
888 Fol
Access To His Shop