The Perculiar Merchant's Demand is a sidequest in Star Ocean: The Divine Force that can be picked up inside The Gauntlet.
The Gauntlet is a post-game dungeon that you can find at Nihlbeth Ancient Coil after you have completed the quest The Unyielding Door.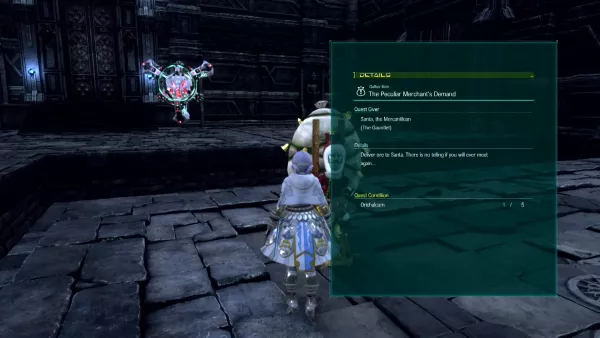 You can speak to Santa, the Mercantilean NPC at the entrance of The Gauntlet.
He will ask you to bring him 5 Orichalcum.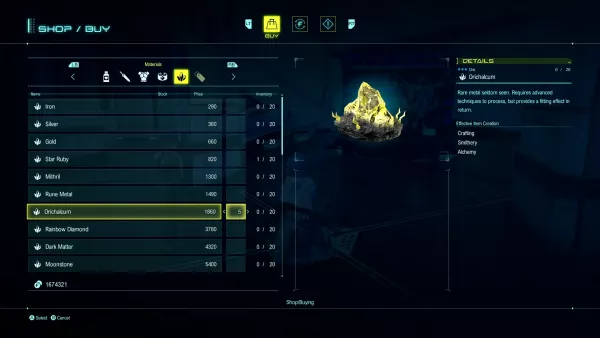 You can purchase Orichalcum from an NPC vendor at Paladurnia.
Return to Santa once you have acquire the Orichalcum and complete the quest.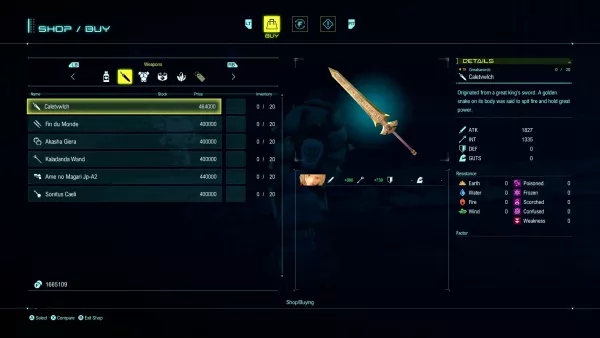 He will then turn into NPC vendor and sell you some new weapons and items!
Name
Stats
Factor
Character
Caletvwlch
ATK: 1827
INT: 1335
 
Raymond
Fin Du Monde
ATK: 1692
INT: 1827
 
Laeticia
Akasha Giera
ATK: 1557
INT: 1963
 
Albaird
Kaladanda Wand
ATK: 1806
INT: 1930
Bestows the element of Earth to attacks.
+20% DMG dealt when target is down
Midas
Ame no Magari Jp-A2
ATK: 1557
INT: 1557
Bestows the element of Wind to attacks.
Marielle
Sonitus Caeli
ATK: 1151
INT: 2233
 
Nina
Rewards: