In Coromon you can use items called Skill Flash to teach skills to different Coromon. This guide will show a list of all Skill Flash items in the game and where you can find them.
How To Use Skill Flash
Skill Flash items are really simple to use. Just go to your Inventory and select the Use Tab.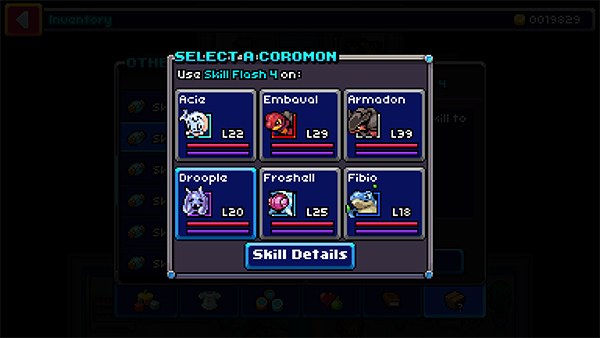 Select a Skill Flash to use; it will tell you the skill that the item contains and then show you a list of Coromon from your Squad which are able to learn it. The ones that are highlighted in blue can learn the skill.
Certain Coromon won't be able to learn certain skills. If the Coromon already knows the skill, it won't be able to use the Skill Flash again.
Once you use a Skill Flash item, it will be removed from your Inventory.
UPDATE: Skil Flash Items are no longer consumed when you use them as of the most recent patch! You can now use them as many times as you like!
All Skill Flash Items
Here is a list of all Skill Flash items available in Coromon.
Skill Flash #
Skill Learnt
Type
Where To Find
Skill Flash #1
Mist
Air
Skill Flash #2
Distract
Normal

Pawberry Trainer Hub - Bottom Floor

Skill Flash #3
Tacticle Slam
Normal
Skill Flash #4
Ignite
Fire

Thunderous Cave - Dark Floor 2

Skill Flash #5
 
 
 
Skill Flash #6
Fridgid Barrier
 
Skill Flash #7
EMP
Normal
Skill Flash #8
 
 
 
Skill Flash #9
Epiphany
Normal
Skill Flash #10
Bubble Blower
Water
Skill Flash #11
Scream
Normal
Skill Flash #12
Slush
Ice
Skill Flash #13
 
 
 
Skill Flash #14
 
 
 
Skill Flash #15
Disable
Magic
Skill Flash #16
Snowball
Ice
Skill Flash #17
Heatwave
Fire
Skill Flash #18
Whoosh
 
Skill Flash #19
Deep Cut
Cut
Skill Flash #20
Phantom Spike
Ghost
Skill Flash #21
 
 
 
Skill Flash #22
Artificial Night
Ghost

Thunderous Cave - Dark Floor 2 (alternative)

Skill Flash #23
Icy Flurry
Ice
Skill Flash #24
 
 
 
Skill Flash #25
Dirty Snow
Ice
Skill Flash #26
Feint Bursts
Fire

Purchase from Vlamma Shop
Find from rock inside Donar Island Research Facility (where Buzzlet are)

Skill Flash #27
Detonate
Fire
Skill Flash #28
 
 
 
Skill Flash #29
 
 
 
Skill Flash #30
 
 
 
Skill Flash #31
Disable Heal
Magic
 
Skill Flash #32
 
 
 
Skill Flash #33
 
 
 
Skill Flash #34
Super Drain
Magic
Skill Flash #35
Lightning Strike
Electric
Skill Flash #36
Fire Up
Fire

Purchase from Vlamma Shop

Skill Flash #37
Inner Peace
Normal

Purchase from Alavi Shop
Vermeer Grotto

Skill Flash #38
All In
Normal
Skill Flash #39
Drain
Magic

Purchase from Pawbury Shop
Vermeer Grotto

Skill Flash #40
Glass Cannon
Normal
Skill Flash #41
Flying Kick
Normal
Skill Flash #42
Feint Spurts
Water
Skill Flash #43
Smokescreen
Fire

Purchase from Vlamma Shop

Skill Flash #44
 
 
 
Skill Flash #45
Splash
Water
Skill Flash #46
Beat Up
Normal
Skill Flash #47
Quicksand
Sand
Skill Flash #48
Concentrate
Normal

Purchase from Pawbury Shop

Skill Flash #49
Sumo Stance
Normal
Skill Flash #50
Agility Training
Normal
Skill Flash #51
Tempest
Electric

Secret Area in Vermeer Grotto

Skill Flash #52
Sandman
Normal
Skill Flash #53
Splatter
Water
Skill Flash #54
 
 
 
Skill Flash #55
Snowfall
Ice
Skill Flash #56
Precision Eye
Electric
 
Skill Flash #57
Precision Punch
Normal
Skill Flash #58
Rage
Normal

Woodlow Forest
Purchase from Vlamma Shop

Skill Flash #59
Crunch
Normal
Skill Flash #60
Last Stand
Normal

Purchase from Pawbury Shop

Skill Flash #61
Poison Chomp
Poison
Skill Flash #62
 
 
 
Skill Flash #63
Berserk
Normal
Skill Flash #64
 
 
 
Skill Flash #65
Scary Vision
Foul

Purchase from Pawbury Shop

Skill Flash #66
Geyser
Water
Skill Flash #67
Reconstruct
Sand
 
Skill Flash #68
Fiery Breath
Fire
Skill Flash #69
 
 
 
Skill Flash #70
Time Warp
Ghost
Skill Flash #71
Electrify
Electric

Inside secret area on Donar Island where Buzzlet provide electricity