The Growth Map system in Fantasian is a type of character progression and skill system that is unlocked later in the game. The Growth Map allows players to customize the way their character develops, choosing specific skills and stats to learn as they level up. This comes as a change from the linear experience that players would have experienced in the first half of the game.
The Growth Map is currently in a limited state and we only have access to Leo's Growth Map in part 1 of Fantasian. We expect that we'll be able to use the Growth Map for other characters when part two is released.
Unlocking The Growth Map
Players can unlock the Growth Map in Fantasian when they reach the Chaos Realm in the story. When Leo equips a Divine artefact, it allows the user to use the Growth Map from the Main Menu.
Leo get's 3 SP per level up for the Growth Map (with an initial bonus of SP when you unlock it depending on your current level. At level 29 you'll receive 7 SP). As there is currently a Level 35 level cap in part 1 of Fantasian, players are limited to 25 SP points to use in the Growth Map.
25 SP is just enough for players to unlock some of the new features we are likely to see expanded upon in part 2, including the Tension Skills (which are a kind of limit-break esque power move).
Players can freely unequip their locked-in SP at any time with the Release Mode.
Quick mode allows players to quickly assign SP to nodes with a tap rather than the confirm option when Quick mode is turned off.
There looks also to be the opportunity to unlock specific nodes within the Growth Map. In Leo's Growth Map nodes that have chains around them require the player to acquire specific items before they can add SP to the node.
Leo's Growth Map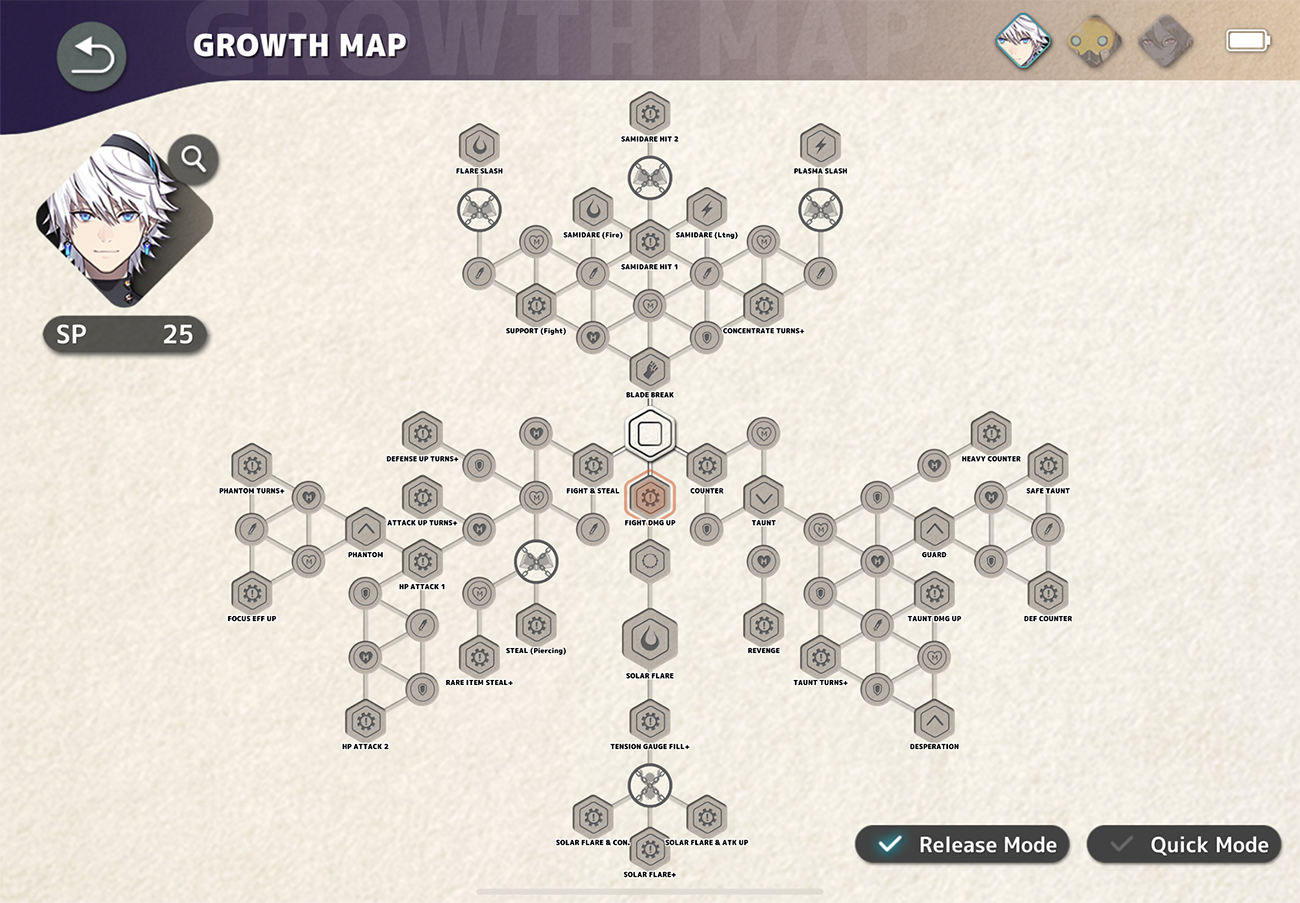 | Node | Description | SP Cost |
| --- | --- | --- |
| FIGHT DMG UP | Increases the amount of damage inflicted by Fight. | 3 SP |
| Jewel + | Heightens interest in rare stones. Increases Jewel slot by 1. | 8 SP |
| SOLAR FLARE | An immense magic spell cast from the Divine Artifact that deals fire element damage to all enemies. | 10 SP |
| TENSION GAUGE FILL+ | Tension Gauge fills faster. | 3 SP |
| Gate of Sanctuary | LOCKED - Unlocking Leo's Divine Artifact opens the possibility of new growth. | - |
| SOLAR FLARE & CON. | Applies Critical UP as a bonus to the enitre party when casting Solar Flare. | 3 SP |
| SOLAR FLARE+ | Increases the damage inflicted by Solar Flare | 3 SP |
| SOLAR FLARE & ATK UP | Applies an Attack Up bonus to the entire party when casting Solar Flare. | 3 SP |
| BLADE BREAK | A single-target attack that deals damage and inflicts Attack Down. | 6 SP |
| Physical + | Enhances physical strength. Increases base HP. | 2 SP |
| Mental + | Enhances mentality. Increases base MP. | 2 SP |
| Defense + | Enhances defensive technique. Increases base Defense value. | 2 SP |
| SUPPORT (FIght) | Chance to fight in addition to using an action targeting an ally. The target is selected randomly. | 3 SP |
| Attack + | Enhances combat technique. Increases base Attack value. | 2 SP |
| Attack + | Enhances combat technique. Increases base Attack value. | 2 SP |
| Attack + | Enhances combat technique. Increases base Attack value. | 2 SP |
| Attack + | Enhances combat technique. Increases base Attack value. | 2 SP |
| Mental + | Enhances mentality. Increases base MP. | 2 SP |
| SAMIDARE HIT 1 | Increases hit count of Samidare. | 3 SP |
| Mental + | Enhances mentality. Increases base MP. | 2 SP |
| SAMIDARE (Fire) | Executes a scorching slash attack that deals multiple, fire element damage to a single target. | 6 SP |
| SAMIDARE (Ltng) | Executes a charged slash attack that deals multiple, lightning element damage to a single target. | 6 SP |
| Gate Of Intellect | LOCKED - Acquiring the "Flame Codex" opens the possibility for new growth. | - |
| FLARE SLASH | Unleashes a powerful fire element attack on enemies along a straight line. | 6 SP |
| Gate Of Intellect | LOCKED - Acquiring the "Secret Arts Scroll" opens the possibility of new growth. | - |
| SAMIDARE HIT 2 | Increases hit count of Samidare even more. | 3 SP |
| Gate Of Intellect | LOCKED - Acquiring the "Bolt Codex" opens the possibility of new growth. | - |
| PLASMA SLASH | Unleashes a powerful lightning element attack on enemies along a straight line. | 6 SP |
| COUNTER | Chance to retaliate with Fight when receiving damage from an enemy. | 3 SP |
| Mental + | Enhances mentality. Increases base MP. | 2 SP |
| Defense + | Enhances defensive technique. Increases base Defense value. | 2 SP |
| TAUNT | Taunts all enemies to direct their attacks towards yourself. | 6 SP |
| Physical + | Enhances physical strength. Increases base HP. | 2 SP |
| REVENGE | Increases damage inflicted on enemies that attack this character. | 3 SP |
| Mental + | Enhances mentality. Increases base MP. | 2 SP |
| Defense + | Enhances defensive technique. Increases base Defense value. | 2 SP |
| TAUNT TURNS + | Increases the duration that Taunt remains active. | 3 SP |
| Physical + | Enhances physical strength. Increases base HP. | 2 SP |
| Defense + | Enhances defensive technique. Increases base Defense value. | 2 SP |
| Attack + | Enhances combat technique. Increases base Attack value. | 2 SP |
| Defense + | Enhances defensive technique. Increases base Defense value. | 2 SP |
| DESPERATION | Greatly increases own attack in exchange for greatly decreased defense. | 6 SP |
| Mental + | Enhances mentality. Increases base MP. | 2 SP |
| TAUNT DMG UP | Increases retaliation damage when using Taunt. | 3 SP |
| GUARD | Assumes a defensive stance until the next turn, significantly reducing damage taken from enemies. | 6SP |
| Physical + | Enhances physical strength. Increases base HP. | 2 SP |
| HEAVY COUNTER | Greater chance to retaliate with Fight when receiving damage from an enemy. | 3 SP |
| Physical + | Enhances physical strength. Increases base HP. | 2 SP |
| SAFE TAUNT | Automatically casts Barrier after taunting. | 3 SP |
| Attack + | Enhances combat technique. Increases base Attack value. | 2 SP |
| Defense + | Enhances defensive technique. Increases base Defense value. | 2 SP |
| DEF COUNTER | Increases chance of retaliating when defending. | 3 SP |
| FIGHT & STEAL | Chance to steal an item from an enemy when using Fight. | 3 SP |
| Attack + | Enhances combat technique. Increases base Attack value. | 2 SP |
| Physical + | Enhances physical strength. Increases base HP. | 2 SP |
| Mental + | Enhances mentality. Increases base MP. | 2 SP |
| Gate Of Intellect | LOCKED - Acquiring the "Burglar's Note" opens the possibility of new growth | - |
| STEAL (Piercing) | Steal now pierces, affecting multiple targets. | 3 SP |
| Defense + | Enhances defensive technique. Increases base Defense value. | 2 SP |
| Physical + | Enhances physical strength. Increases base HP. | 2 SP |
| Mental + | Enhances mentality. Increases base MP. | 2 SP |
| RARE ITEM STEAL+ | Increases chance to steal rare items when using Steal. | 3 SP |
| DEFENSE UP TURNS+ | Increases the duration that Defense Up remains active. | 3 SP |
| ATTACK UP TURNS+ | Increases the duration that Attack Up remains active. | 3 SP |
| HP ATTACK 1 | Recovers a small amount of HP when dealing damage. | 3 SP |
| Attack + | Enhances combat technique. Increases base Attack value. | 2 SP |
| Defense + | Enhances defensive technique. Increases base Defense value. | 2 SP |
| PHANTOM | Greatly increases chance of evading an attack. | 6 SP |
| Defense + | Enhances defensive technique. Increases base Defense value. | 2 SP |
| Physical + | Enhances physical strength. Increases base HP. | 2 SP |
| HP ATTACK 2 | Recovers a large amount of HP when dealing damage. | 3 SP |
| Physical + | Enhances physical strength. Increases base HP. | 2 SP |
| Mental + | Enhances mentality. Increases base MP. | 2 SP |
| FOCUS EFF UP | Increases the amount of MP recovered when using Focus. | 3 SP |
| Attack + | Enhances combat technique. Increases base Attack value. | 2 SP |
| PHANTOM TURNS+ | Increases the duration that Phantom remains active. | 3 SP |