Pets are essential in MapleStory as they speed up your looting process and in this guide we are going to list how you can get a free Pet without spending any NX.
In MapleStory, pets are Cash Items, which means they can be purchased with NX from the CashShop.
But what if you don't want to spend any money? Playing MapleStory without a pet is excruciatingly frustrating, to the point that you'll probably end up leaving a lot of your loot on the floor to expire.
Luckily, there are some alternative methods for obtaining a pet for free. Below we will list all of those currently available in game.
Free Pet Regular Servers



In Regular Servers (non-reboot) players can obtain a pet that lasts 3 days called a Puffram. It comes with auto-pick up skills (and auto-hp pots!) so it will loot for you and you don't have to spend a thing.
To obtain the Puffram, you need to be Level 33 and start the quest Have you heard about pets?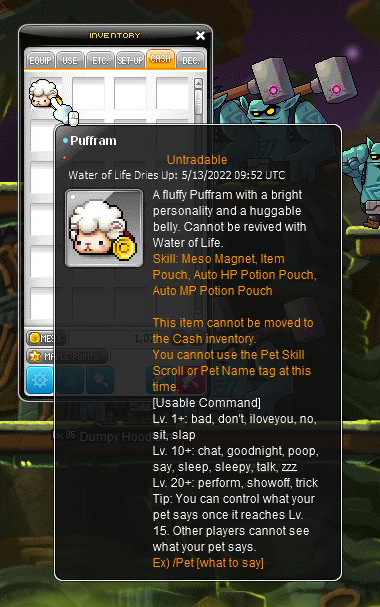 All you have to do is read through the dialog and you'll be given the Puffram. Since it only lasts 3 days, you'll probably want something with a bit more longer duration later on, but it's a start!
Free Pet Reboot Servers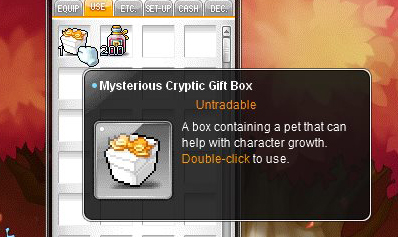 If you play on Reboot Servers, every players gets a pet Snail. You'll need to open your Mysterious Cryptic Gift Box in your Use Tab to obtain your pet Snail. This is available to every character in Reboot starting at Level 1.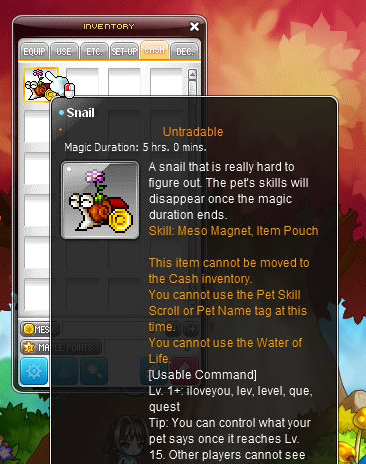 The snail lasts for 5 hours of use time. You can log off and it still be available, providing you haven't had it out for more than 5 hours.
Blackheart Pet - Hilla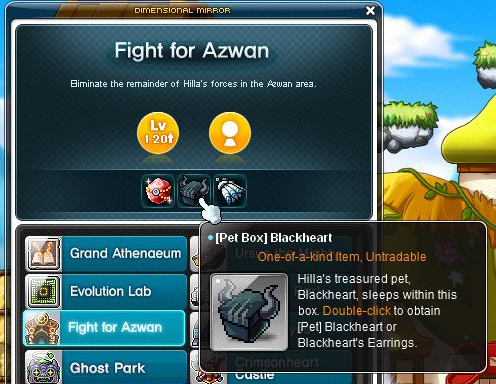 When you reach Level 120, you'll get access to the boss Hilla. You can fight Hilla by accessing the Dimensional Mirror in any major town and selecting the Fight For Azwan area. Hilla will drop the item [Pet Box] Blackheart upon defeating her at a random chance.
Hilla has two modes: Normal and Hard.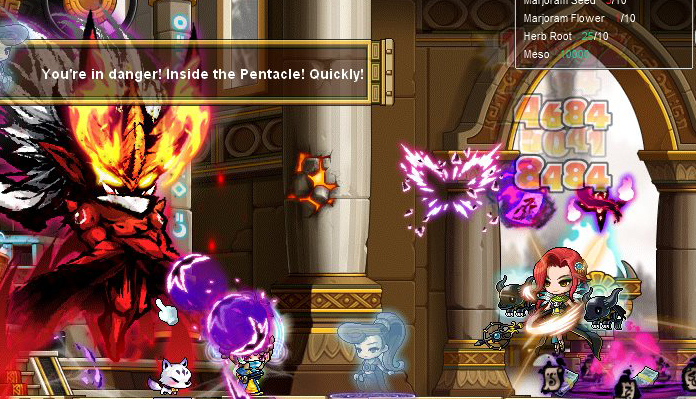 In Normal Mode, the drop rate of the [Pet Box] Blackheart is extremely rare and will take several fights against her for it to drop. But you might get lucky! You can fight Hilla once per day.
In Hard Mode, the [Pet Box] Blackheart is a common drop and you can usually get it on your first try. Unfortunately, Hard Mode is quite difficult and likely you'll need someone to carry you through the boss to get the box. Try joining a guild and ask around!
The [Pet Box] Blackheart has a 50% chance to either reward the Blackheart pet or it's accessory equipment.
Ursus - Lil Ursus Pet Coupon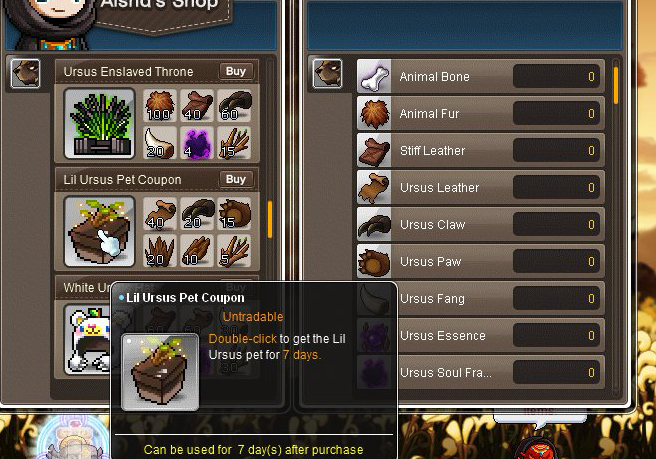 If you regular participate in the Ursus Boss Fight, you can exchange your Ursus Drops for a Lil Ursus Pet Coupon.
Unfortunately, it will also take lots of Ursus rounds to get all the drops needed to exchange. And the pet only lasts for 7 days!
MapleStory Events
MapleStory and Nexon are not shy with giving away free pets to players, but you do need to be patient for these events to come around. They usually give away 3 or so pets a year in events and they usually require very little effort.

Right now, there is the Fairy Bros Giveaway event that requires you to be online for an hour for 9 days. As a reward, you'll get the Fairy Bros' Pet Selection Coupon that lets you choose between two 90 Day pets!
They've also given away pets via special Cash Shop Codes to every player. You should follow MapleStory on Twitter so you can be aware of any giveaways.
MapleStory Referral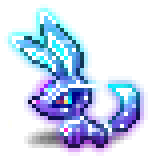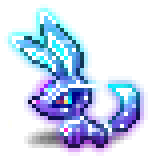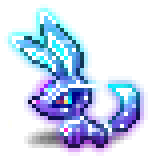 You can also earn a free pet by either referring players to join MapleStory, or signing up with someone else's Referral Link.
UPDATE: Looks like MapleStory's Referral System is currently not working. We've reached out to Nexon to see what is going on and whether or not this feature is dead in the water.
You can use our referral link here to sign up: N/A
If you sign up via that link, you'll get a special box in your Inventory at Level 33 called Recruitment Pack.
Opening it at Level 100 gives you a free 30 Day Mini Yeti Pet!
Or if you plan on referring friends to MapleStory yourself, you can get a free Flurblynk Pet for referring 45 friends! That's quite a lot though!
MapleStory Ninja Castle Dungeon
Ninja Castle is a theme dungeon you can do three times a day to earn a free pet.
It starts at level 170 and requires you to complete several puzzle quests and then a boss fight against the giant Gigatoad.
It will drop the item Mr Toad pet, which lasts for 30 days.
Check out the revamped Ninja Castle patch notes here.
Auction House
In Regular Servers, you can also buy pets from other users via the Auction House. These are not too expensive depending on your world, as many players have lots of pets now and sell their spares for cheap.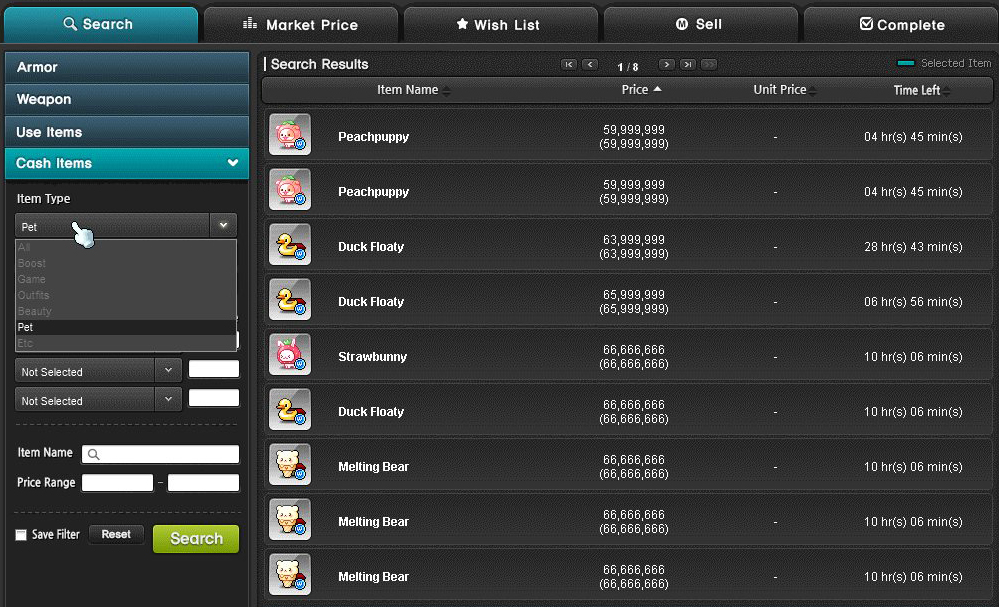 A good time to buy a pet from the Auction House is during the Wisps Wonderberry CashShop Sale. Lots of players buy these items in bulk to try and obtain Vac Pets; they end up with tons of spare pets and list them on the Auction House for cheap.
To find pets in the Auction House, simple navigate to the Auction House from the Menu, and then select the Cash Tab in the Auction House. Under item type, select Pet.
This will then list all the pets for sale; order by price to find the cheapest one. At the time of writing this, in Luna (EU) world, it costs around 60,000,000 mesos to buy a pet from the Auction House.
Let us know in the comments of any other methods to get free pets!