MapleStory Worlds is a content creation platform that allows anyone to create their own unique MapleStory servers and games. This has led to the creation of classic MapleStory servers, where players can play the game before the Big Bang update and overpowered 4th job skills!
Originally called Project MOD, MapleStory Worlds platform was released in South Korea for KMS in 2022. If you have a verified Nexon.com account, you can login now and begin playing these custom created games.
MapleStory Worlds Platform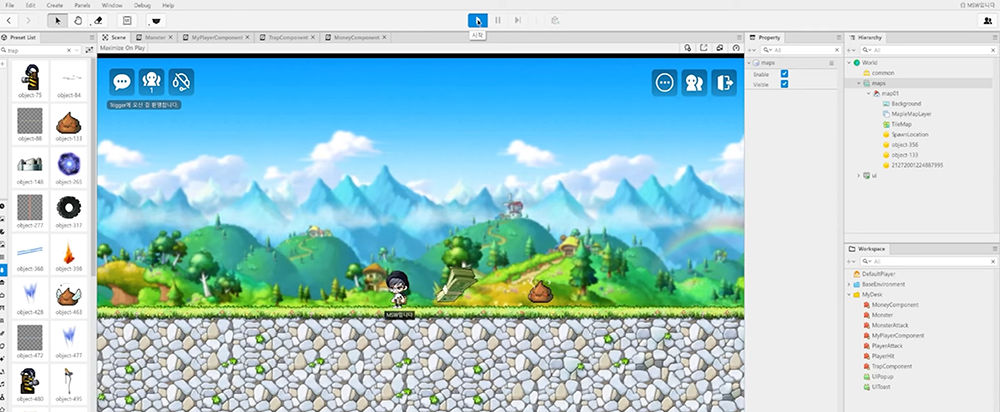 The MapleStory Worlds platform allows anyone to create their own custom games using a special tool called the MapleStory Worlds Maker.
There are two versions of the MapleStory Worlds Maker; a simpler version for creating simple games and a more advanced editor that game developers will be more familiar with.
The platform allows developers to code features using LuaScript. The MapleStory Worlds Maker allows you to work on UI elements for your game, networking code and persistent data management (databases).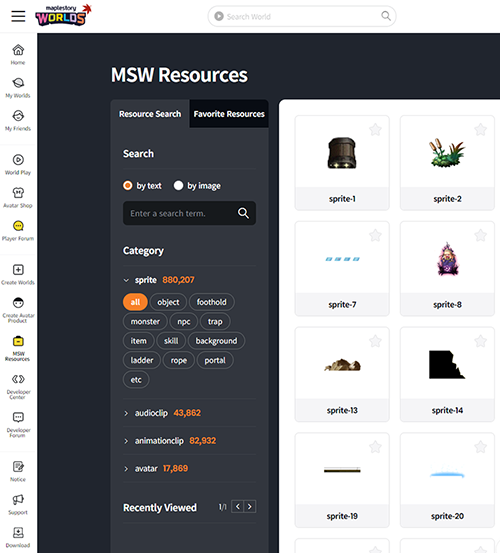 You get access to a huge library of MapleStory Assets, including music, background images and character sprites. There are over 30,000,000 different assets to use and the tool is completely free to use.
With MapleStory Worlds you can create any type of game you like. Whether that's a recreation of a MapleStory server or a brand new game like a Battle Royale game, jump quest mini games or whatever you imagination can come up with.
The use of these tools allows anyone to create their own MapleStory server and allow MapleStory players to connect to it through the MapleStory Worlds platform.
One of the most exciting parts of MapleStory Worlds is you can share your code and creations with others to modify. Anyone of the MapleStory Worlds platform can allow their projects to be copied, allowing you to have your own localized version. Over time, we're likely to see some really good projects being created.
Classic MapleStory Servers
With the release of MapleStory Worlds, it hasn't taken long for developers to start recreating classic MapleStory.
One of the most popular servers is called Artale. It's gotten so popular you can now find people streaming it on the Twitch MapleStory category.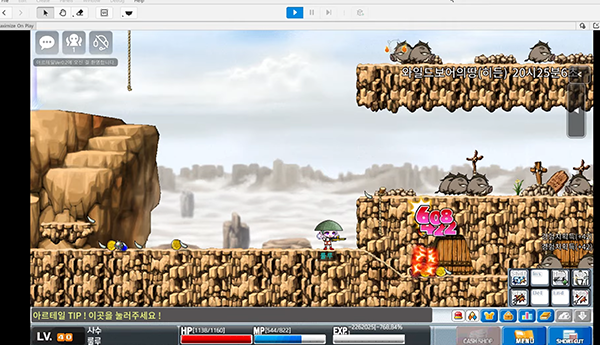 It's a faithful recreation of the original MapleStory and includes the classic explorer jobs. There are still quite a few missing elements but the game has evolved over time to now feeling like classic MapleStory. You can check out the Artale YouTube channel of early test videos from the Artale server.
So what does this mean for English classic MapleStory servers? Well, with the tools available to developers to create whatever they like, as soon as MapleStory Worlds releases in the west, it is likely we'll see a version of Classic MapleStory soon enough.
When is MapleStory Worlds coming to GMS?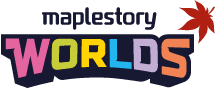 MapleStory Worlds was announced for GMS at MapleStory Fest 2022 by MapleStory GMS producer SavageAce.
However, since then, there has been no mention of the platform being released in the west.
There are some interesting signs that the platform is still coming to Europe/North America though:
Whilst MapleStory Worlds was not present in the latest Maple Memo for GMS Roadmap, it's possible that because this platform isn't a direct part of GMS, it may come at any point in the future.
There were no announcements made at Maple Fest 2023 in October however. If anyone hears any news of the MapleStory Worlds platform launching for NA/Europe, let us know in the comments and we'll update this post!
We reached out to SavageAce for comment on the project's progress, but no comment was made. We'll keep you updated if we here anything.