MapleStory is 17 years old at the time of writing this What Came When and Patch History guide. MapleStory has gone through many changes, with one of the biggest being The Big Bang Patch update coming in version 93!
This Patch History guide will detail all the updates leading up to version 93!
Initial Release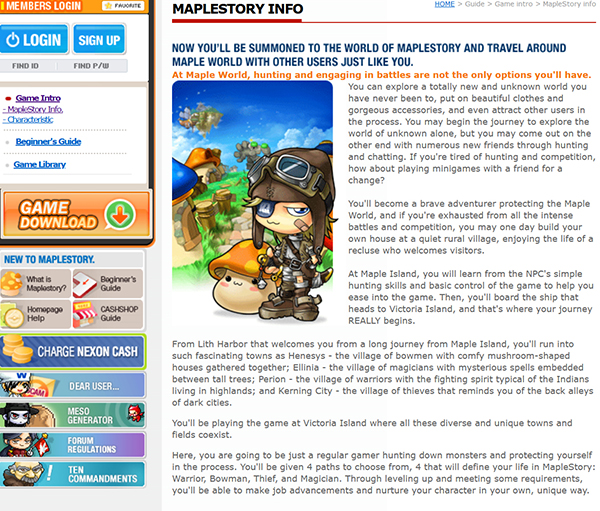 Version 0.02
Global MapleStory (GMS) began on version 0.02 after several months in closed and open-beta. It was officially released on May 11th, 2005. Version 0.02 also released the new Ossyria maps, including Orbis and El Nath!
Version 0.05
This was the summer patch for GMS, which introduced GM events and the summer items started dropping from mobs:
Surfing Board
Black Tube
Emergency Rescue Tube
Colorful Tube
GM Events
Ola Ola
MapleStory Physical Fitness Test
Coconut Harvest
Version 0.06
The introduction of the classic MapleStory Mini Games! Monsters also started to drop mini-game items like Omok Table and Omok Pieces.
Version 0.07
Removal of Summer Items
New world is added: Broa!
Version 0.10
Halloween Event: Trade in Halloween Candies for Pumpkin Basket
Version 0.12
Thanksgiving event
Pin System implemented
Version 0.13
New drop equips:
Sky Snowboard
Aqua Snowboard
Silver Snowboard
Golden Snowboard
Version 0.14
3rd Job advancement added
Level 70 equipment now drop from monsters
Happyville is opened
Windia world added
Version 0.15
Version 0.16
Level 80,90,100 equipment now drop from monsters
Guilds
UI Improvements
CashShop UI improvements
Quest System updated
Lunar New Year Event: Red Envelopes & Mr. Moneybags
Version 0.17
Pin Reset
Valentines Day Event: Heart Chocolates
Version 0.18
End Valentines Event
New world is added: Khaini!
AP Resets added to CashShop
Version 0.19
Version 0.20
Version 0.21
Version 0.22
Version 0.23
Zakum added
MapleStory GMS is 1 year old: Event
Maple Weapons added to monster drops for anniversary event
Version 0.24
Version 0.25
Version 0.26
Aqua Road added
UI Update
Version 0.27
Version 0.28
Version 0.29
Papulatus boss added
Helios Tower added
New world is added: Bellocan
Version 0.30
Halloween Event: Malady and Halloween Candies
Version 0.31
Thanksgiving Event: Free Turkey Pet, Alphabet letters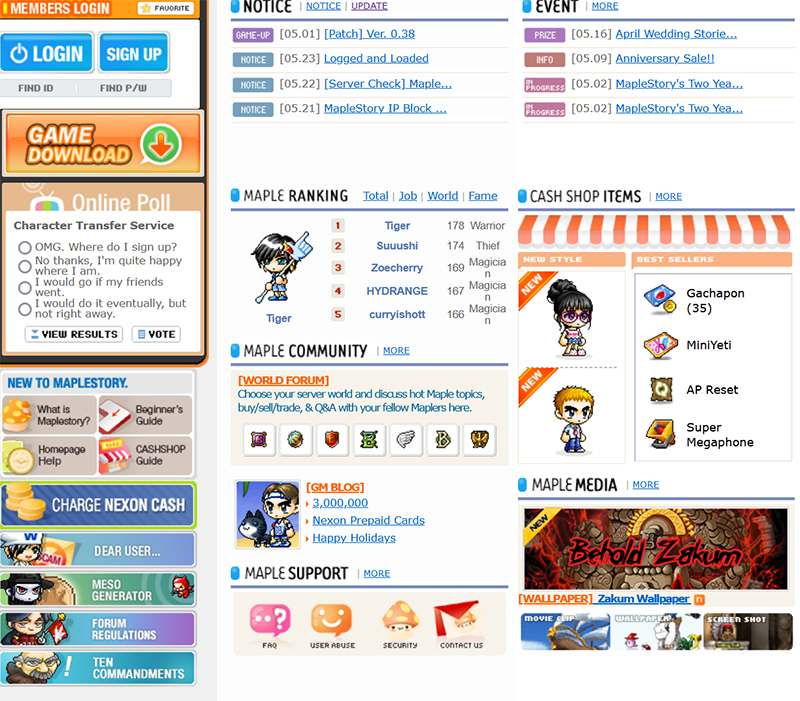 Version 0.32
Amoria added
Weddings added
Happyville opened
Version 0.33
Version 0.34
Guild Expedition Quest added
Valentines Day Event
Lunar New Years Event
Version 0.35
Easter Event
New world is added: Mardia
Orbis Party Quest
Whisper history
Guild member list expansion to 100 members
Version 0.36
Version 0.37
Korean Folk Town added
Channel 20 removed
Version 0.38
MapleStory 2nd Anniversary event
Version 0.39
Amoria Party Quest added
Mushroom Temple added
Maple Summer Drop Event!
Double Drop Event!
Monster Cookout!
GM Events!
Independence Day Flag Drop!
Cody's BBQ!
Version 0.40
New Leaf City added
Maple Summer Drop Event, Part 2
Double Drop Event
GM Event
Fake Boss Mob Attack - clones of bosses appearing in random maps
Version 0.41
Mu-lung added
Herb Town added
White Scroll added to NLC gachapon
Version 0.42
Ludibrium Maze Party Quest added
Henesys Party Quest added
Version 0.43
Version 0.44
Phantom Forest added
Haunted Mansion added
Version 0.45
Version 0.46
Version 0.47
Thanksgiving event: Mom and Pop + Pie hunting
Version 0.48
Herb Town Party Quest
Happyville reopens: MAPLEMAS VS. VERSALMAS event
Boss Clones return
Version 0.49
4th Job advancement added
Leafre added
Legendary Spirit Skill added
Mounts added
Monster Name + HP Bar
World Maps
Party Leader Re-assignment
Quest Alarm Function
Quest List
Buff/Skill Icon Timer
Version 0.50
Bug Fixes
Valentines Day Event
New Years Event
Version 0.51
MapleStory iTCG items added
New Ludibrium quests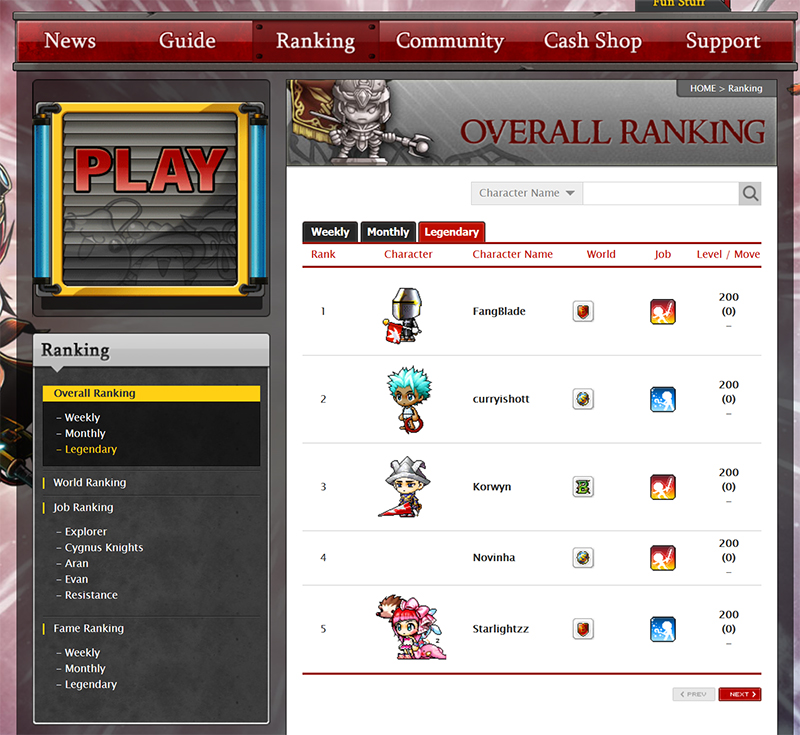 Version 0.52
Fangblade reaches level 200
Horntail boss added
Easter Event
Monster Carnival Party Quest
Version 0.53
MapleStory Trading System added (sell and buy items for NX)
Version 0.54
MapleStory third anniversary event
Showa added
Fake bosses added
Version 0.55
Dragon Mount (level 200 quest) added
Multi-pet added
Version 0.56
Ariant added
Skill updates
Guild alliance
Party Search
Window Mode
Auto Inventory Sorting
Macros
Maple Summer Drop Event
Monster Cookout
Cody's BBQ
Double EXP/Drop Events
Version 0.57
Version 0.58
Version 0.59
Crimsonwood Keep added
Jump Down
New world is added: Yellonde
Version 0.60
Version 0.61
Singapore added
Mini Dungeons Event
Halloween Event
Pre registration event for Pirates
Version 0.62
New Pirate Class added
New world is added: Demethos
Thanksgiving Event
Version 0.63
Magatia added
Happyville reopened
Version 0.64
Magatia Party Quest: Romeo and Juliet
7th Day Market
Lunar New Year Event
Valentines Day Event
Version 0.65
Version 0.66
Crimsonwood Keep Party Quest
Mal Volence Party Quest
April Fool's Events
Buddylist expanded to 100 friends
Version 0.67
UI Updates
Quest System Improvements
Map adjustments and monster spawn improvements
Easter Events
Family System
Monster Book
Remote Gachapon Added
Version 0.68
Version 0.69
Hackshield replaces Game Guard
Version 0.70
4th Anniversary Update
E-X-Plosion event (EXP Reduction for leveling)
Version 0.71
Version 0.72
Temple Of Time added
Find Master M Event
Medal System
Ellin Forest PQ
Version 0.73
Cygnus Knights added (5 new classes)
Maker Skill
Blessing Of The Fairy Skill
Lost Miwok Artifacts Event
Version 0.74
Version 0.75
Mu Lung Dojo
Monster Carnival 2
Back-To-School Event
Version 0.76
Gaga the Talent Show Star Event
Spirit Week Event
Monster Carnival 2 Event
MTS Update: More listable items
Version 0.77
Halloween Events: Haunted House 2, Witch Malady's Secret Mission, Cassandra's Trick or Treat
Removed Cygnus Knight level requirement
New Balrog PQ
Trend Zone Metropolis added
Kampung Village added
Fantasy Theme Park added
Targa and Scarlion bosses added
Version 0.78
Version 0.79
A November to Remember Events
Episode 1
Permanent Pets
Version 0.80
Aran class added
Updated tutorial for new players
Mushroom Castle added
Water Of Life update
New world is added: Galicia
Aran Events
Everyday Event
Happyville reopened
Version 0.81
Nett's Pyramid
Abandoned Subway
Royal Roll Call Event
Valentine's Day Events
Mardi Gras Events
MTS Update: more eligible items to be listed
Version 0.82
Login Proceduce update: added PIC
Version 0.83
Improved UI
Dimensional Mirrors added
Kerning Square Mall Added
Neo City added
Hunter's Luck event
Bingo Event
Version 0.84
Evan class added
Neo city expansion with new bosses
Party Registration System
Gamelauncher update (web or direct launch)
Evan Events
Version 0.85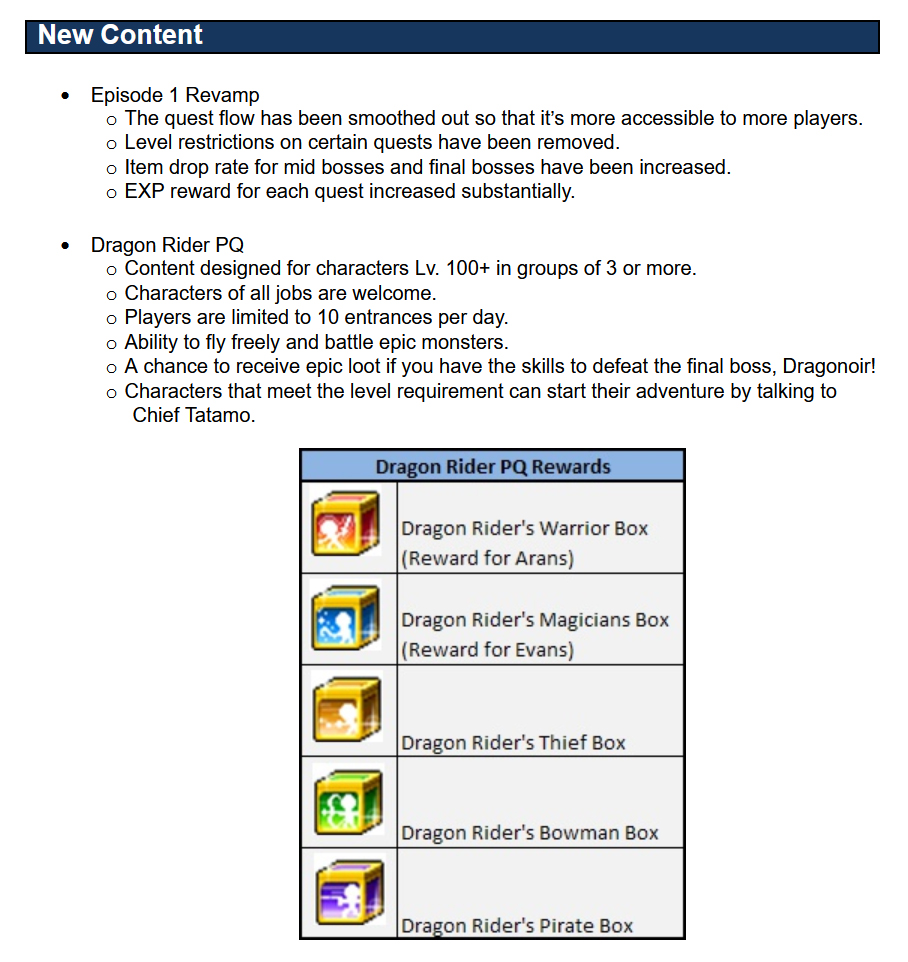 5th Anniversary Event
Episode 1 Revamp
Dragon Rider Party Quest added
Durability items added
Version 0.86
Explorer balance patch
Return of the Explorers Event
Explorer's Box Event
Golden Temple added
Friend Finder
Version 0.87
Version 0.88
Dual Blade class added
Chaos Zakum added
Chaos Horntail added
Top Secret Event
Daily 2x Event
Dual Blade Wedding Event
Summer Drop Event
New User Promotion
Potential System added
Equipment Enhancement (star) added
Follow System
Version 0.89
Omega Sector Event: The Visitors Episodic Event
VIP Weapons added
MapleStory's Most Wanted Event
Spirit Week
Version 0.90
Hoblin King PQ
Ninja Castle
Gamepad support added
Roll Call Event
Monster of the Day Event
Version 0.91
Ulu City added
Go Coco This November Event
Aramia's Book Drive
Dragon Lord's Munchie Madness
Build Your Own Black Friday Event
Version 0.92
Server hardware updates
Gold Richie event
Version 0.93
Big Bang Update!
EXP Curve reduction (easier to level up!)
New fighting formulas for accuracy and other stats
New UI
Higher Resolution: 1024x768
Drop Rate Increases
Quest overhaul
Monster overhaul
Skill overhaul
Two new worlds: Zenith, El-Nido
Evolving Ring Event
Eve of Resistance
New User Event
Returned Friend
Let us know if you'd like to see the post-big bang patch updates and we can do a list of those too!