MapleStory Fest is an annual MapleStory Event that involves real life activities, games, competitions and more. It also usually involves some form of stream event that is held on Twitch.tv. MapleStory Fest is basically a mini-convention that is usually held in Los Angeles, California. Players from all over the world can attend, you just need to get hold of a MapleStory Fest Ticket, which in past events has been both given away for free and sold to players.
As an added bonus, attendees have been given in-game items as a reward, which contains the best-in-slot Emblem item, some free Maple Points and a Permanent Pet.
When is the next MapleStory Fest?
MapleStory Fest 2021 is coming on November 13th 2021 and this year it is going to be streamed live on Twitch.tv instead of being an in-real-life event due to current travel restrictions.
Check out our MapleStory Fest 2021 page for an overview of what's to be expected.
What can you expect from MapleStory Fest?
Each event is unique but usually you can expect a handful of different events to take place, including:
Developer Updates for the next versions of MapleStory
New Announcements of new games (like MapleStory 2!)
Real Life Games
Prizes/Raffles
CosPlay Contests
Q&A Sessions with developers
Merchandise Updates
How can I get the MapleStory Fest Emblem?
The MapleStory Fest Emblem was given out to attendees of the MapleStory Fest Event. You had to have attended during either the 2018 or 2019 MapleStory Fest in order to get the item. It is not yet known if you will be able to obtain the emblem from the 2020 event, which is currently going to be an all-online digital event. There are two MapleStory Fest Emblems, both with the same stats, just different appearances: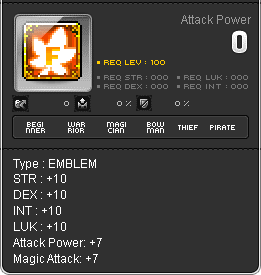 Both emblems are considered Best-in-slot items, meaning if you manage to obtain them, they are the currently the best available item for that equipment slot in the entire MapleStory game!
But not by much; these emblems are about +5 attack power better than current in-game emblems.
Past MapleStory Fest Events
MapleStory Fest 2021
Check out our MapleStory Fest 2021 Overview page.
MapleStory Fest 2020
Check out our MapleStory Fest 2020 Overview page.
MapleStory Fest 2019
To attend you had to purchase a ticket with very limited quantities available.
Announced Pathfinder Class, upcoming World Merge, Wondroid.
Job Revamp for Kanna and Hayato
MapleStory 2 Updates
MapleStory Q&A on Twitch.tv
MapleStory Merch Shop
In Game Gifts for attendees: MapleStory Fest 2019 Emblem, 10k Maple Points, Fairy Heart
MapleStory Fest 2018
The first ever MapleStory Fest event held (despite the game being over 15 years old!)
Attendance was limited to select entries (had to sign up and be chosen). It was free to attend though.
Showed off new class Ark, new boss Will and new area Esfera.
Announced Flame System coming to MapleStory GMS.
MapleStory 2 Announcement
MapleStory M Updates
Obtain MapleStory Merch before it was released in their store.
In Game Gifts: MapleStory Fest Emblem, 10K Maple Points, Damienroid, Flurblynk (perma pet), Refreshing Lemon Cash Shop Set