MapleStory allows you to transfer NX items through the Shared Cash Shop Inventory, allowing your other characters to use any untradeable Cash Shop equips so you don't have to buy them twice. However, the Cash Shop Inventories are only shared between specific character classes and this guide will show all the groups that can move items between each other.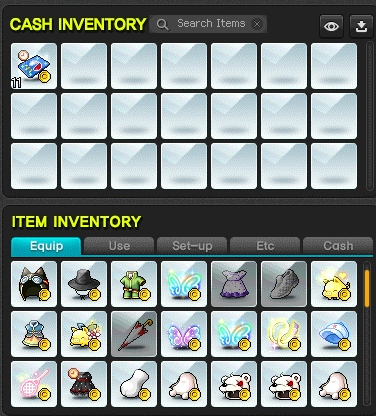 If you want to move NX to a character on your account that doesn't share a Cash Shop Inventory, you will have to wait for special Cash Shop Transfer Events that only happen once or twice a year.
Shared Cash Shop Inventory
If you head to the Cash Shop, you'll notice an inventory window where any recently brough NX items are stored. You can then double click on these items to move them to your character's Inventory.
This Cash Shop Inventory is shared between specific classes that MapleStory Developers have decided. Below you can see all the characters that share the same Cash Shop Inventory:
| Group | Shared Inventory Classes |
| --- | --- |
| Explorers | Hero, Dark Knight, Paladin, Bishop, Arch Mage (Fire & Poison), Arch Mage (Ice & Lightning), Night Lord, Shadower, Bowmaster, Marksman, Buccaneer, Corsair, Dual Blade, Cannoneer, Jett, Pathfinder |
| Cygnus Knights | Blaze Wizard, Thunder Breaker, Dawn Warrior, Wind Archer, Night Walker, Mihile |
| Resistance | Mechanic, Battle Mage, Demon Slayer, Demon Avenger, Wild Hunter, Xenon, Blaster |
| Heroes | Mercedes, Aran, Phantom, Luminous, Evan, Shade |
| Sengoku | Kanna, Hayato |
| Nova | Angelic Buster, Kaiser, Cadena, Kain |
| Flora | Ark, Illium, Adele |
| Anima | Hoyoung, Lara |
| Beast Tamer | Beast Tamer |
| Zero | Zero |
| Kinesis | Kinesis |
As an example, a Phantom can move their NX through the Shared Cash Shop Inventory and transfer it to a Shade. They cannot transfer it to a Kanna.
From the table above, you can see some classes currently do not share their Cash Shop Inventory with any others (Zero, Kinesis).
Cash Shop Inventory Transfer Event
A Cash Shop Inventory Transfer Event allows you to move NX to any character on your account. This event does not happen very often, but it does make an appearance at least once a year.
The Event usually lasts for a week, allowing players to move NX back and forward as many times as they like.
When an Event is active, players can right click NX items in their Cash Shop and select the new Transfer option.
There are also the following rules:
The Event only works for characters within the same world.
Cannot transfer EXP coupons, Potion pots or Friendship rings.
For an example of the event, see this MapleStory update from a patch in June 2021.